Welcome to part two of our mini-series on social media! Today, we're going to focus on the basics of Facebook. We have some blog posts about how to use how to use Facebook Video and Facebook Live, marketing your business with Facebook Ads, and using the site to keep up to date on what competitors are doing. While these are useful for seasoned Facebook users, none of them get to the essentials of how to begin using the site for your business.
With over 2 billion members who are active on a monthly basis(opens in a new tab), Facebook boasts one of the largest social media user bases and thus offers a unique marketing opportunity. But how do you tap into this resource for your business?
Creating a Business Page
The first and most important step to succeeding on Facebook is simple: create a page for your business. This page will be the go-to for anyone wanting to connect with your business on Facebook and provides a helpful addition to your website. Here, you can post updates, share photos, publish events, and most importantly, connect with your audience.
Facebook is very user-friendly in that it makes the process of creating a page quite simple. It has step-by-step guides that not only hold your hand throughout creation but also offer advice on everything down to the analytics process. If you haven't already created one, simply click here(opens in a new tab) and follow the directions. It is important to note that you will need to have either an existing account or be asked to create one. My suggestion is to start a Facebook account with your company email rather than using your personal account to avoid unprofessionalism and a huge amount of notifications.
Once you have created your page, you will be able to access it by finding the "Explore" section of the sidebar and clicking the "Pages" section below it: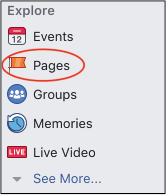 From there, you will be brought to a landing page featuring all the pages you own, have liked, or have been invited to. Your business page should appear under the "Your Pages" section. Once you navigate to this section, you will see the following bar at the top of the screen:

These options allow you to see how well your page is performing, answer messages from your followers, create ads, and so on. The "Insights" section provides analytics on a general overview of your audience and how they are receiving your posts. If you're confused, Facebook offers a handy page(opens in a new tab) on how to interpret the information in this section. Feel free to explore these tabs to get a better feel for what they do. They're designed to be as helpful to you as possible.
What Information Should I Provide on My Page?
The quick answer is as much as possible. Since Facebook pages often show up near the top of Google searches, it's important to keep your page up to date. At the very least, be sure to fill out these three sections:
1. About
Here you will give a quick overview of your business in one or two sentences. This should be an engaging introduction to capture your market's attention. It is also helpful for anyone who is not sure whether or not they are looking at the correct page.
2. Location
Want people to be able to find you? Add your location, and Facebook will create a map of your position as well as offer directions on how to get there.
3. Contact Information
While customers will contact you directly through Facebook Messenger, the site's instant chat platform, some may wish to call or e-mail you instead. Always make it as easy as possible for potential customers to get in touch with you!
What Do I Post?
Like other social media sites, one of the keys to success on Facebook is staying current. Be sure to share any cool photos you have of your activities as well as create events for anything you might have going on. If you're stuck on where to start, Forbes offers a great article(opens in a new tab) on the basics to consider when writing content.
The main takeaway is don't be afraid to use Facebook to connect with your audience. Ultimately, it's a fun social media platform with an added business bonus.
If you have any questions regarding Facebook and the use of it, please feel free to send me an email at alison@tourismtiger.com.
If you liked this article or found it helpful, check out our other posts in the series, including Instagram, Twitter, and LinkedIn.
---
Find this article useful? Enter your details below to receive your FREE copy of 95 Epic Places To List Your Tours and receive regular updates from Tourism Tiger and leading industry experts.
By submitting the form below, you agree to Tourism Tiger contacting you via email.