The final bonus installment of our mini-series is here: LinkedIn! This one gets slightly more interesting. LinkedIn is a social network designed for the professional that was launched in May 2005. Its main purpose was to create a place for professionals from all over the world in different industries to have a place to post jobs, offer professional tips, and share insider secrets. It has become so popular, high school students have started to include their LinkedIn profiles on their college applications.
LinkedIn is a reputable place in which individuals meaningfully connect and network with like-minded industry workers. It's also important to note that LinkedIn is an incredible tool for tour operators that intend to go above and beyond in terms of marketing from a more "back-end" style company promotion perspective. This site connects you with potential employees and can give you great insight into your competition.
Here is how to get started with a clean and workable LinkedIn:
1. Free or premium
First, decide whether you want to use a free account or move onto a paid account. If you really want to use LinkedIn to generate business, check out what is offered with each different paid account here. If you are just getting started, the free account is absolutely sufficient. You're able to connect with an unlimited number of people and display your profile in a professional manner. The only downside that I personally have experienced with the free account is that one is not privy to the names of who has viewed their profile. This privilege is reserved exclusively for those with premium accounts and could be a potentially handy tool to reach out and make new contacts.

2. Crafting a profile
The next step is to create your professional profile. This part will depend on whether you are setting up an account as the founder or if you are setting it up as a company. You can create a personal account or a business account following similar steps, but today we are focusing on creating a personal account.
This is a place for professionals to come together, so a well-done headshot is your best bet for making a decent first impression. Aside: that is unless, of course, if you work in a creative industry. In that situation, showcasing something that may pique prospective employers' interest is welcome. Think of this profile as your live resume: keep all your information up-to-date and include descriptions of your work, accomplishments or accolades, languages, volunteer work, etc. I personally include even my first aid training under certificates/accomplishments.
Though LinkedIn really does walk you through the process in a manageable and straightforward way, I recommend spending a decent amount of time preparing your profile, depending on what you plan to add to it. The information needs to be accurate and correct so that prospective clients may always get in touch with the people you are connected with by adding them to their secondary network.
3. Find people to connect to
Once your profile is up and running, the next step is to start to extend your network. The great thing about social media today is that it connects directly to your email — bulk inviting whoever you have saved as a contact and making it easy to connect with your current clients!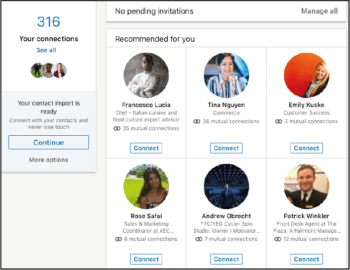 There is also a discovery section that links you to groups or companies that are relevant to your industry, bringing in news and updates to keep you in the loop on what's current. I could give you examples, but the best way to figure out how to use LinkedIn effectively is to go and explore it for yourself.
Whatever questions you may have about using LinkedIn, please feel free to contact Katalin at katalin@tourismtiger.com, and she will do her best to give you a hand.
If you liked this article or found it helpful, check out our other posts in the series, including Facebook, Twitter, and Instagram.
---
Find this article useful? Enter your details below to receive your FREE copy of 95 Epic Places To List Your Tours and receive regular updates from Tourism Tiger and leading industry experts.
By submitting the form below, you agree to Tourism Tiger contacting you via email.