There is never a bad time to evaluate how to generate repeat business for your tour company. Getting guests to keep coming back is often a challenge especially when many travellers just like to tick off experiences or destinations one by one before moving on to the next. Therefore it is essential to have strategies in place that work to increase your chances of enticing those crucial repeat visitors. Here we explore several ways to do this:
Bring The Right People Together
One of the most surefire ways of ensuring your tours stick in the minds of your guests is to bring the right people together. When a customer books a tour with you, look to get to know them a bit and try to pair them up with like-minded souls. Many friendships have been formed when people meet on a certain tour and are then keen to explore more together on another.  
This often happens when you make it about more than just what you are offering, you also focus on who you are offering them to. Backyard Roadies of New Zealand tailor their tours to the 18-35-year-old market in the hope of attracting the kind of customers that will be able to fully enjoy their tours and appreciate their energetic and enthusiastic vibe. By doing so, they regularly see customers who take a 5-day tour around one part of the country and are so enamoured by the experience and the youthful company that they come back and book another tour for 10 days — sometimes even with the people they've met on their previous Roadies trip. The testimonials on their site are evidence of this. So although tour operators are often keen to try to appeal to the broadest range possible, it is sometimes wiser to specify your target audience for one or more of your tours to create the right atmosphere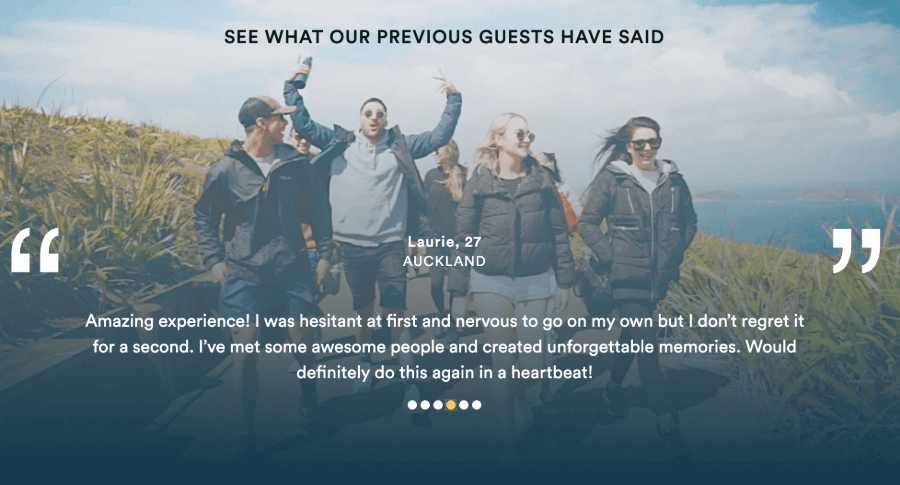 An additional example of effective loyalty targeting is by simply being honest and stating who exactly your tours will suit in terms of their physical requirements. Roam Wild Adventure, who do climbing tours of Mount Kilimanjaro, state what level of fitness you need to be able to keep up with the tours, which helps to build trust with their guests. So, if your tours are particularly demanding either physically or technically, indicating the levels of fitness needed, or what certifications or licensing is required, helps to make sure that guests do not get frustrated on your tours either with themselves or others.
As explored in-depth in another Tourism Tiger blog, women-only tours are also an area on the rise in the industry and are a great example of how limiting participation on tours to your ideal guest profile could lead to an increase in repeat take-ups in the long term. This is because it makes it easier for you to tailor your tours to fit specific parameters rather than trying to appease a plethora of different types of people.
Finding your niche in the expansive tourism industry also helps you to focus your marketing. Rather than competing with hundreds of other tour operators to offer a city walking tour, add a twist, like our friends at Insight Cities, who run historic city walking tours with PhD and MA level guides. They distinguish themselves from their competitors with a unique offering and target a narrower market that are looking for that exact product. Remember that appealing to everyone shouldn't be your goal.

Offer Memorable Experiences
Another way of generating customer loyalty is offering guests a tour experience that they simply can't find anywhere else.
Running Reindeer in Alaska provide yoga sessions in the presence of reindeers so while you join a Hatha or Vinyasa yoga style flow, these wonderful creatures move between the mats and maybe even sit and stretch with you. Not only that, but you can also choose to walk the reindeer, or if you're feeling particularly left-field you could even pick a reindeer to deliver your wedding rings during a unique Alaskan wedding experience.
These are the types of unique adventures that stick in the minds of tourists for years to come and will forever make a great story. Word of mouth marketing is always effective and evoking such unique memories is likely to lead to customers recommending the tour to their friends. The thrill or excitement of such an experience may be a feeling guests strive to find when they return to everyday life and result in them returning to experience it again or explore your tour offerings further.
It is said that the way to a person's heart is through their stomach, and culinary tours such as the ones Eat Mexico offer show this to be true. Returning guests on their tours are commonplace. After such mouth-watering experiences first-time around, people simply can't resist the temptation to go back for more, whether in the same city or further afield in Mexico. Obviously, having more than one location so customers experience something new each time is also a good way of increasing your chances of repeat business, but Eat Mexico provide a spectacular variety of tours within Mexico City too, both night and day to keep things interesting within the locality as well.

If food tours can reach tourists' stomachs and hearts, then it is music that reaches their souls. Harlem Jazz Boxx offer jazz and gospel events for all ages that delight their guests and have them coming back for more. They have a special range of events and tours in the iconic Harlem district of New York City, attracting local customers as well as those from outside The Big Apple.
Sometimes it isn't your location or even the main highlights of your tours that makes your products different, it is something special or unique within them that is your best re-selling point.
Engage Your Local Community
One way of generating repeat business is by looking closer to home and seeing what you can provide your local community. Your repeat business strategy does not necessarily just need to focus on getting guests to rebook your grand tours, it is also about attracting regular business on a smaller scale such as with the aforementioned Harlem Jazz Boxx offering regular events that fit in with the schedule of local residents, i.e. weekends and evenings.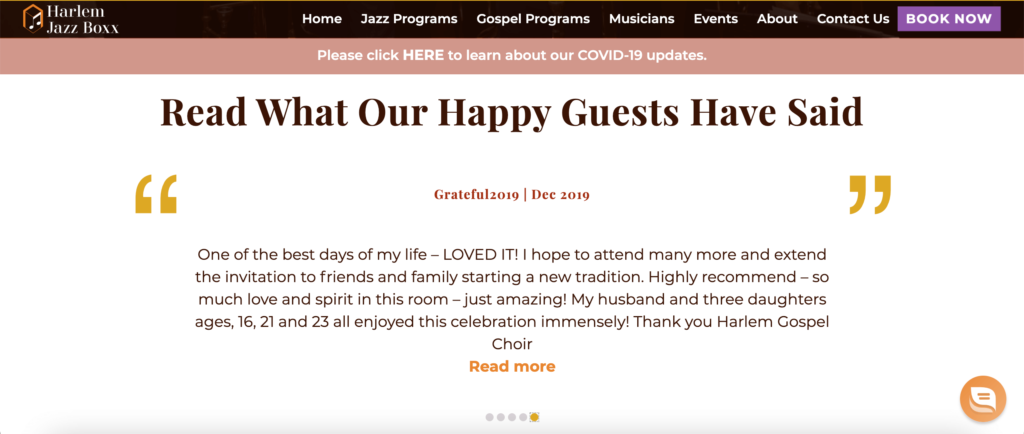 Rentals are also a good example of something that allows tour operators to generate repeat business. Providing equipment to the local community as well as to tourists is a great way of ensuring consistent customer engagement as The Bike Center in Santa Monica, Los Angeles have done by tapping into the growing LA bike community. They not only offer bike rentals, but they also have options for bike classes, a valet service and a community bike loan program making them a valued member of the district.
If your business is by the water, then you can look to provide rentals for water-based activities. Crab Island Watersports in Florida are doing just that with their pontoon boat and jet-ski rentals which appeal to locals as well as tourists.

So whether you are in the city or by the coast there's always something you can offer. Engaging the local community in this manner is potentially a good way of generating partnerships at local level too that could lead to referrals and repeat business all-round.
Rewards
Rewarding customers who regularly use your services or book your tours is also essential to creating a sense of customer loyalty. Reward schemes are a proven way of getting repeat business in practically every industry and the tourism industry is no different. As a tour operator you can look to reward those customers who not only spend big but those who spend often especially when it comes to rentals. If you run tours or events that have an element of competition to them such as Go Shooting do, then giving out prizes linked to your business is a great way of enticing guests back too.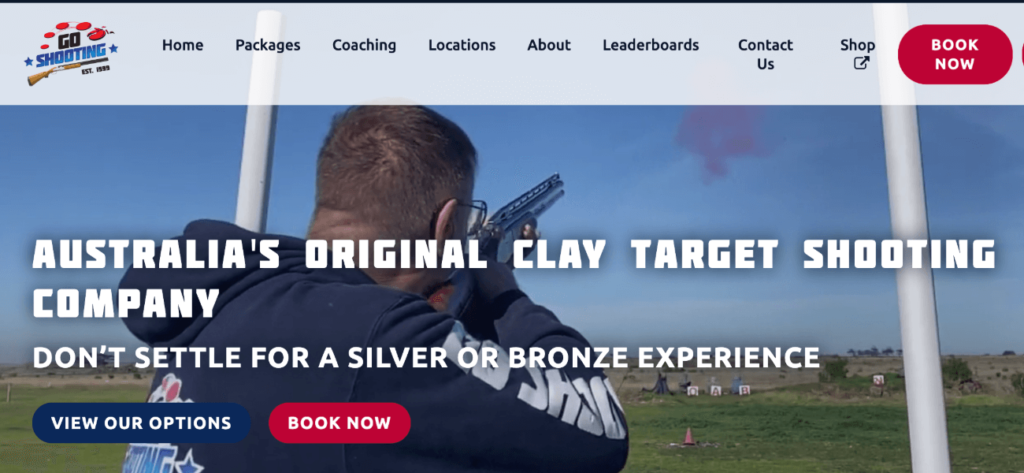 Exceptional Customer Service
Last but certainly not least is providing excellent customer service. Understanding your customers' needs is crucial so always try to get to the root of the reason they are taking a tour with you. This will allow you to tailor your service to fit that need or desire and may direct you in the directions we have explored in this piece. Remember to keep customer expectations realistic and make sure they stay informed. This is all key to keeping them happy and will hopefully lead to increasing your chances of repeat business. Sometimes as a tour operator, providing consistent and responsive customer service can be a tricky thing to do especially on the go, but meeting that challenge positively and honestly should help to drive the right level of service and customer satisfaction.
To sum up, there are many ways of charming guests back to you and they don't necessarily need to be out of reach. Keeping customers is much cheaper than trying to attract new ones so start forming your loyalty strategy today. 
---
Find this article useful? Enter your details below to receive your FREE copy of 95 Epic Places To List Your Tours and receive regular updates from Tourism Tiger and leading industry experts.
By submitting this form, you agree to Tourism Tiger contacting you via email.