Can you imagine a company that doesn't have a website? They're so important nowadays, especially in the tourism industry. People want to plan their vacations before they go, and they can't do that if your site isn't user-friendly (or worse, if it doesn't exist!).
At Tourism Tiger we're committed to building and maintaining websites that sell tours. We like to think that we know what's going on in the industry, and our clients' results(opens in a new tab) would agree with that sentiment!
So, without further ado, here are some features that you should consider adding to your tourism website. Adding any one of these is sure to improve your site and get you some extra bookings.
Intuitive Navigation
portugueseforadaytours.com(opens in a new tab)
This is the most important thing you can do for your tourism website! Yes, you want it to look nice, but you need it to be logical. Visitors will see your tour page, fall in love, get their credit card ready to book a tour, and then… give up and go to your competitor because they can't find your booking button.
When you're working on your website, make sure that you get a pair of fresh eyes on it. Sure, your navigation makes sense to you, that's why you designed it that way. But is it logical for everyone? Find a blunt friend or two and ask them to test drive your site for you. Are they able to easily do everything you want your customers to do? Can they find the information they need? Do your tour pages all have your call to action in the same place?
Instagram Integration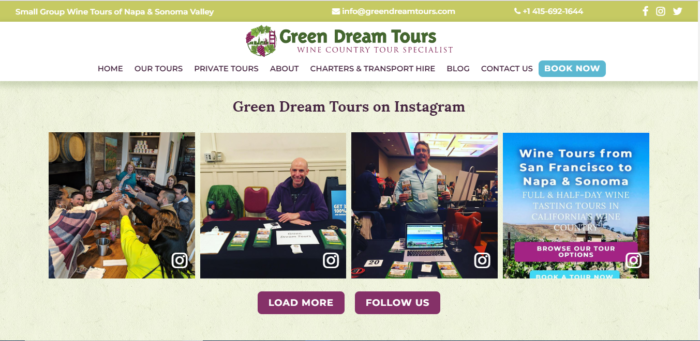 greendreamtours.com(opens in a new tab)
Adding your Instagram feed to your website is a no-brainer. This is a simple way to keep your website fresh without having to constantly go into the back end and update it yourself. Assuming you keep your Instagram updated regularly, visitors to your website will see new pictures each time they visit. You'll get the social proof, refreshed photos, and all of the other benefits of Instagram without needing to duplicate your efforts.
If you're not sure where to start with Instagram, we can help. We've written a lot about Instagram(opens in a new tab) and how you can use it for your business. Get that Instagram working for you! Instagram can be hugely beneficial for tourism businesses in particular. And now, with Instagram integration, you can get those same benefits on your website.
Social Sharing Buttons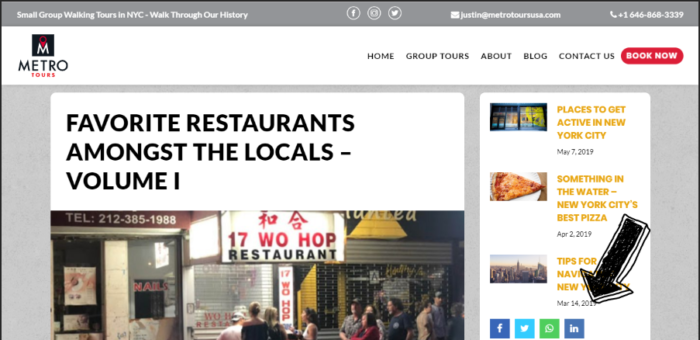 metrotoursusa.com(opens in a new tab)
You might spend hours pouring over your feeds. Or, maybe you're old school, too cool, or just see it as a cesspool. But the fact is, social media is here to stay and you need to embrace it on your site. Adding social sharing buttons means that your visitors can share your site to their own pages. As we all know, the key to getting someone to do something is to make it easy for them. These buttons make it so that your visitors can share your webpage to their social media pages with one click. It couldn't be easier without some sort of mind reading, which Facebook is probably already working on.
Having your visitors share your website is going to do two main things for you:
Anyone who shares this link is going to help your SEO(opens in a new tab). Google's algorithm is known only to them, but we do know that it incorporates the number of times content is liked, shared, viewed, etc. So the more people you have sharing, the better you look to Google and the higher you are in the search results.
You're getting more exposure. Friend groups and families tend to travel together or to similar places. When the time comes to book a vacation, people are going to check what their friends recommend. Trust me, I just booked my hostel in Buenos Aires based on a friend sending me a link to a place where he'd stayed.
Scrolling Booking Buttons & Calls to Action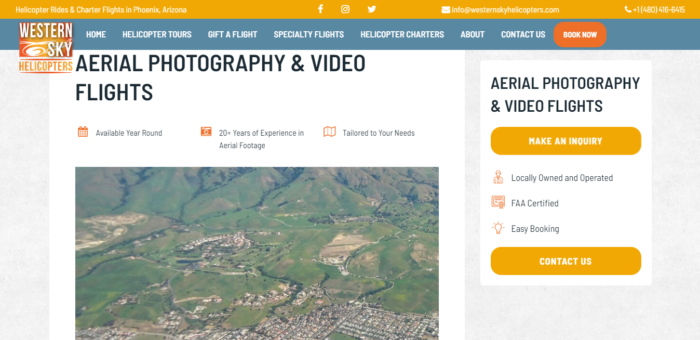 westernskyhelicopters.com/(opens in a new tab)
With this feature, no matter where you are on the page, buttons and calls to action stay with you. Remember the person above who wanted to book with you, but couldn't find your booking button due to illogical navigation? That will never happen again. Even if your visitor is at the end of the page, these buttons and CTAs are there waiting for someone to book.
You never know at which point someone will be ready to book. Maybe they need to see a couple pictures first. Maybe they need to read about your tour in detail. If you're really lucky, they'll do it as soon as they land on the tour page. Scrolling buttons are there waiting for them every step of the way.
Sticky Menu & Back to Top Button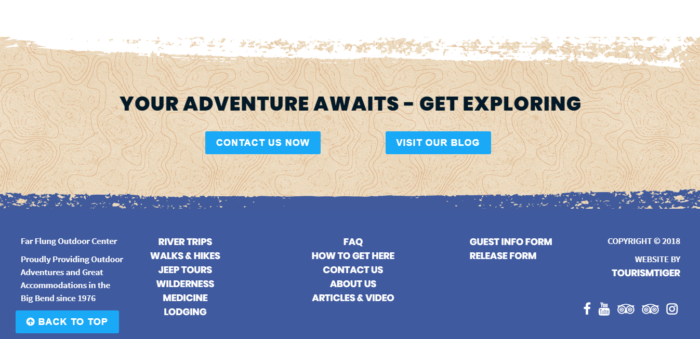 bigbendfarflung.com(opens in a new tab)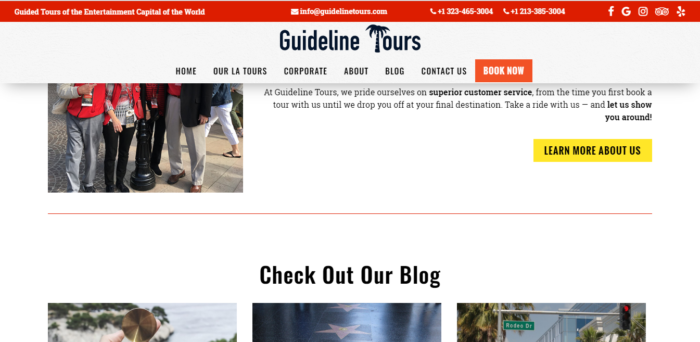 tourslosangeles.com(opens in a new tab)
These are similar features, so we'll talk about them together. We're living in the age of instant gratification. Whatever we want, we want it now. If we have to wait, we move on. We've all done it — either close a tab in frustration or hold it against a company that we couldn't find what we wanted on their site.
You don't want people to move on from your site — onto your competitor's — just because they got lost scrolling down a page. With a sticky menu or back to top button, your tourism website visitors will be able to quickly get to where they want to be.
There you have it, the 5 gotta-have-it features for your website. You can add most of these yourself, but, of course, we recommend a professional do it to make sure that everything is working properly. If you're looking to upgrade your website, contact Tourism Tiger(opens in a new tab). We can look at your site and offer you recommendations and a personalized quote.
---
Find this article useful? Enter your details below to receive your FREE copy of 95 Epic Places To List Your Tours and receive regular updates from Tourism Tiger and leading industry experts.
By submitting this form, you agree to Tourism Tiger contacting you via email.