[This post was updated January 2023]
Certain essential tasks really strike dread into the hearts of even the bravest spirits… such as filing taxes, getting a new drivers license, or analyzing the Google Analytics data of your business. We can't help you with that daunting government paperwork, but we can help make Google Analytics more approachable.
Read on for a step-by-step breakdown to the essentials of Google Analytics. The basics are surprisingly uncomplicated… you'll see!
Note: This post assumes that you have already installed Google Analytics and set up Google Webmaster Tools. If you need help with these steps, look here(opens in a new tab). Also, you want to be aware that in 2023 Google Analytics will be upgrading to the next generation, Google Analytics 4(opens in a new tab).
This blog has 3 sections: Getting Started, Understanding the Basics, and Getting Actionable Information.
And a friendly reminder, one reason reason TourismTiger websites work so well is because we spend a lot of time in Google Analytics. Most web design companies have little or no understanding of Analytics, which means they don't actually have any idea what does and doesn't work. We do, which means our websites help you the best with growing your business. 🙂 Additionally, we do backlink profiling(opens in a new tab), which is a huge aspect of off-page SEO. That is a great step to take after you understand the basics. So, let's get started!
SECTION 1: GETTING STARTED
Visit the Google Analytics home screen, and get started by clicking Audience and then Overview.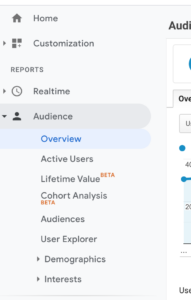 Most of the information on this page is relatively obvious with one exception: Bounce Rate. What is it? This is something a lot of people get wrong, even gurus in this very same industry. Bounce Rate is just a measure of how many people visit your website and do not click on anything else. Or, as Google would put it, 'Bounce Rate is the percentage of single-page sessions (i.e. sessions in which the person left your site from the entrance page without interacting with the page).'
Bounce Rate is different for every website, so it's not really worth comparing yourself to others. Just focus on lowering your Bounce Rate for the pages that count for your business.
TAKE A MOMENT TO EXPLORE YOUR ACCOUNT
The first step to learning a piece of software like Google Analytics is just to explore. Don't be nervous! Click on every tab and link to see what the statistics show. This will give you additional familiarity with the system.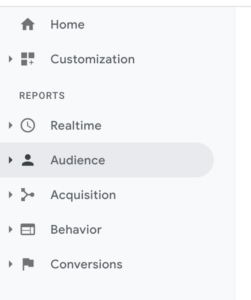 Go through all the tabs, including Acquisition and Behavior. You'll see various types of data available to you under the Audience tab. You'll be able to see information such as: which countries people are coming from to arrive at your site, the percentage that are on mobile devices, and much more.
THE NUMBERS DON'T MATTER – IT'S THE STORY THAT THE NUMBERS TELL WHICH MATTERS
At this point, Congratulations! You've gotten as far as 50% of people will ever get in their Analytics account.
It's all well and good to have these numbers, but how do we make the numbers useful?
SECTION 2: UNDERSTANDING THE BASICS
There are three basic foundations to the information Google Analytics provides:
Your visitor profile – which device do they use, which country they are in, etc. (Audience)
Where your visitor comes from (Acquisition)
What they do after they arrive (Behavior)
It really all drills down to that. We've already touched upon Audience, so let's look at the other two – Acquisition and Behavior.
ACQUISITION – WHERE YOUR VISITORS ARE COMING FROM?
I'm happy you asked. Head to Acquisition, and let's jump in. Once you arrive at the Overview page, click Overview and scroll down a bit.
This is where the fun starts. If you click Organic Search, you'll notice that nearly all the keywords are marked 'Not Provided'. This is not cool! Google blocked this data a while ago, so we do not know exactly where our search traffic comes from. We do have another trick, which I will share with you in a moment.
Moving on and clicking Referral and Social might show you some surprising results. Direct refers to those visitors who type your URL directly into the search bar.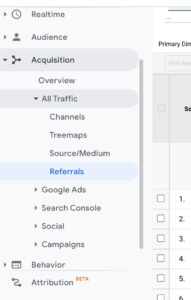 First, you'll probably find a lot of weird sites are sending traffic to you that spend literally 1 second per visit.
Second, you may well notice that your social media profiles don't send much traffic. At all. In fact, Google with their Organic Search provides WAY more traffic than Facebook or Twitter for every tourism business I have ever interacted with.
This doesn't mean that you should dump your social media campaigns, as they can be a great way to stay front-of-mind for potential returning visitors. It is just a reminder to consider all the different avenues that traffic takes.
TripAdvisor will show up in your Social Media referrals as well.
BEHAVIOR – WHAT ARE YOUR VISITORS DOING?
Head down the left-hand menu of your Analytics to revise the Behavior section. Once again, I'd encourage you to navigate the various tabs.
This gives you an idea as to which specific pages on your site are popular and also which ones may be a problem. 'Landing Pages' is especially useful when you are using Segments, which I will explain shortly.
SECTION 3: GET ACTIONABLE INFORMATION
We've just taken a basic tour of your Analytics. To this point you may have learned a few things, but probably you have just seen a whole bunch of numbers, and you're not sure what to do with them. That is understandable!
Context, Context, Context
Context is king. The problem of looking at Google Analytics just once is that it's like looking at one image from a feature-length film. Where did you come from? Where are you going? It's impossible to say just from looking at it once.
One particularly useful thing to do in Analytics is compare months with months. Given that the tourism business is seasonal, you need to both compare your performance against the most recent month and also against the same month from last year.
You can change the date ranges at the top right hand corner. Simply click on the drop down menu and change the dates to whatever range you wish to examine.

How is it useful to compare dates?
You can measure the performance of an update to the home page.
You can measure the performance of an SEO campaign.
You can see whether there has been any change in terms of the countries that supply your website visitors.
Goals
That was step one. The next step, in order to make your data useful, is to create Goals. This means that you have to tell Google Analytics what it is your website is trying to achieve. For example, you may be trying to get people to fill out your Booking Enquiry form. After people fill out this form, you redirect them to the Thank You Page. This means that we effectively have the 'goal' of having people arrive to our Thank You Page – something we can share with Analytics.
What's the benefit of this? If I use Goals, I am now able to track the exact sources of my sales -or any other metric I wish to evaluate- with ease.
At TourismTiger, the data coming from our goals has made a big difference to how we market the business. We've discovered that LinkedIn traffic is far superior to both Twitter and Facebook in terms of engagement and response.
Goals are great. Let's take that Thank You Page as an example and set a Goal up:
Step 1: Click Admin in the menu and then click Goals.
Step 2: Click New Goal. It's the red button in the middle of the screen!
Step 3: Create the Goal. You need to select 'Custom'.
Next, you need to fill out the basic details of your goal. I've named mine
'Thank You Page' and am tracking visitors to a specific URL.
Step 4: Input the address of the specific page you are targeting. Following Google's instructions not to include your domain name in the address.
Step 5: Done!
After verifying the goal, note that it will take Analytics a while to start recording these successes. To access the information, click 'Conversions' in the bottom of the Google Analytics left-hand menu.
Segmenting
Segmenting allows you to break up your traffic into little components to figure out the performance of your site with specific traffic sources.
For example, you can analyze just the performance of first-time visitors to your site, mobile traffic, or visitors from Google. It's all so easy – just scroll up a little and hit Add Segment.
Segments are very powerful but particularly useful when combined with Goals and also navigating the Behavior component of your visitor actions.
Examples:
Use the New Users segment to see if first-time visitors to your home page are navigating away from that page and spending time on your site
You can go to Behavior >> Site Content >> Landing Pages and select "only see organic traffic" (i.e., traffic from Google). This is very helpful for planning your Google attack strategy and seeing how various pages are performing. You might have a blog post that gets a lot of Google traffic, but do the visitors hang around?
Make changes to your home page and use the New Users segment to track and see if new visitors are responding well.
Ecommerce
Being able to track the exact dollar spend of each visitor is super valuable. Imagine knowing – and this is a completely made-up example – that visitors from TripAdvisor tend to spend $500 per booking compared to $200 per visitors from Facebook?
However, to set up Ecommerce, you need to work with your booking software provider, which is beyond the scope of this post. But now you have the basic Analytics skills to take this next step when you are ready. You can read more about the fundamentals of Ecommerce here(opens in a new tab).
Wrapping Up
Analytics is a great tool which must be part of an organized marketing plan. If you don't have an overall plan, you won't get a huge amount of value from your Google Analytics statistics. If you need suggestions on where to begin with developing long-term marketing strategies, read here(opens in a new tab). An important tool to put into action while developing your marketing plan is Google My Business. Learn more how to do this here(opens in a new tab). An advanced option is to place an ad with Google Ads.(opens in a new tab)
It is a complicated topic, to be sure. But, most sales come through carefully thought out marketing plans- we can't overstate the importance.
Every week, we at TourismTiger go through our Analytics statistics, analyzing them to improve all our campaigns. Are you ready to start doing the same?
Armed with this useful new analytics tool, level up your marketing strategies! Read more suggestions here(opens in a new tab).
---
Find this article useful? Enter your details below to receive your FREE copy of 95 Epic Places To List Your Tours and receive regular updates from TourismTiger and leading industry experts.
By submitting this form you agree to TourismTiger contacting you via email.