If you are a regular visitor to tourism websites, you may have noticed an increasing trend of using hero videos on homepages. As technology and web speeds improve, travel businesses are realising the benefits of having a hero video on the front page of their website. A hero video helps your site stand out from the competition and it conveys the whole idea of your offering much quicker than words can. It is also proving to be even more effective and efficient than the popular photo slider gallery that trended in the industry before it.
However, while a video hero can look spectacular when done right, if done wrong it could be a burden for your site and have a negative impact while reducing trust in your business. That's why we've spoken to our in-house lead designer Andrea Lopez to get her expert insight into what makes a great hero video work and her recommendations so the pitfalls are avoided.
Benefits
If a picture is worth a thousand words then how much is a video worth? One clear benefit of a hero video is that you can quickly convey the feel of your tour to your target audience within seconds. As we have explored before, the fold in web design is crucial. Many tour operators express concerns about using video in their hero area on their website due to worries about loading speed, but as Andrea tells us, these days video can actually be faster than the more popular slider images. "Video is usually quicker than the slider images option for a hero as it is just one file" while also adding why it is worth having one – "..with a hero video, you get to show a lot more in one shot, you can show what the business is about and what activities are being offered to create a better user experience".
When done well, there are SEO benefits too. Google's algorithms are increasingly prioritizing websites with video content while video content is also proven to increase dwell time on sites. The originality of your content is key to making it rank better on Google so make sure your hero video has content that you yourself have taken or you have asked to have been shot exclusively for you. Avoid stock video if possible and surround your video on the homepage with high-quality written SEO content is also essential. Lastly, always remember to be cautious with material you don't own for copyright reasons.(opens in a new tab)
Recommendations
There are many things to consider before you dive deep into the world of hero videos, but aesthetically high quality content is obviously the goal. How you go about achieving it might be determined by your budget. "Hire a videographer if you have the budget" Andrea tells us, but while high quality professionally shot video is ideal, she also stresses that "Even if you don't have the sufficient budget then many of the most up to date smartphone cameras can get the job done. If you can get a tripod or even a selfie stick to get steady footage, then even better".
So we've learnt that investing in the right equipment or the right professional will help lead to stable, high quality footage. But what are the specifications you should be looking for?
Andrea says "A hero should be shot in landscape and then adapted to portrait for the mobile version of the site because it's easier to cut off what you won't use on the sides for portrait rather than fabricating pixels to fill out the sides on landscape. We recommend that your final edited video is no longer than 45 seconds or find a shorter video that loops seamlessly." Additionally, TourismTiger advises that you avoid adding text or titles to the video, leave that job to the designers. Most designers will only ask you to ensure that there is sufficient contrast and there are also no drastic colour contrasts in your video, so that when text is added, it is readable. Your chosen designer will also ensure there is a backup image in the hero area in case the customer's internet is too slow ensuring that it doesn't load blank.
And finally, make sure you compress the video as much as you can down to the lowest bitrate that looks acceptable. We recommend a 1080p video with a low frame rate of 24 or 25 frames per second and test a few different bitrates between 750k and 1250k. 1MB to 2MB is the usual max file size, if any of this doesn't make sense then your chosen designer should be on hand to help.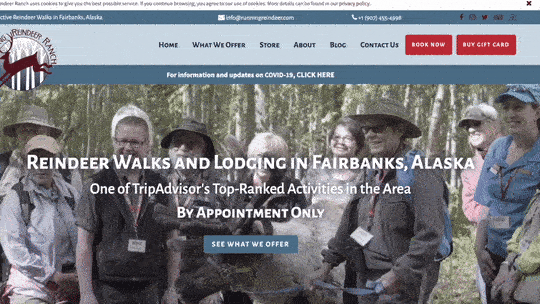 Ideal Content
While it is important to get the technical quality of the hero video right, filming, editing and choosing the right clips to piece together for your hero video is even more important. Always consider who you are appealing to. This idea was summarised succinctly by Andrea when she told me that "People want to see themselves reflected in the content so they can make a connection" With this wisdom in mind, be sure to include smiling customers enjoying the activities they are doing – this should be absolutely essential. Film real customers enjoying real experiences, a great example of this is Eat Mexico who offer food tours in Mexico City. Their hero video shows all the elements that you can expect to experience which successfully portrays the company's authenticity.
Andrea also told us that, "It is pointless hiring beautiful actors or/and models to promote your tours as they may end up giving the wrong impression as to who is welcome on your tours". For example, if your tour is aimed at the senior market then reflect that in your video. Similarly, if your tours are targeted at a specific demographic, make sure you transmit that message with your video as Backyard Roadies in New Zealand have done.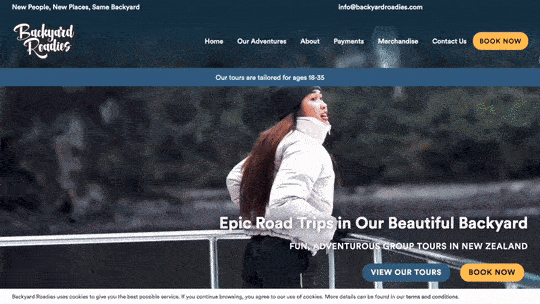 Another recommended thing to include is beautiful landscape shots and stunning scenery. You have to look to show off the most eye-catching elements of your tours. Tourism sites that promote tours such as whale watching are obvious winners in this regard just as A Whale Song Expeditions shows on their new website.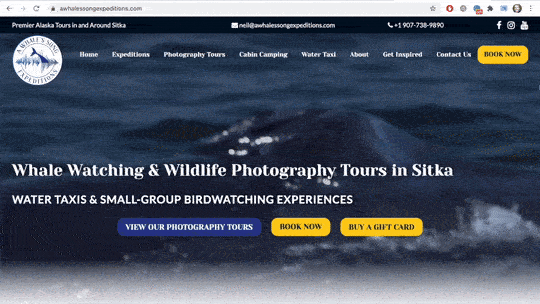 Build A Hero With Us
Here at Tourism Tiger we have built many websites over the years with a hero video included, we believe there is no type of tourism website where a hero video wouldn't work. So if you're considering an overhaul of your website then don't hesitate to get in touch with our team today who will be on hand to give you their professional expertise.
---
Find this article useful? Enter your details below to receive your FREE copy of 95 Epic Places To List Your Tours and receive regular updates from Tourism Tiger and leading industry experts.
By submitting this form, you agree to Tourism Tiger contacting you via email.