Running a tourism business already involves an incredible amount of work, whether you're the only person in charge of scheduling and leading all tours or you have a team of skilled employees behind you. Answering guest inquiries, trying to find new customers, and juggling bookings take up most of your time, and long-term marketing strategies like social media are often the first to fall by the wayside. However, sites like Facebook and Instagram are integral to growing your tour business. As part of your overall branding strategy(opens in a new tab), they're a great way to build up your online presence, thereby gaining you new customers. So, how can you make using them a little less intimidating?
This is where a new organizational strategy comes into play: the editorial calendar. An editorial calendar is a way for you to organize all social media posts based on parameters such as dates, times, and platform. For a basic overview, check out the example below that I created using the Schedule template on Google Sheets: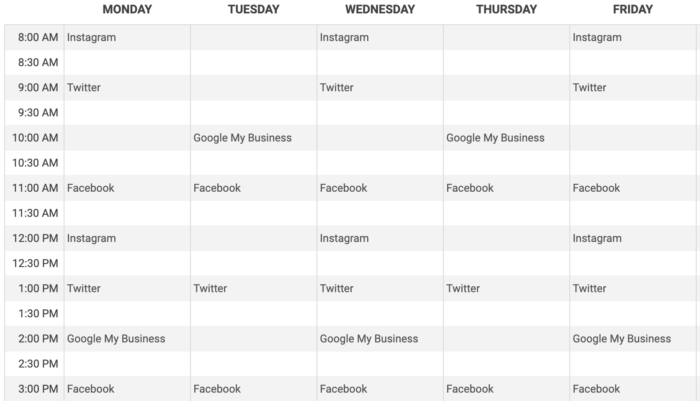 The schedule doesn't have to be complicated by any means, and it can include far fewer postings than the above example. The main idea is that you have a consistent schedule, with tweets, Facebook posts, and the like coming on the same days or times from week to week. Another example is the following courtesy of Stephanie, our Marketing Manager here at Tourism Tiger. Instead of including all the platforms on one large calendar, Stephanie has opted to create an individual page for each. Here's an excerpt from the one for Twitter:

This is a better example if you prefer to limit your posts to once a day, perhaps because you lack the amount of content needed to post more often. You don't have to fill in every day, but you can get a general overview of what to post on which days to ensure that you're not repeating yourself.
Lastly, here is an example straight from Hootsuite. It's by far the most detailed of the bunch, including the time of day, platform, link, and text of the post itself: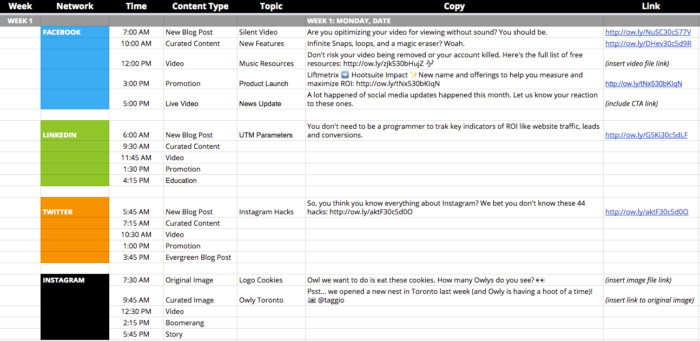 Perhaps you looked at these calendars and thought, "That's a great idea, but I don't have time to log on every day to post." Luckily, there are a number of software companies that can do the posting for you. Here's a look at two of our favorites:
Hootsuite
Hootsuite(opens in a new tab) is designed to make managing your social media presence easier, featuring everything from up-to-date feeds, analytics, and a calendar overview. It allows you to integrate your Facebook, Google My Business, Instagram, LinkedIn, Pinterest, Twitter, WordPress, and YouTube accounts and schedule posts far in advance. Then, Hootsuite will send these scheduled posts live on the date and time of your choosing without you having to log onto your account.
This is by far our favorite software, and it is the one we use here at Tourism Tiger. It's also a great option for small businesses, as they offer a free plan(opens in a new tab) that allows you to integrate three social media profiles and schedule up to 30 posts. Their paid plans(opens in a new tab) are also reasonably priced: at $19 a month, their professional plan allows you to integrate up to 10 social media profiles and schedule unlimited posts, and you can try it free for 30 days(opens in a new tab). However, if you're not sure whether social media management software is necessary for your tour business, we recommend starting with the free plan and upgrading if necessary.
Here's a glimpse into what it looks like on the backend, featuring our own posting schedule: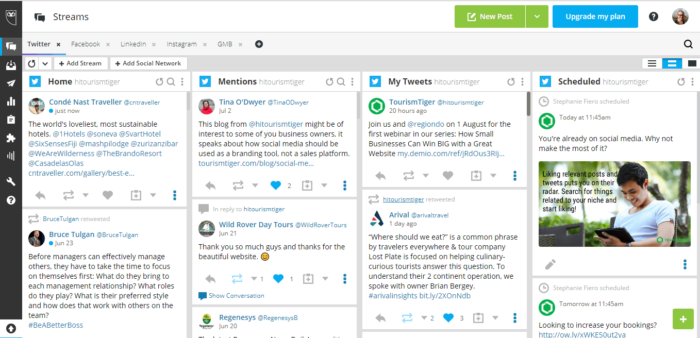 But if Hootsuite doesn't strike your fancy, don't worry: Buffer is another option.
Buffer
Buffer(opens in a new tab) is another social media management platform where you can schedule posts ahead of time. They currently only allow you to integrate your Facebook, Instagram, LinkedIn, Pinterest, and Twitter accounts, but this is likely more than enough for small tour operators. Their free plan(opens in a new tab) allows you to integrate three social media profiles and schedule up to ten posts, while their pro plan(opens in a new tab) accommodates up to eight profiles and 100 scheduled posts for only $15 a month. Though you don't get much analytic information unless you upgrade to their more expensive premium plan at $65 per month, it is a great option for those who want to stick to posting on only a few social media platforms.
In addition to their software, Buffer offers a number of free resources which are awesome for those just getting started with social media marketing, including email courses(opens in a new tab) and a Stories Creator(opens in a new tab) for sites like Facebook and Instagram. Even if you're not interested in using their software, consider checking out their website for those items alone.
Next Steps
Though the idea of an editorial calendar might sound intimidating, it's a great way for you to organize your social media strategy to make it more cohesive. With the help of tools like Hootsuite or Buffer that do the posting for you, you can schedule all your content in your (presumably limited) free time, saving you the trouble of remembering to log on every day. This added level of automation will give you more time to focus on the important things, like making sure your guests have an incredible time on your tours and updating your website (which we're more than happy to help with here at Tourism Tiger).
For now, get started on your new social media strategy by creating an editorial calendar using templates, such as these offered by HubSpot(opens in a new tab), and play around with either Hootsuite or Buffer's free plans. Congratulations: you're on your way to conquering the social media universe.
---
Find this article useful? Enter your details below to receive your FREE copy of 95 Epic Places To List Your Tours and receive regular updates from Tourism Tiger and leading industry experts.
By submitting this form, you agree to Tourism Tiger contacting you via email.