Most operators in the tourist industry would surely agree that the pandemic has brought into sharp focus the need for everybody in the tourism world to become even more conscious of the environment around them. Moreover, during this downtime, many of us in the sector have had a chance to take a step back and reevaluate our aims and goals. It has been a unique opportunity in that sense, and as we hopefully move out of the worst of the crisis, there is a feeling for many that it is time to adopt a new mindset. Sustainable travel has been a hot topic in the past couple of decades, but in a post-pandemic world that alone may not seem like enough for many tourists anymore.
What is Regenerative Tourism and Why Should We Care?
Various tourism stakeholders have come up with 13 guiding principles, and we believe the core principles of regenerative tourism include:
Whole systems approach – thinking about tourism from a broad, inclusive perspective and how it impacts the whole economic, social, cultural and environmental systems around us and making sure it does not function in a vacuum as a sole entity
Honouring sense of place – looking at place-based cultural tourism and being aware of how your area of tourism is perceived and experienced by locals and tourists
Community inclusion and partnership – forming and maintaining co-dependent ties with local communities
Coevolution – Working together and evolving with the environment, people and the local businesses around you
Environmental responsibility – Not just making sure you do further harm to your local eco-systems, but you actively look to improve them for everyone's benefit
Ultimately, it is about creating the conditions for life to flourish, putting the environment you operate in first — in physical, economic and social senses and by doing so you will reap the benefits in the long run.
Good tour operators are always keen to meet the future of the industry, whether it will be in changes in technology, environmental, social-cultural shifts or web design, so it is vital to understand what regenerative tourism is to help stay ahead of the field in this topic too. Various reports in the past year suggest that tourists are keener than ever to connect with local communities and to have transformative experiences on their travels while making a positive impact. Tourism New Zealand(opens in a new tab) is set to work with their government in implementing regenerative tourism measures across the industry. Their website states that "New Zealand has a wealth of operators who are championing regenerative tourism but there is much more work to be done."
Whereas sustainable travel is focused on tourists and tour operators not causing any negative impact on the local environment, regenerative tourism looks for them to actively improve it and be players in a new way of doing things that should be geared to offering long-term solutions. Elements of sustainable tourism can still be applied successfully to be included in a regenerative offering, so if you already have some eco-friendly practices in place then you have a good base from which to build.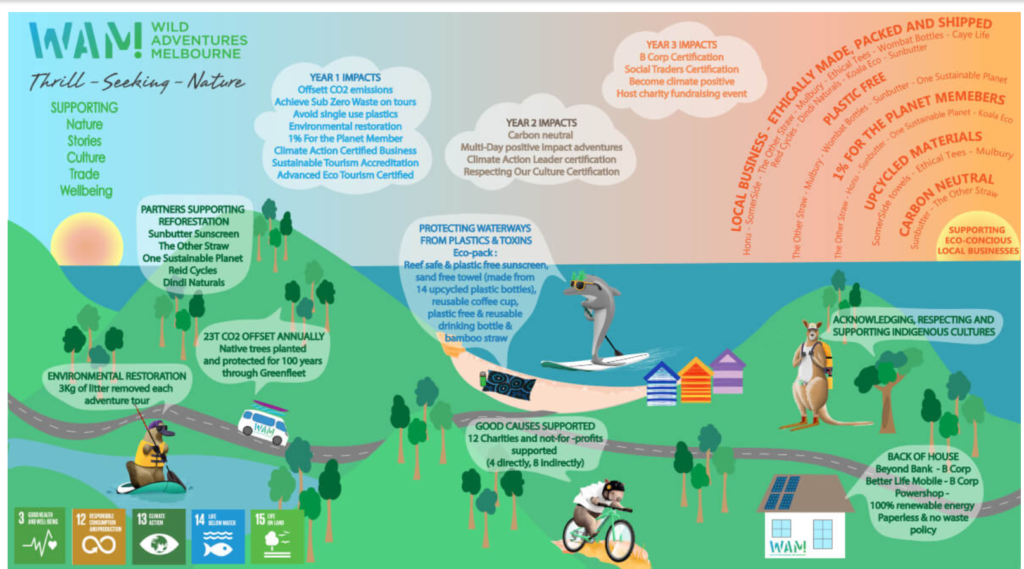 How Can I Get Started?
Maybe you are a tour operator and are keen to offer regenerative travel opportunities, but just don't know where to get started? With help from the websites of our friends and regenerative tourism experts at Wild Adventures Melbourne (WAM!) and Manuel's Tours, we have put together some ideas to help set you on the right path to forming eco-friendly tours with regenerative travel elements:
Get Planting
Fancy getting your hands dirty? Then there are few things more rewarding than planting trees and plants. This is one of the most well-known parts of regenerative tourism and lends itself well to many tours offered in the great outdoors, if you can get the right permissions in your area. Even if that sounds too complicated, you don't even necessarily have to do it yourself to contribute. You can look to partner up with organisations such as GreenFleet in Australia that offer reforestation programs to offset your carbon emissions from your tours for either your business or just as an individual.
Environmental Restoration
One idea that you don't need any permission for is litter picking. On each tour with WAM!, they carry portable bins with them and aim to remove 3 kg of litter on every excursion – leaving the place cleaner than they found it whether that be on land or sea. This environmentally friendly practice not only gives you and your guests a sense of pride, but it makes an instant positive impact that can lead to transformable change to the area. Go try it!
Educational Workshops
As a responsible tour operator, you may already know the importance of sustainability and regeneration in tourism, but does your local community? Putting on community programs and environmental education activities is essential to building a regenerative tourism environment. Manuel's Tours in Costa Rica are experts in this field and they educate their communities in eco-tourism by putting on such activities. So why not put on a workshop, invite your local community along, help to educate them on good regenerative and environmental practices and hopefully everyone will benefit from it.
Support the Local Economy
As a tour operator, it is essential to create and maintain strong links with the local community, therefore it is wise to make sure that the tours you are offering include them. It is also important to make sure that any partnerships created leaves your partnered business or individual solely dependent on you, they need to be self-sustaining relationships. Another important element is that when your guests on your tours are looking for souvenirs or food, that they are pushed in the right direction. Encourage them to buy products made locally and ethically rather than typical mass-produced products and eat in restaurants offering authentic food made from local ingredients.
Whatever you decide to do, just incorporating one of these elements into your business plan will be beneficial to not only how you are perceived but also to your legitimacy as a tour business that truly cares about the place they operate in.
---
Find this article useful? Enter your details below to receive your FREE copy of 95 Epic Places To List Your Tours and receive regular updates from Tourism Tiger and leading industry experts.
By submitting this form, you agree to Tourism Tiger contacting you via email.