What is the draw of a multi-day tour? The exciting itineraries, meeting new people, being able to travel to new countries without the stress of having to organise everything. As travel in some parts of the world begins to gradually reopen, we are seeing a rising trend in the popularity of multi-day tours. They offer a much-needed sense of security and rather than embarking on an adventure into the unknown, you get all the excitement along with local insider knowledge. The anxieties you may have about where you can visit such as if people will be social distancing or where can you go if you get sick, will all be answered by your guide who will be the bridge between you and your destination. But is a multi-day tour right for you and your business? And if so, where should you start?
What Kind of Multi-Day Tour Should You Offer?
Before you dive right into multi-day tours, it's important to remember that there are subcategories to this genre. Whether you are a new business or already well established and looking to expand your offerings(opens in a new tab), it's important to consider which type of multi-day tour best suits your resources, target audience, location, and team.
Scheduled Tours: A set start and end date, they run 2 or 3 times a year, there is a set itinerary, and guests book well in advance.
Self-Guided or Guided?: If guests are travelling to a new country where the culture and language are very different, they will most likely be looking for a guided tour. A guide is also useful for action-packed adventures to ensure guests get from A to B quickly and also for solo traveller trips – where the guide can act as an ice breaker and encourage interactions between the group. Self-guided tours offer guests a great balance of freedom and organisation. They have the accommodation and base activities booked, but they also have the freedom to spend extra time in places that they like and the opportunity to explore on their own. Our friends at Secret Paradise offer self-guided options in the Maldives

(opens in a new tab)

so that guests can relax on the idyllic islands and have the opportunity to get to know real island life.
Custom Tours & Group Custom: Custom tours are the perfect option for tour operators that specialise in creating custom experiences for individual guests. Whether the visitors are a family or people with a particular interest or if you have the expertise and resources, a custom option can set you apart from the competition. Pimbi Adventures

(opens in a new tab)

has found its niche by crafting custom itineraries for families in countries around the world. Group custom is similar but for a larger group, maybe around 10 plus people. This subcategory brings new challenges with finding accommodation, activities, and restaurants over a longer period that will accept a large group.
Avoid the Common Pitfalls
Once you have your offerings decided, there are a few steps to consider carefully in order to avoid common pitfalls. If you are a new business, finding the first customers is often harder than you think. Lucky for you, you´re not the first to come across these obstacles and we've got a guide to help you(opens in a new tab).
Another common mistake is to underestimate the planning involved. If you've been on a multi-day tour and have been inspired by how easy and relaxed it seems, know that months of expert planning has gone on behind the scenes to create that confidence. Reach out to other multi-day tour operators or check out the competition to see if there's anything you may have missed. A key to getting the planning right is making reliable partnerships – if you're working with hotels, activity operators, transport specialists, and restaurateurs you know won't let you down, that's one less important thing to worry about.
Lastly, a factor that many people don't pay enough attention to is considering how to entertain guests. Unlike day tours, on a multi-day tour, there's far more room for boredom. Check out our guide on the art of keeping guests entertained on a multi-day tour.(opens in a new tab)
Branch Out
Sticking to just multi-day tours is all well and good, but when you're starting out it can be hard to find a platform to advertise your products on. You may not know that many of the well-known  OTAs do not advertise companies that only offer multi-day tours. This means that you will need to branch out, try offering 1 or 2 single-day tours to begin with. If you prefer to go with other OTA's, there are plenty that accept multi-day tours(opens in a new tab).
A wide range of tour options gets you access to the larger platforms and a mix of single day and multi-day could also open a new market for you. Guests may enjoy a day tour with you so much that they decide to come back and embark on a longer trip(opens in a new tab).
Get the Balance Right
We spoke to international luxury travel company, Evolved Traveler(opens in a new tab), to see what they considered a key factor in the success of a multi-day tour. Founder and president, Justin Smith, said finding a balance both in the individual elements and in the overall trip is essential, "I find clients do not want every meal planned for them. Sometimes, they want to go out and find a cafe or restaurant that allows them to order the food they would like rather than 'another' meal preordered for them."
Another example he gave was balancing transport options to keep guests entertained and exceed their expectations, "Including a segment or two by train or boat not only gets people out of a bus or car but adds a layer, another experience, to the journey as well."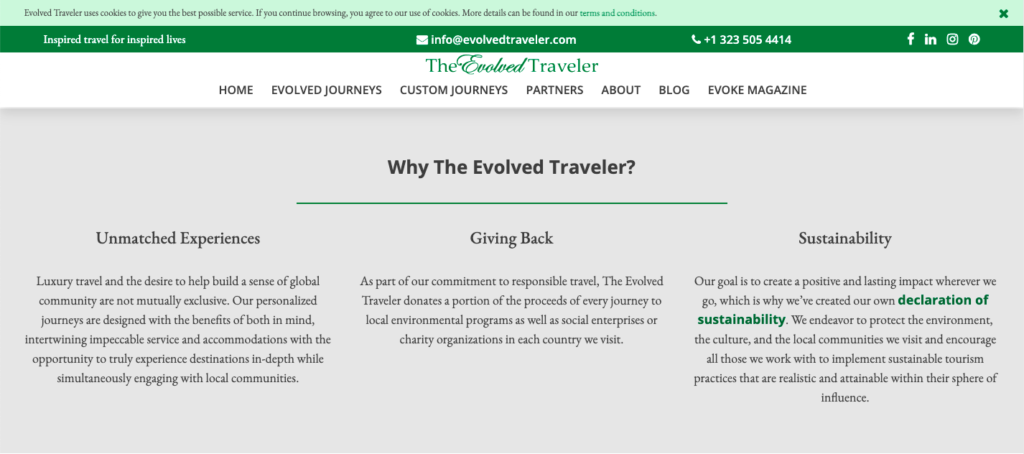 Justin went on to say that where balance matters most is time, "More is not better. People usually want a nice balance between scheduled touring, time to explore independently, and simple downtime. The pace of the tour can often make or break it."
One Size Doesn't Fit All
Multi-day Tanzania travel specialist, Roam Wild Adventure(opens in a new tab), said that learning about guests before they come on the trip is an important part of running multi-day tours. One category of RWA's tours focuses on Kilimanjaro treks, Founder, Helen Soto, told us, "One thing that can easily be overlooked on a multi-day tour, especially on a Kilimanjaro trek, is that the group has to rely on each other and on the guides each day to help achieve success for the whole team. Each guest may have his or her personal reasons for wanting to achieve the summit of Kilimanjaro. They could have different expectations of the experience or may bring some unique aspect to the group. Having a good understanding of the individual goals enables us to set the expectations for the group so that the trip is enjoyable and attainable for all. In the end, that is the key to a successful summit tour. It's truly a collaborative effort."
Helen also spoke about how important preparing for the unexpected is, "on a multi-day tour it is vitally important to proactively plan for any contingency, whether that be travel delays, natural tour disruptions, or even ensuring different dietary preferences are met. Tour operators have to be somewhat prescient in preparing for any scenario." For a guest, there's nothing worse than seeing the guide flustered and the trip ruined when they've spent their hard-earned cash on what they expected to be the trip of their lifetime. But, as Helen pointed out, this doesn't need to be the case, make sure you and your teamwork out a plan B for every situation(opens in a new tab) you can think of so that you can keep your guests happy. A well-trained and innovative team(opens in a new tab) is key to carrying the challenges of multi-day tours.
If you're looking to cash in on the multi-day tour trend, consider all these points above. Don't expect it to be the same as single-day tours and activities. You will need to take a different approach to planning, marketing, and even hiring (for multi-day tours you will need a guide who can accompany a group for longer periods of time). Use the advice from our friends at Roam Wild Adventure and Evolved Travelers to help you decide whether the multi-day tour model fits your business.
---
Find this article useful? Enter your details below to receive your FREE copy of 95 Epic Places To List Your Tours and receive regular updates from Tourism Tiger and leading industry experts.
By submitting this form, you agree to Tourism Tiger contacting you via email.