The evidence is undeniable: live chat's popularity is soaring and it is certainly not stopping any time soon! In fact, it's predicted to grow a further 87% in the next 12-18 months(opens in a new tab). Gone are the days of customer service agents having to field call after call with long lines of people waiting to get through to them. Customers now expect instant answers, with 79% of them preferring this method of communication(opens in a new tab) above all others for that exact reason. Whilst this puts pressure on your business to man the live chat platform, it brings a whole host of benefits which, once implemented correctly, could help your revenue grow and increase customer satisfaction before they even come on your tour(opens in a new tab)!
Unless you've been on a digital detox(opens in a new tab) for a very, very long time, I'm sure you're familiar with "live chat features". Particularly useful as a cost- and time-effective way of answering customer enquiries, you'll notice more and more little bubbles popping up to ask you, the user, "if you need any help" or something to that effect as you're browsing websites. While in the past they could have been viewed as "buggy" or potentially "cheapening the experience" (I'm thinking that early 2000s Microsoft paperclip), studies have continuously shown these features to be useful to the user. So useful in fact, that Forrester Research(opens in a new tab) found that "44% of online consumers say that having questions answered by a live person while in the middle of an online purchase is one of the most important features a web Site can offer". Additionally, studies have shown that live chat increases that all important return visit rate, with 63% of customers more likely to return to a website(opens in a new tab) that offers live chat as opposed to one that doesn't offer the feature.
Once implemented, not only can you answer several enquiries at once – saving you time, you can also implement a strategy to proactively target the user at a time where analytics have traditionally shown them to drop off the path to a successful sale. Ensuring that you target them at the right time on their journey in your website, providing useful answers while allowing them time to browse will undoubtedly increase their satisfaction with your service. Just think about it: they haven't had to spend precious time calling the customer service line, nor checking back to their inbox in a couple of hours to see if they might have a response regarding their enquiry.
One of the biggest concerns tour operators have when it comes to live chat is they won't have time or the manpower to ensure that they can respond instantaneously to the user's questions/hesitations – and that makes sense. I would suggest putting business hours in the chat so that the user is aware of when the feature will be available (as shown below with Mac Sports Travel's(opens in a new tab) site). Alternatively, on many platforms you can set "a status" to let the user know when there's someone ready and waiting to chat with them (as shown below on Ophorus'(opens in a new tab) site).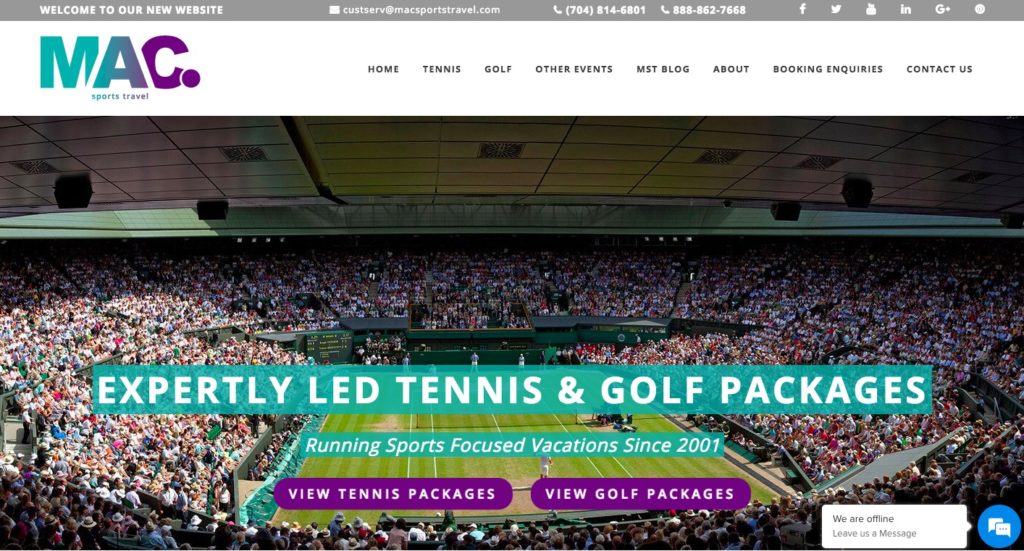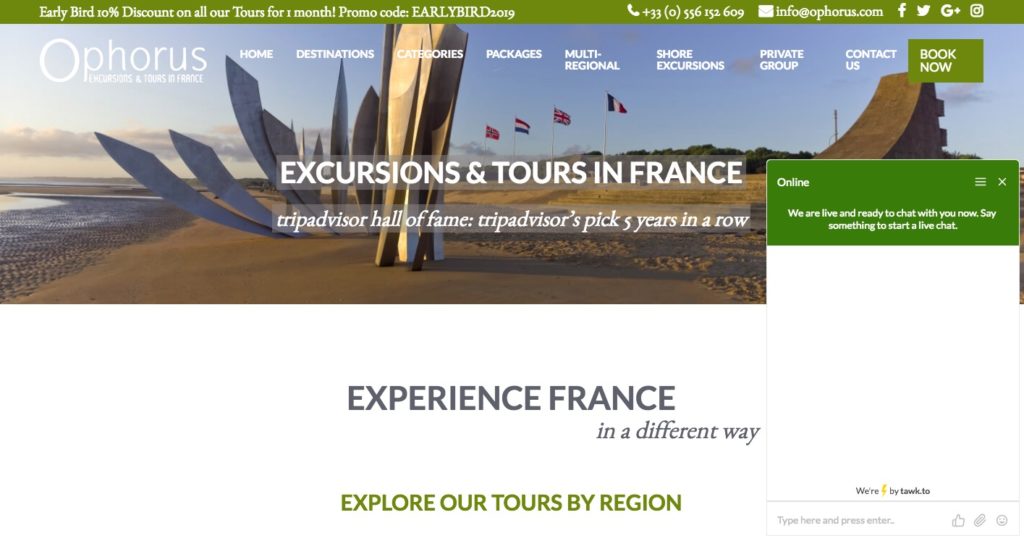 One thing I will say is that, before going taking the jump to the live chat world, you'll need to ensure you have the resources to operate the online chat to a high-level, that reflects the attention to detail on your tours/experiences. You'll need someone with excellent typing skills who is capable of writing friendly yet concise responses. Without a reliable team ready to answer the chats (beautiful, warm leads – a report by ICMI(opens in a new tab) found that website visitors that engage with your company via live chat are worth 4.5 times more than visitors that don't), trust will certainly decrease – who wants to book a tour with a company whose messages are incoherent/littered with spelling mistakes?
By this stage, I'm hoping you're seeing the benefits of a live chat feature on your site. Not only can you target users at a specific point in their journey, you can also offer helpful tips to ease their anxieties at the very moment they are reviewing your tours and experiences. There are a whole host of free platforms out there, as well as slightly more complex integrations that you can complete via your CRM. If you're looking for a free option to try it out, I'd recommend checking out Tawk(opens in a new tab), as we've had several clients use them and had it work out well.
So what are you waiting for?
With as many as 77% of customers not willing to make a purchase(opens in a new tab) on a website without a live chat option available, it seems a business no-brainer to take this relatively low-risk, potentially high-return leap of faith and install the live chat functionality on your site.
If you're an existing Tourism Tiger customer, please get in touch with TigerCare, who'll be able to find the right live chat option for your site and install it quickly for you.
---
Find this article useful? Enter your details below to receive your FREE copy of 95 Epic Places To List Your Tours and receive regular updates from Tourism Tiger and leading industry experts.
By submitting this form you agree to Tourism Tiger contacting you via email.