When it comes to your tour business, your website and your social media can feel like two completely separate branches. But in reality with the right setup, you'll see there are a variety of additional benefits that come from integrating your social media onto your website. These benefits fall under visual and content appeal, interactivity, and creating an ease of navigation between your site and social profiles.
On-Page Social Post Integration
One of the most common and beneficial ways to integrate social media into your website is by directly connecting it to one or more of your profiles. These links are typically found on the homepage, usually lower down on the page after your product and company information, in order to appeal to customers who have scrolled down and are still interested in additional content. As you'll see, our customers benefit from a variety of layouts and options when it comes to social media integrations, depending on how many images they want to feature, whether they want to include the ability to click through to more images, and whether they want to also connect to other platforms.
It should come as little surprise that the most common platform to integrate into home pages is Instagram. As an image-centric platform, it makes for the perfect addition to a tour operator's website.(opens in a new tab) But that's certainly not the only platform that can be integrated into a site. In addition to their Instagram, Explora Baja(opens in a new tab) has also integrated their Youtube channel.

Visually Attractive, Appealing To Returning Visitors
In the same way that a carefully curated Instagram grid is a visually enticing tool on the platform, the squares carry the same benefit when applied to your website(opens in a new tab). Integrating Instagram into your site means that you're taking full advantage of your carefully curated photos and videos because they also contribute to the overall aesthetic of your website. While it doesn't make sense to change the photos on your website on a weekly basis, a social media integration like Instagram certainly gives you the added benefit of new content. As you continue to post new images on your profile, the content featured on your site also updates meaning that the section remains fresh and returning visitors to your site will see something new when they navigate back to your site.
As with your website, it's always recommended to avoid stock imagery on your social profiles. It's your chance to be entirely authentic, show off your business's personality, and connect with travelers. We love how vibrant and cheery Portuguese For a Day Tours'(opens in a new tab) Instagram images are, aligning with their fun and friendly brand. They also use the platform to share vital information.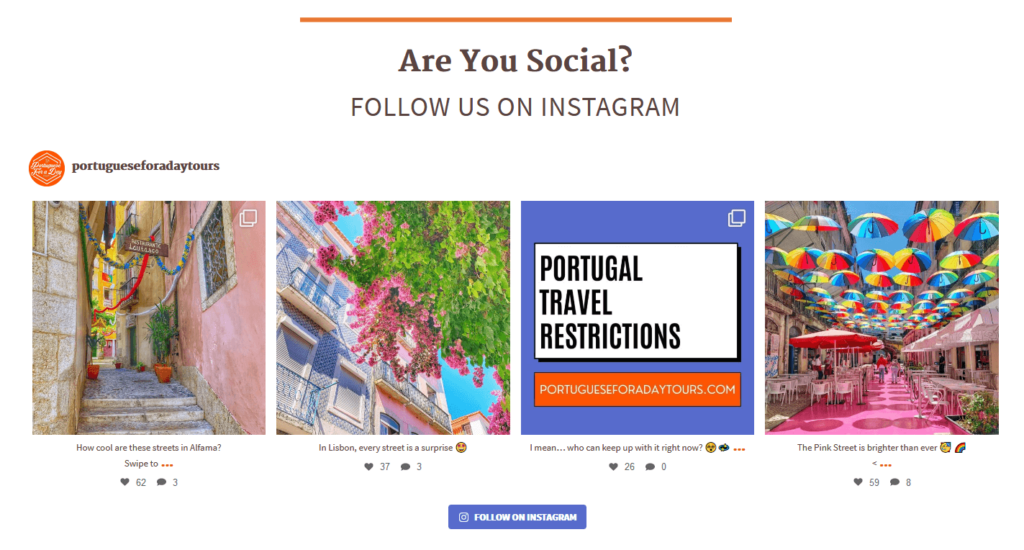 Increase Time Spent on Site and Interactivity
Similarly, because of this additional integration of attractive visuals, should one or more of the featured images really catch the interest of one of your site visitors they can directly click through to your social media. Depending on your setup visitors can also click through to see additional images without leaving the site.
Another factor to consider is user-generated content(opens in a new tab). This is something that we always recommend to our customers, and it's another great way to encourage your tour takers to share their tour photos with you, as you'll then be able to feature it on both your social platforms as well as on your website. Plus they'll have extra bragging rights that their fabulous photo was specially featured. All of this extra time spent on your website and additional engagement is to your benefit. The more time a customer spends on your site the more opportunity there is for them to be convinced to book a tour, keep your company in mind when planning a future trip, or even recommend it to a friend.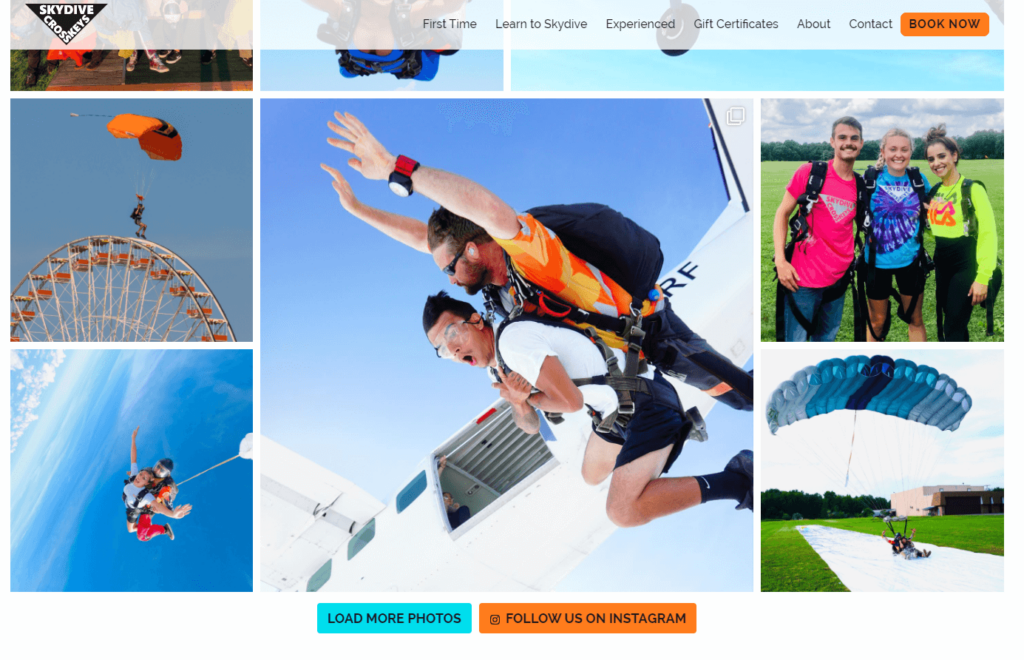 Skydive Cross Keys(opens in a new tab) not only feature an Instagram gallery with varying image sizes, they also have a "load more photos" button which allows visitors to see even more images without leaving the site.
Follow Links in Top Navigation and Footer
One of the quickest and easiest ways to help connect your website and your social media pages is by placing a clickable icon linked to your accounts in either the top navigation bar of your website, or at the bottom of your website in the footer. You can also choose to feature icons simultaneously in both of these locations, the choice is yours. This way customers can click the icon of the page that interests them. If you have one or more social media pages such as Facebook, Instagram, Twitter, or even LinkedIn, a YouTube page, TikTok, or Pinterest. This is also an ideal spot to similarly link to a Yelp Page, a Tripadvisor Page, or your Google My Business profile.
Welcome to Harlem(opens in a new tab) is a great example and you can see that they feature a variety of social and review icons at both the top and bottom of the page.


Social Sharing Links in Blog Posts
Another way to connect your social media and your website content is by including social media share buttons on your blog. That way if one of your blog readers particularly enjoyed a piece and wants to share it by reposting it on their own social media platforms, or directly via Whatsapp, this can easily be done with a single click. The social platform then opens and the blog's title and URL are automatically populated into a post.
Increase Social Following
By creating a simple transition point between your website and your social media pages, this means that if visitors are interested in learning more about your business and the types of tours you offer you've created a direct pathway for them to follow you. Whether they're existing customers or potential ones, if they're on your website they don't have to go searching for your profiles in order to follow you. And for many travellers, in particular millennials, it is arguably even expected that tour companies have a functional and regularly updated social media presence, just as it's expected that the company has an attractive and easy-to-use website. A website with an online social presence appears much more well-established than one without. Never underestimate the benefits of cutting out additional steps in order to make things easier for your site visitors.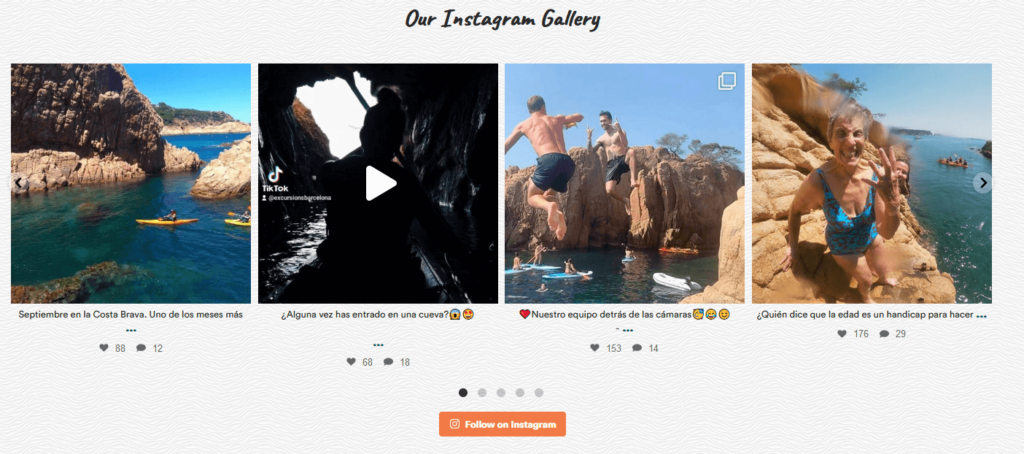 Excursions Barcelona(opens in a new tab) has side arrows as well as dots underneath the photos to let site visitors that they can click through to view more posts
A Mutual Benefit
As you can see, integrating social media into your site is a win-win situation. It's great for your website as it's aesthetically pleasing and encourages visitors to spend more time on the page. It's also beneficial to your social media accounts as it creates another direct access point that can help contribute to your number of followers as well as overall interest in your brand. When it comes to creating this beneficial link, we're here to help!(opens in a new tab) Social media integration is just one of the many features that we offer on the websites that we build. So send a message and we'll be happy to chat and help you out!
---
Find this article useful? Enter your details below to receive your FREE copy of 95 Epic Places To List Your Tours and receive regular updates from Tourism Tiger and leading industry experts.
By submitting this form, you agree to Tourism Tiger contacting you via email.