Instagram has over 800 million monthly users(opens in a new tab), and brands from all industries want a piece of that pie. For the tourism industry, Instagram is an excellent platform to showcase one's company, as the visual-forward channel gives brands a stage to share their best pictures and company ethos. Therefore, it is understandably a vital part of the marketing strategy adopted by tourism companies.
However, having an Instagram account and occasionally posting images is no longer enough. With the popularity of Instagram Stories and IGTV, the channel has become a great tool for tourism companies to create personal connections with their audiences. To make the most of Instagram, tour operators need to employ the following best practices in their marketing strategy.
Instagram Account Basics
First things first: remember to choose the business option when setting up an Instagram account for your tourism brand. A business account gives you access to options like analytics, advertising, links, and cross-promotion on Facebook, which you won't get from a personal account.
Once you have created your account, you need to write a strong bio. It should be short but engaging, telling your audience what your brand is about. For your profile image, you should use a good quality version of your logo so that your brand's image is clearly visible throughout the social feed.
You will also want to decide on a hashtag—if you don't already have one—that you will use on all your posts, as well as adding a story highlight at the top of your page. This highlight is known as a featured Instagram Story, and it works similarly to a pinned tweet or post in that anyone who visits your page is able to see it.
High-Quality Visuals
It goes without saying, but great quality images are the lifeblood of Instagram. The platform is solely focused on sharing beautiful pictures and videos that look great when a user is scrolling through their feed. For a tourism company, sourcing beautiful images and videos should not be a problem, but there's more to it than the subject of the photo.
Instagram automatically compresses images that you upload. That means that if the picture you have taken is less than 1080px in size, the quality of the image will severely deteriorate after you upload it. Therefore, we recommend that if you are going to post on Instagram, go with a high-resolution option for your photos so that the compression process doesn't affect your photo's quality. In the tourism industry, where photographs are a major draw for customers, using the best quality imagery is a must at all times.
(The same suggestion goes for videos. You don't want followers to see a pixelated video on their feed, as that could lead them to unfollowing your page.)
Consistent Post Design
Consistency is extremely important when posting on Instagram. Your Instagram account is not only informative or geared towards lead generation: it is also meant to be an experience for your followers.
When an Instagram user looks at your account, they need to feel like they are visiting a gallery, not someone's homemade slideshow. Curated feeds are all the rage, so the photos you post need to be consistent in design, feel, and color.
Getting the design of your photos and graphics consistent has become much easier with the help of online Instagram templates(opens in a new tab). These templates allow you to customize your photos according to your subject matter while still maintaining the same design. The example below shows how a template allows you to be consistent with your messaging while still producing quality content, as both images use different photos but similar structures.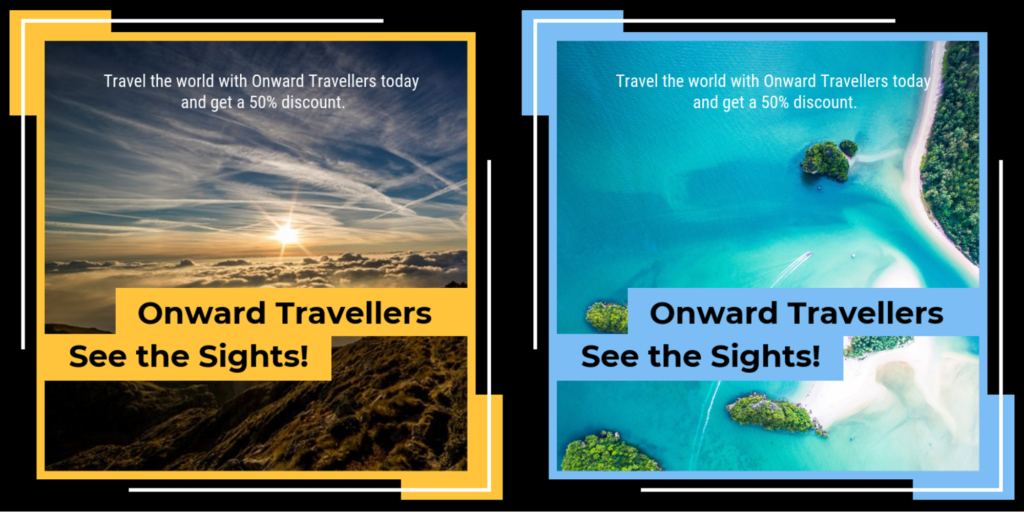 Your goal should also be for people to feel something when they visit your account, and the imagery you want to evoke in consumers will rise from your brand ethos. Do you want to show places or people? Do you want to demonstrate an emotion? You can post beautiful images, but they need to tell a story if they are to win you customers. Therefore, you should consistently post images mainly on subjects that match your brand ethos.
The same goes for colors. Too many colors on your Instagram account will likely drive customers away; instead, choose a color palette and share images that are consistently within that palette. This will give your social feed a consistent look and feel, which allows you to attract customers more readily.
Less Is More
Instagram's algorithms favor accounts whose posts are being liked by users more often, which means that even if you have great content, you won't appear in a user's Instagram feed as often if you aren't earning likes. This may prompt you to post more to rise above the crowd, but this may not be the best approach.
The more posts you share, the more spammy you will appear, which will lead users to unfollow you. Instead, create a posting schedule—generally once a day or a few times per week.
A posting schedule allows you to be consistent without overwhelming your audience. This will in turn guarantee a higher level of interaction from users, which can gain you more followers.
Follower Engagement
Your Instagram account is meant to showcase your tourism brand, but you also want to show the world that you are part of a community. Follow fellow tour operators, local businesses that you partner with or want to collaborate with, and restaurants you would suggest to your customers. Comment on posts that are relevant to your business, as well as on the posts of travelers in your area. This will act as an incentive for them to communicate with you, which can eventually lead to partnerships and new customers.
Follow a few people who follow you (especially if they are travel bloggers/vloggers) and who can feature you in their content. And don't be afraid to tap into influencers, as they are a massive draw in the travel market and can help grow your following.
You can also look at featuring user generated content(opens in a new tab) on your Instagram account. Repost quality content from your followers or from those with interests similar to your brand. This will help grow your following, as the users you feature will likely want to share your account with others and may prompt others to follow you.
In general, connecting with the Instagram community at large can not only boost your brand name but also help you grow your following organically.
Be Authentic
You are on Instagram to sell your product, but being overly sales-focused will not win you customers. Instagram users aren't visiting the platform to be sold to—they are using it for entertainment. Therefore, you need to give your potential followers something before asking them to buy your product or service.
Don't include a prompt to buy something with every post. Instead, give your followers something such as inspiring messages, beautiful images, travel tips, and recommendations. This will make you look like an expert in the field and also give your audience something to learn from and interact with.
You can also host a social media contest(opens in a new tab) on Instagram every once in a while (once a month to start with, and then more frequently) where you give discounts or special tours. This entices users to engage with your content and share it with others, like in the example below.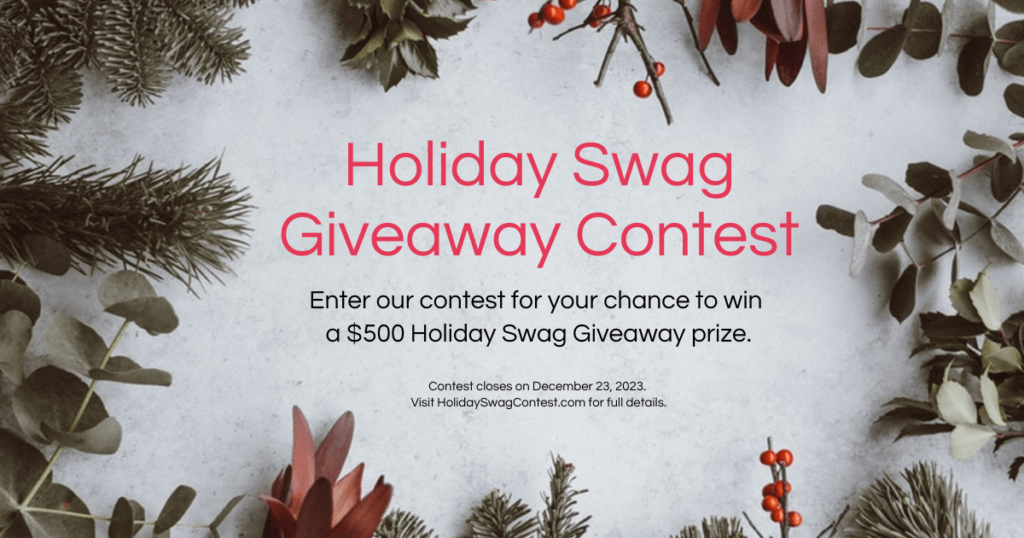 After a few such posts, you can ask users to buy your service, subscribe to your newsletter, or other actions. Having set the foundation by providing posts with something of value to potential customers, you will be better positioned to make a sale.
Authenticity also extends to hashtag use. A number of accounts use multiple hashtags, and though Instagram allows up to 60 hashtags per post, it can make you look inauthentic. Instead, use up to 15 relevant tourism industry hashtags, including hashtags for your local area, as well as your own brand hashtag. Don't use on-trend hashtags, no matter how well they are doing on Instagram. A trending hashtag is unlikely to be relevant to your brand, and your content will become buried unless it has already gained traction on Instagram.
Lastly, create short videos for IGTV that show your audience how your business works and introduce the people behind it. This will create a personal connection between your brand and your customers.
Key Takeaways
Connections are the most important part of social media. Instead of focusing on selling your service, work towards sharing an experience within your community. Keep some basic technical aspects in mind, such as the use of high resolution imagery and the number of hashtags you use, and you are ready for a winning account. Use templates to create consistency in graphics and images, and remember not to overwhelm your audience by posting too much. And, most importantly, be authentic to your brand. By following these tips, you will see your number of followers grow and your tourism business boom.
---
Find this article useful? Enter your details below to receive your FREE copy of 95 Epic Places To List Your Tours and receive regular updates from Tourism Tiger and leading industry experts.
By submitting this form, you agree to Tourism Tiger contacting you via email.