Why Reviews Matter
There are plenty of platforms for reviews(opens in a new tab) out there, and for tour businesses TripAdvisor seems to be the giant now, but Google Reviews should be a focus point for any tour business. In a basic answer, it's due to local ranking!
Your local ranking is going to be helpful in ranking high in Google's search results for your specific area, and one of the best ways to improve local ranking is with Google's reviews(opens in a new tab) – which are a part of your Google My Business(opens in a new tab). Try to think of this in a logical way from Google's perspective. A user searches for 'food tours in boston' or they're in Boston and search 'food tours near me.' If you're Google, would you rather rank a local food tour company with one review, or 20 reviews? While Google mainly cares about getting a large number of high reviews (quality), they do also factor in the amount of reviews and the timeframe of reviews in order to assess how well a company is held in the customers' regards. If you do well enough with your Google My Business profile(opens in a new tab), getting a lot of reviews can make it easier for you to get into the top 3 businesses in the search page based on location, as you can see in the image below for 'boston food tours:'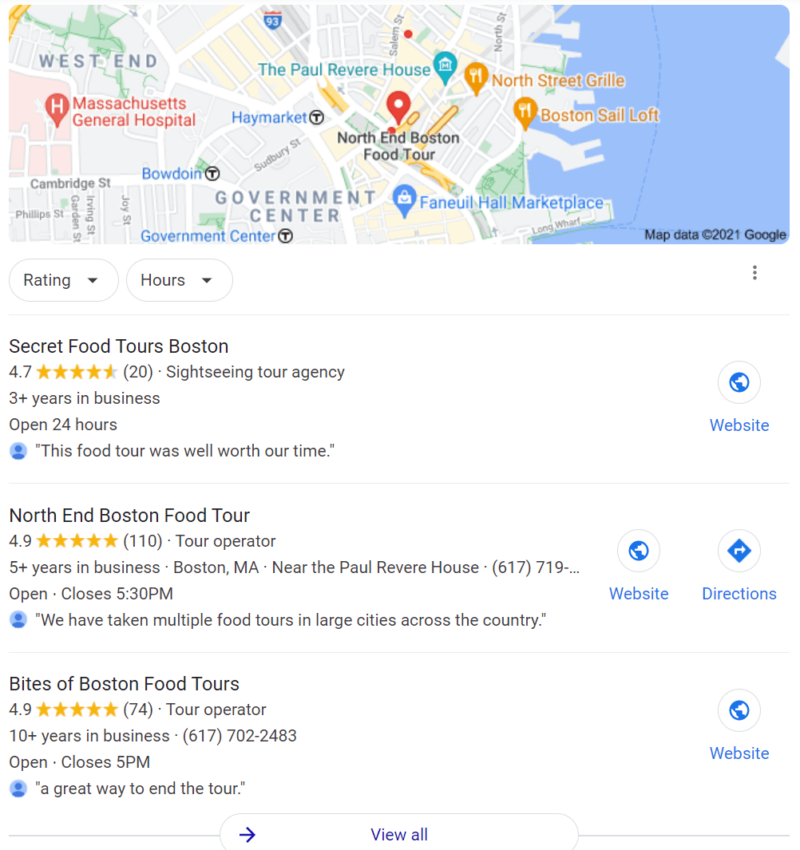 Apart from that esteemed local ranking, Google Reviews can help in other ways(opens in a new tab) as well!
Influencing customer decisions: It is well known by now that customers trust online reviews more than ever! Combine that with the ruling search engine that people trust, and you've got something quite nice cooking. If your Google My Business profile is properly set up, people will be able to click through to your reviews right from search results – making it easier for them to come to a decision based on those reviews. Or, for the lazier customers out there, sometimes just seeing the quantity and average rating is enough for them to make their decision.
Interacting with customers: Google will recognize an active responder more favorably than a company that never responds to their reviews. If you take Google out of the equation, interacting with the reviews is still a great way to authentically interact with customers in a way to show that you really value their opinion. Imagine taking an awful tour and the company's attitude is along the lines of "you get what you get and you don't get upset." They obviously wouldn't care about customer opinions, and probably wouldn't last long in the industry. Responding to negative reviews

(opens in a new tab)

is just as important as responding to good reviews as well!
Improving Organic Click Through Rate

(opens in a new tab)

(CTR): This can help Google recognize your tour business as more relevant over the competition. Since customers are largely influenced by good reviews, if you have a decent amount of high ratings, customers are more likely to click through to your site when they see it in search results. When Google sees a higher CTR, it determines that your site is more relevant for whichever query was searched for. That determination of higher relevance will end up with your site ranking better (or staying at the top if you're already there), and usually sites that rank higher get a better CTR – and then you have a feedback loop that should help keep your site high in the rankings!
Getting More Reviews
For anyone not yet convinced of the importance of Google Reviews, the best salesman probably couldn't even sell you water in a drought. For those that are convinced of the importance, the logical next question should be, "How do I get more of these pristine reviews?"
For starters, you will need to have a Google My Business profile set up. You can't get reviews on the platform if you're not on it! To have control of your listing in Google Maps, you'll also need to make sure to verify your profile(opens in a new tab). While there are plenty of other things to do in order to really bolster your Google My Business Profile, once you've got it set up, listed, and verified you can start collecting reviews.
The best thing you can do is to make leaving reviews a breeze for your customers. Constantly (but not in a badgering way) let your customers know that they can leave you reviews on Google, and make it as easy for them as possible. Put links in your social media, in follow up emails once they've taken a tour, on your website – really any easily accessible platform where you communicate with customers. You can easily create your Google Review link following these instructions(opens in a new tab). You can even make it shorter with a link shortener like bitly(opens in a new tab) or anything similar. Have tour guides explain, after the tour, how customers can leave reviews and where to access the link. If you are an active responder with customer reviews, let them know! If the tourists had an amazing time and like the company, they're more likely to leave a review if it means more interaction with you. To make it even easier, create cards to be handed out at the end of each tour with some kind words and a QR code tied to your review link. Once you've made it extremely easy breezy for customers to leave reviews, make sure to emphasize just how simple it truly is. They don't need to write you an essay, and honestly they could just do the stars without writing anything. If they really like the tour (which are the people you want to leave you reviews) they'll be eager to share their opinions even more, considering how easy you've made it.
Another way to entice customers into leaving reviews is to have a page for it on your website. While this obviously will help prospective customers in their decision-making, sometimes the idea of being on a dedicated page can make it that much easier for customers to decide to leave a sparkling review. On that page, you should always try to have the testimonials in text format rather than screenshots. This will help SEO as relevant content, and reviews will most likely have one or two long tail keywords(opens in a new tab) that you likely target for your site in them. Apart from a dedicated page consider adding in calls to action around the site itself asking people to leave reviews.
A Bit of Effort Goes a Long Way
Finally, don't be afraid to put in the effort and ask for reviews! It may be tough at first, but once you make it a habit you'll be reaping the local ranking rewards for sure. As mentioned above, ask for them in person. The best time is right after the tour, but any time you communicate with the customer afterwards is a great chance. For example, let's say they've left something in the tour vehicle and call you about picking it up. Obviously help them set up the retrieval of their lost item first, but then ask them if they've left a review yet.
In terms of digital options social media is also an amazing outlet when it comes to asking for reviews. You could just make a post asking for reviews, but don't be afraid to get creative with it! For example, you could create a contest for any tour-goers that have left you a review, prompting those that haven't to leave reviews. A note with social media, if you don't have another important link taking up that space, then leave your review link in the bio. You can also chase customers up via email. Email marketing is proven to be effective, so why not use it for reviews as well? Focus the entire campaign on asking customers for reviews and showing them how. As you would have the guides be authentic in asking for reviews on the tour, be authentic in the email as well. You could even leave your review link in your email signature, increasing the visibility and possibility for customers to leave reviews. If you work with special vendors or partners on your tours, don't hesitate to ask them for reviews as well. They may not have taken your tour, but customers like to hear that your company works well with others.
Once you've got a solid amount of good reviews and keep up a good frequency of receiving them, you're likely to see your site's local ranking improve rapidly. And if you need help building a website to showcase your reviews, we can help with that!(opens in a new tab) Plus you can check out TourismTiger's Google Reviews(opens in a new tab) from our happy customers to help you make your decision.
---
Find this article useful? Enter your details below to receive your FREE copy of 95 Epic Places To List Your Tours and receive regular updates from Tourism Tiger and leading industry experts.
By submitting this form, you agree to Tourism Tiger contacting you via email.