Learning how to make the most out of tourism review sites
It doesn't take much to convince business owners of the importance of reviews. Everyone wants a good review! For instance, when was the last time you used an app on your phone that didn't ask you to rate it in the app store? How often do you buy a product online and then receive an email follow-up a few days later asking for your feedback? Even seemingly forgotten places like airport bathrooms now have fancy buttons you can press to let staff know whether or not you were satisfied with your experience.
Customer feedback is even more crucial when it comes to what Ulrike Gretzel and Kyung Hyan Yoo deem "high involvement products", like travel. In their article on the importance of online travel reviews(opens in a new tab), Gretzel and Yoo demonstrated how important other people's opinions were to helping potential customers make a decision. Here are a few of the stats they pointed out:
"[N]early 50% of travel purchasers visited a message board, forum, or online community for their online travel purchasing[.]"
"[O]ne in three of these buyers said that consumer reviews helped with their purchase decision."
"[A]lmost half of those whose purchasing decision was influenced by consumer reviews said that consumers' opinions actually caused them to change their mind about what they purchased."
"[A]mong those buyers, 25% said they also posted a review on a consumer review site after making their purchase."
Which Tourism Review Sites Should you Target?
With the vast number of review sites out there, however, it can be difficult to determine which to target. There are a few main players — most notably, Facebook, Google, TripAdvisor, and Yelp — where your customers can rate and describe their experience with you. In the first installment of this blog mini-series, I'll give a brief overview of Facebook and Google to help you determine which are useful for your business (and which are worth ignoring altogether):
FACEBOOK AS A TRAVEL REVIEW PLATFORM
As one of the biggest social media sites in the world, Facebook commands a large audience comprised of every possible demographic. With over 2 billion monthly active users(opens in a new tab), the site is well-positioned to take advantage of the review market. And its power is growing — ReviewTrackers notes that Facebook is the second-most visited site for consumer reviews(opens in a new tab). At the same time, Facebook tends to be overlooked by companies when they ask their customers for feedback. I've worked with several sites at Tourism Tiger that have numerous reviews on sites like TripAdvisor or Google, but they rarely have a strong presence on Facebook. And, of the Facebook reviews these companies do have, many just feature a rating without any description of the experience itself.
One of Facebook's main drawbacks is that, unlike on other review sites, company owners have the option to hide Facebook recommendations/reviews(opens in a new tab). There's no way to pick and choose which reviews you want to hide, but the fact that you can hide them at all means that it is possible for business owners to silence negative feedback. Even if this seems like a plus to you personally, think of what will happen if you have 19 glowing reviews and you are suddenly presented with a poor one. Would you not be tempted to get rid of it? And in doing so, would you be willing to say to other reviewers that you put more weight into one negative comment than all their positive feedback?
Facebook reviews have recently transitioned to recommendations, which allows users to provide a simple yes-no answer about whether or not they recommend a business. There's a new 25-character minimum as well, which means a more detailed account for other users and also serves to works to minimize spam and bots. However, fewer ranking options leave less room for nuance. A user who previously would have given three stars for a business's underwhelming performance may now simply report that they don't recommend a business, changing the rating from "average" to "poor" in one step.
In summary, here's what you should think about when deciding whether or not to emphasize Facebook recommendations for your tour and activity business:
Pros: Ranked second for customer reviews; over 2 billion monthly active users.
Cons: Ability to hide reviews; transition from a 5-star ranking system to a simple yes/no answer leaves less room for nuance; does not feature many reviews compared to other review websites.
The verdict? Even with Facebook's massive online presence, it shouldn't be your main target for reviews. However, if you have a customer who seems keen on recommending you to everyone they meet, it doesn't hurt to ask them to recommend you on Facebook.
GOOGLE AS A TRAVEL REVIEW PLATFORM
The search engine giant has made its way into many different industries, from Google Drive to the Android operating system. It even has its own quasi-museum with its Google Arts & Culture(opens in a new tab) platform. Thus, it shouldn't be surprising that this behemoth is the most visited review site, with "63.6 percent of consumers say[ing] they are likely to check online reviews on Google before visiting a business(opens in a new tab)", according to ReviewTrackers. It's also easy (and free!) to create your own Google My Business review page: just follow the directions here(opens in a new tab).
Besides being the go-to site for business ratings, Google has the added bonus of incentivizing users to leave reviews. For those who use an Android smartphone, the Google Play Store is where you can purchase a whole host of items, including apps, movies, and more. Essentially, it's the equivalent of Apple's iTunes and App Store rolled into one. What sets Google apart from Apple, however, is the Google Opinion Rewards app, which gives users the opportunity to answer relevant surveys in exchange for Google Play Store credit. The kicker? Some of these surveys are actually reviews for places the user has been, which then show up publicly on the Google Reviews section for a business (with the user's permission). Therefore, Google not only has the advantage of being the largest review site but also of having an effective method of enticing customers to leave reviews.
If that isn't enough to convince you of the merits of Google Reviews, consider their impact on SEO. Paula Allen of Bruce Clay(opens in a new tab) notes that these reviews can make you appear higher in the search results because: 1) Google Maps ranks its results by their rating, unless you specify otherwise, and 2), it makes your business more likely to appear in Google's Carousel(opens in a new tab) (that is, the sliding results section that sometimes appears at the top of the search results page). Even more important is that these reviews are prominently featured in the sidebar when you search for a location: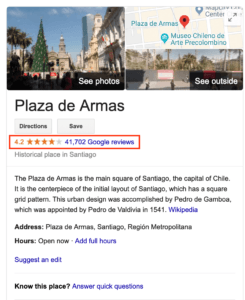 In case you're not yet eager to emphasize Google reviews, here's an overview:
Pros: Ranked first for customer reviews, helps with SEO, prominently displayed when a user searches for a business or location
Cons: ??? (Let me know if you think of some, because I'm all in on Google Reviews)
The verdict? Google Reviews should be your main priority when it comes to collecting user reviews. Share reviews that link far and wide!
Of course, I haven't mentioned TripAdvisor in this article, but that's because it receives so much attention anyway. If you enjoyed this article and found it useful, you might also like to read our blog about five hilariously bad TripAdvisor management responses(opens in a new tab) and how tour operators should respond to positive reviews on TripAdvisor(opens in a new tab).
---
Find this article useful? Enter your details below to receive your FREE copy of 95 Epic Places To List Your Tours and receive regular updates from Tourism Tiger and leading industry experts.
By submitting this form you agree to Tourism Tiger contacting you via email.