How many times do you see pictures on your Instagram feed of friends and family showing off the oh-so-very-cool activity they spend their time doing? Most of them taking breathtaking pictures that are more than Instagram-worthy. Pictures like that make me want to go to the same place ASAP because if that many people go to those places, they must be worth it, right?
One example is the ocean swings on Gili Trawangan in Indonesia. Two years ago, my Instagram feed was filled with friends visiting these swings, and those pictures made me want to go to Indonesia, so I did! Seeing the number of people posting those pictures, I was clearly not the only one.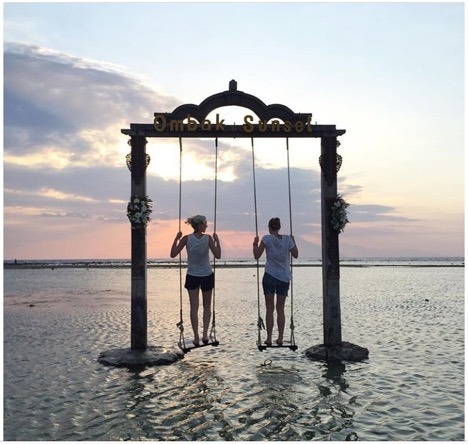 This phenomenon is called social proof(opens in a new tab). Social proof is the concept that people will follow the actions of the masses. It is the idea where people assume the actions of large amounts of other people represent the right behavior or action to take. The good news is that you can use this phenomenon to increase your tour company's sales by properly using Instagram(opens in a new tab)!
Have you noticed your guests are taking those same gorgeous Instagram pictures too when they're on your tours? Can you imagine other people getting interested when seeing those pictures?
Tour operators can get more out of their Instagram, and using the pictures of actual clients (with their permission, of course) as social proof is a great marketing tool to increase sales.
People like to follow the crowds
Power comes in numbers as people like to follow the crowds. The more people that visit you, take pictures, and post about it, the more likely new people will visit you for a tour as well. Aside from encouraging your guests to do this and tag your tour company in the photos, you need to let people know year-round that you have loads of guests and that they are having the time of their lives.
What better way to do that by sharing pictures of happy customers on one of your tours? But remember: the best option is to let them share those photos — this comes across as more natural and genuine. Once they are posed, you then can repost the photos using an app like Repost for Instagram(opens in a new tab). Not only will you have social proof, but you also don't have to worry about not having enough pictures for your Instagram feed. Better yet, if you're a TourismTiger customer, our websites have an Instagram integration option available, so these photos will show up on your website for everyone to see. People who visit your website will be tempted by all the incredible photos your guests have taken…Getting you more tours (ideally)!
Additionally, these photos on your website will serve as perfect visual customer testimonials. Research shows(opens in a new tab) that customer testimonials and reviews combined with a picture of a happy client or guest are stronger and taken more seriously than testimonials with no picture.
Control what pictures show up on your Instagram feed
You probably would like to have control over which pictures make it to your Instagram feed and which won't. Luckily with Instagram, you do have that control. The only thing you need to do is when a guest tags your business in their picture is review the picture and decide if you feel it is fit for your Instagram profile.
I wrote a short manual you can share with your guests to make it easier for them to tag you in their respective pictures. Also, I've created a manual for you on how to adjust the settings of your business Instagram so you can control the pictures that show up on your profile. While checking out their pictures, you can also take that moment to thank your guests for coming — as long as you mean it, of course! Stay genuine, friends.
Are you interested in your Instagram feed being integrated on your website, showing all those happy customers right there on your homepage where they belong? With a Tourism Tiger website, you can! Please contact Tourism Tiger for more info, or read all about it on our new and improved website.
---
Find this article useful? Enter your details below to receive your FREE copy of 95 Epic Places To List Your Tours and receive regular updates from Tourism Tiger and leading industry experts.
By submitting the form below, you agree to Tourism Tiger contacting you via email.