Or, how to turn a complaint into an asset for your travel business.
You're two days into your two-week tour, and one of your customers has been nothing but trouble. Other guests are beginning to appear irritated by your tour's problematic patron, and 10 bad TripAdvisor reviews are being written with every complaint and groan. What do you do?
The difficult customer
Typically, the client that presents the most frequent issues for the engagement and enjoyment of other customers refuses to get involved, undermines staff, or behaves inappropriately or aggressively—sometimes at no fault of your own. They might be an aggressive senior, a spoilt child, an apathetic teenager, or a nervous parent. Regardless of who or what is to blame, it is your responsibility to your other visitors as well as to your travel business to remedy the situation.
How to respond
There is an immense collection of research on the Internet(opens in a new tab) about what is and is not best practice in dealing with difficult customers. Advice includes: remaining calm, placing yourself in the customer's position, not getting emotional, and most importantly, actively listening to what is being said. Active listening(opens in a new tab) is the most crucial aspect of responding to customer issues, as it should prompt you to respect the person, remember their feedback, and review what has been said. In addition to real time response, it is wise to keep in mind some measures to prevent situations like these from arising. Tour disappointment and negative reviews often arise from a lack of clarity or information on what is included, hidden costs and fees, and poor communication. This is most readily resolved through an effective online presence and branding, which is what we specialise(opens in a new tab) in, in case you need assistance. Additionally, introducing procedures to respond to difficult clients into your terms and conditions or waivers might be a useful way to give yourself and your travel business team the confidence to respond appropriately. Of course, you are still likely to get the odd negative review, and knowing how to respond to negative reviews online(opens in a new tab) is another game in and of itself.
When not to respond
While all of this is good to keep in mind, not every situation requires your mediation. Take for example a guest that is engaging in aggressive behaviour towards the rest of your tour group. In this context, removing the issue before it grows is a more reasonable response than trying to reason with the individual. Sometimes it is better to have offered a refund than to miss out on 10 potentially positive reviews. The ultimate goal of any tour operator is not only to build customer satisfaction and loyalty, but also to turn these experiences into reviews(opens in a new tab) for your future clientele.
Turning problems into success
Within the customer service industry, there is a concept known as the 'service recovery paradox(opens in a new tab)'. This idea relates to situations where there has been a perceived service failure that is small, happening for the first time, and out of your tour business' control. A solution to such an issue will end in higher customer satisfaction as well as loyalty.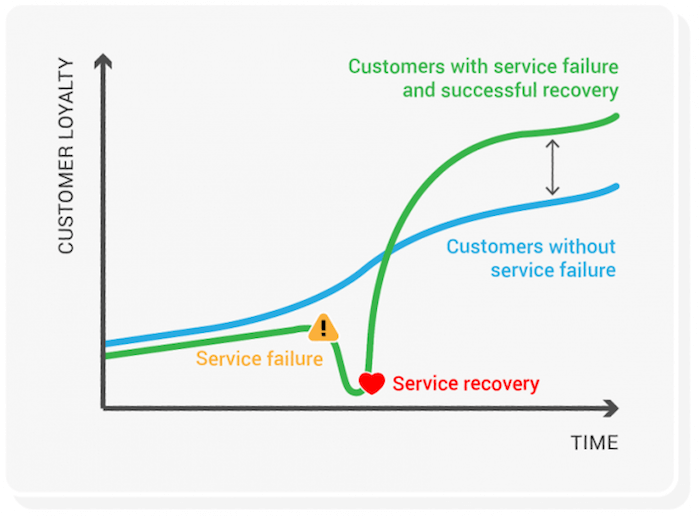 A customer who is loyal to your travel business is more likely to post a positive review on TripAdvisor (or another social media platform), refer your business to family and friends, and return as a customer to your brand. By knowing how to respond to issues in real time, you can increase your customer satisfaction immensely, as demonstrated by the service recovery paradox. A 2015 study by Harvard Business Review(opens in a new tab) found that brand loyalty has steadily declined in recent years, in part as a result of the proliferation of choice and the Internet. It proposes that gratitude is a more effective means of securing customer loyalty than loyalty programs. Gratitude is reciprocal in nature and combines both emotion and behaviour within its meaning. This was proven to be successful on a large scale by Delta Airlines when they went from 48 to 30 on the Fortune Top 50 Most Admired Companies in 2014-2016, as a result of implementing a policy not only to listen and respond to customer feedback, but to do so with the intent to act.
If a travel company that hosts 200 million passengers per year(opens in a new tab) can listen and respond to its customers both online and in person, it is time for you to be doing the same. Especially to the difficult ones.
---
Find this article useful? Enter your details below to receive your FREE copy of 95 Epic Places To List Your Tours and receive regular updates from Tourism Tiger and leading industry experts.
By submitting this form, you agree to Tourism Tiger contacting you via email.