When studies showed that women are overwhelmingly the major decision-makers in booking(opens in a new tab) and paying for travel, it shook the travel industry up. It forced many tour operators to really consider what female travellers are looking for.
A few years down the line, women-only travel companies have hugely increased by 230%(opens in a new tab) and the industry for female travel continues to develop as more and more fascinating initiatives are being set up. We'll be exploring what different types of female travellers are looking for on their expeditions and how tour operators can cater to their needs even for those companies who do not female-only tours.
It is vital that tour operators don't fall into the trap of grouping all women travellers together. Not only is it lazy to assume we all want to avoid thrill-seeking adventures, stay in luxury, comfortable accommodation, and be provided with fluffy bathrobes — it simply isn't true! Like all traveller groups, the female traveller is diverse and multi-dimensional. Finding your niche in this sector is important, but to do this you need to consider what is inspiring women to participate in different forms of travel and how they want that experience to unfold.
The Solo Female Traveller
Solo female travel has become quite the zeitgeist topic(opens in a new tab), the world is desperate to understand the psyche behind a woman who wants to explore the world by herself! Research has shown that solo travel compared to group travel offers more freedom and impulsivity which is what makes it so attractive to many female travellers.
Safety is of course an important factor to a solo female traveller and therefore tour operators should clearly address any anxieties travellers may have(opens in a new tab) on the tour page content and on the FAQ page. Safety should be a well-considered component when constructing a new tour for solo female travellers. In the words of solo female travel expert, Kristin Addis,(opens in a new tab) "solo travelling doesn't have to be dangerous or scary, it just requires the right amount of preparation and alertness." However, safety is not the only concern that females or any other travellers have.
Another important element of tours for the solo female traveller is social interaction. Yes, many tourists choose to embark on a trip by themself in order to have space and be able to make independent decisions, but that doesn't mean that they are trying to avoid human interaction. In fact, most female travellers choose to go it alone in order to meet new people and have new and interesting conversations. Finding a balance between space and loneliness for a solo female traveller is key and often one of the biggest challenges. As tour operators, facilitating these social interactions can be a massive plus for your guests. This may mean adding extra thought into gathering like-minded women on a tour or putting on activities that encourage sharing and social interaction. Booking.com found that(opens in a new tab) making solo female travellers feel comfortable socially can also lead to a superior guest experience.
Group Female Travel
Female group travel is a diverse group with a variety of reasons for their travel. It could be a group of friends taking a trip for a bachelorette or hen party. These groups can differ greatly in terms of age and interests, but one thing they all have in common is they want a stress-free experience together. A detailed itinerary is often the perfect way to de-stress a group of people who may not know each other well and appeal to the stressed over-planner, as well as the lowkey travellers who just want to show up and participate.
91% of females who book trips with other females are travelling with friends(opens in a new tab) whereas only 8% of them are travelling with relatives. (There is something to be said about multi-generational travel but that ultimately has its own set of parameters). These could mean friends looking to get away from family life for a week or two, escaping a busy career or the hustle and bustle of the city. Make sure that you understand their expectations and can help create the sense of escapism they are looking for.
The Adventure Traveller
For years the tourism industry operated on the misconception that adventure tours were for men. People like travel expert Marybeth Bond have been trying to deconstruct this idea, in her words(opens in a new tab), "the average adventure traveller is not a 28-year old male, but a 47-year-old female. And she wears a size 12 dress".
The female traveller has a different outlook and wants something different from her adventure tour to her male counterpart. Studies have shown that women want to have meaningful experiences, learn new skills, and form relationships. These are ideas that AdventureWomen(opens in a new tab) have focused on in their tours with their "signature women-only small group style [that] creates an encouraging environment for everyone to experience empowering and memorable activities.(opens in a new tab)" AdventureWomen focuses on helping women form bonds and learn and travel in a space in which they feel comfortable.
Female-only travel operators like AdventureWomen have been on the rise, but what are the benefits of a women-dedicated tour company? A female-focused itinerary created by women already eases possible anxieties women may have while travelling. Inexperienced travellers may not know what factors they should be considering before travel, and that's the beauty of a female-focused team, they have done all the groundwork and shape the experience around their wealth of knowledge as women.
The Cultural Traveller
Recent research has highlighted that women like to immerse themselves in a new culture more so than men. Nicole Wineland-Thomson from AdventureWomen told Nat Geo(opens in a new tab) "When women are together, there are no traditional gender roles anymore. Women just get it, and they get each other. When you bring in another culture to this environment, women really open up."
It is true that cultural experiences are one of the most popular genres of tours amongst women. Operators like Patch Adventures(opens in a new tab) provide their guests with itineraries "hand-picked" by their founder Rebeca Newton, harking back to that idea mentioned in the previous paragraph about the importance of trusting other women's recommendations. Patch Adventures is a great example of women who truly understand women. They, in their own words, "provide women-only trips for ladies that don't want to feel like tourists, but rather friends of locals visiting from out of town." Rebeca is a great unique selling point, she is a real woman, rather than a faceless founder who goes " to the destinations and experiences their intimate secrets for herself — so you know you're getting a truly exclusive, hand-tailored experience". It's a masterclass in building trust with clients and easing any concerns they may have(opens in a new tab).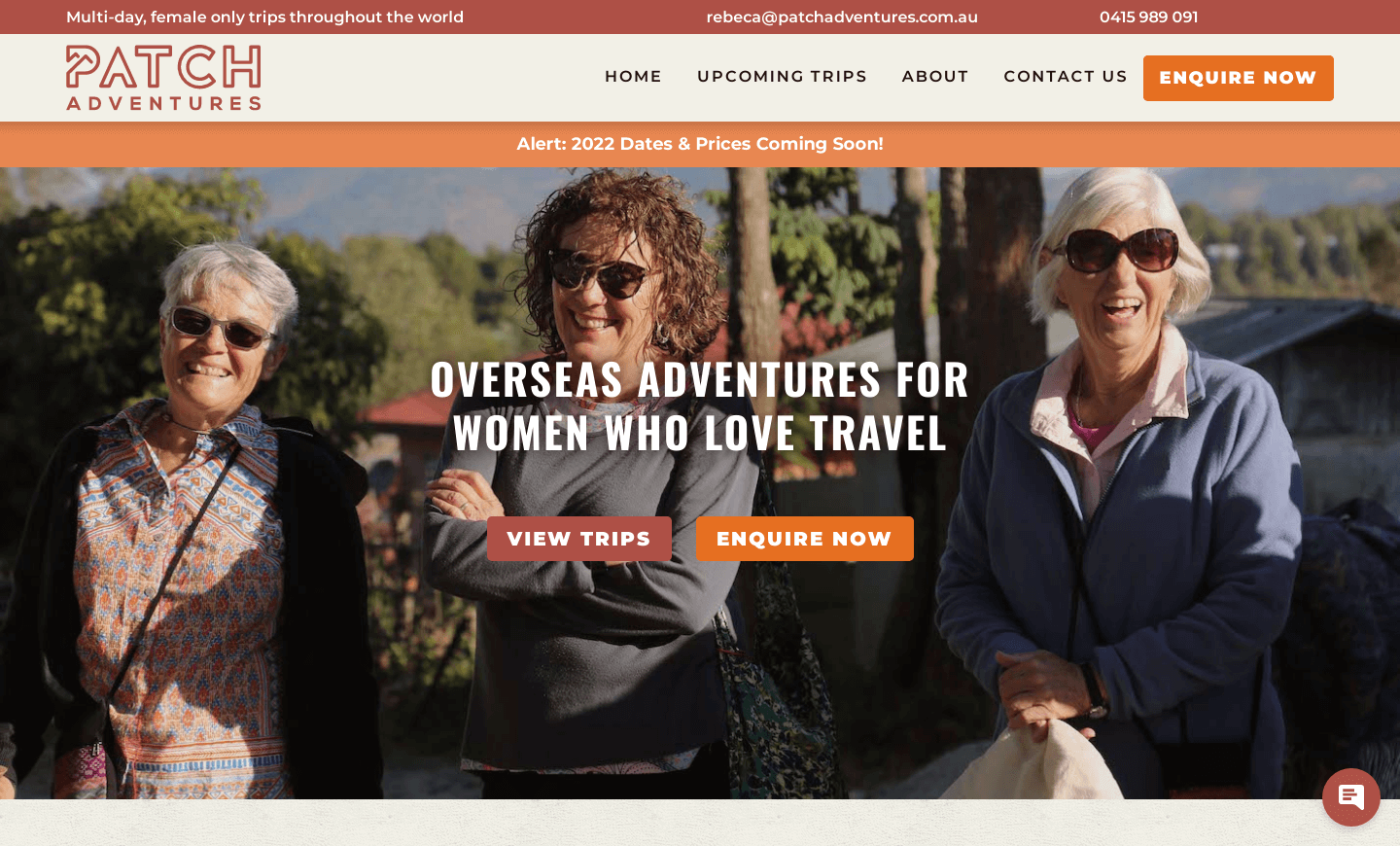 Doni Belau, CEO and Founder of Girls Guide to Paris(opens in a new tab) expressed the psychology behind this approach so well when she said(opens in a new tab) "women feel safer in communities of like-minded women, giving and receiving advice like they do with girlfriends."
The Older Traveller
Another trap that tour operators can fall into is thinking that only young women travel and that they want a carefree, bohemian experience. Of course, there are those who do fit this profile but in reality, women between 40 and 60 are the largest growing market in travel(opens in a new tab). Many women who hit this age range may be recently divorced, widowed, or single with money to spend on travel, or perhaps they are looking to embark on their own adventure on their own or with a friend that they were not previously able to. What will they be looking for from their tour operator?(opens in a new tab) Maybe a little more comfort, good organisation, and accordingly willing to spend a little more money. But also, they are often looking to form new friendships, to challenge themselves, and make the most of their life now that they've reached or passed middle age.
They don't necessarily want to be grouped with other women of their own age group either. Many successful tours with female-only tour operators have mixed age ranges and see great results. Especially when people are looking to learn new skills and get a different perspective, combining groups from different generations is a great way to get people to open up to new ideas.
What Else Can Tour Operators Do To Attract Female Travellers?
Many tour operators catering to women will often be all-female teams. This doesn't need to be the case, but often at least one female guide is a great asset to these kinds of tours. A female guide truly understands the needs of an all-female group, they have the intuition and empathy for what guests may be thinking (something that is key to being a good guide(opens in a new tab)) and can act accordingly.
Having a female guide also creates an equal balance especially when guests are trying out new skills (opens in a new tab)or moving into a field which is relatively unknown to people of the age, race, or background(opens in a new tab). They can be themselves without the pressure of gender power dynamics.
In a similar vein, many women travel because they've been inspired by an inspirational figure or role model (think Eat, Pray, Love). Use this idea to your advantage when marketing your tours, team up with local influencers (opens in a new tab)or inspirational females whose ideas align with your company's ethos.
Tour operators should research what is important to their audience. For example, Girls Guide to Paris(opens in a new tab) supports women and girls by partnering with them as part of their tours: "whether that's a street-side memelita(opens in a new tab) seller in Oaxaca or an organization like Beads for Education(opens in a new tab) that's working to improve the status of women in Kenya through education and women's business development. We treat our fellow lady travellers as our sisters from another mother, knowing that behind every face there's an intriguing story waiting to be heard." They understand that this work is also important to their guests and sets the business apart from competitors.
Where to Begin
It's important to note that you don't have to be a women-only tour operator to attract female guests. Having an equal number of male and female tour guides, pre-empting and addressing concerns and needs female tourists may have, and researching activities that will particularly attract female tourists are all ways you can ensure you are catering to more than just a male audience. Consider even having the option of allowing travellers to indicate their preference of a male or female guide in particular if it's for an all-women group, multi-day tour, or private tour. While you may not always be able to accommodate such requests, it carries merit to at least offer the option.
If you want a website that highlights your point of difference and clearly expresses what you can offer female travellers, like the aforementioned Patch Adventures(opens in a new tab), get in touch today! Our content team strives to showcase the ethos and mission of our clients in order to appeal to their target audience.
---
Find this article useful? Enter your details below to receive your FREE copy of 95 Epic Places To List Your Tours and receive regular updates from Tourism Tiger and leading industry experts.
By submitting this form, you agree to Tourism Tiger contacting you via email.