You've put in the hard work, the blood, the sweat, the hours, everything you can possibly think of, all of which you did with a smile on your face. But at the end of the day you get home, turn on your computer and there it is not just a bad review, but an outright terrible one. You're absolutely fuming, and in the moment you put your professionalism aside and you fight back, writing a rude answer blaming the customer, using irony, personal attacks, sarcasm, and totally denying the situation. Then you wake up and realize that it was a dream. Because you're not that person.
There are countless stories of bizarre or ridiculous TripAdvisor reviews, and the hospitality industry can be a vicious one. Perception is everything, and while it's hard not to take certain comments personally, this is the business of customer service. It's important that you answer all reviews, regardless if they're positive or negative, but with not-so-glowing responses, what you write requires some additional consideration. What remains essential is acknowledging and accepting responsibility for what went wrong, indicating that you've learned something and that you're going to do better next time.
Accordingly, it's time for another installment of bad management responses to TripAdvisor reviews, where we look at answers that likely should have been kept on the inside rather than put out there for the whole internet, and what would have been a better way to approach responding. Be sure to check out our earlier two blogs to be caught up on all the tips and ways to address these precarious situations. As you'll see, we've identified a variety of ways not to respond. Once you're caught up, keep reading for more laughs, examples of what not to do, and suggestions for how to positively diffuse negative reviews.
Five Hilariously Bad Management Responses on TripAdvisor(opens in a new tab)
MORE Hilariously Bad Management Responses on TripAdvisor(opens in a new tab)
1-Getting Triggered
The response itself although only 3 sentences, clearly hit a nerve and started an incredible rant. Yes, multiple bad reviews by someone likely does not reflect well on the person that wrote them. However, contrary to what the owner seems to think, responding to criticism with an extensive monologue also reflects poorly. Going as far as to investigate the reviewer's account and incorporate mentions of other reviews they have written, and include multiple mentions of their username is just invasive and even a bit creepy. Although this particular owner may have a few fans(opens in a new tab), we would never recommend this approach to respond as a valid way to increase your business.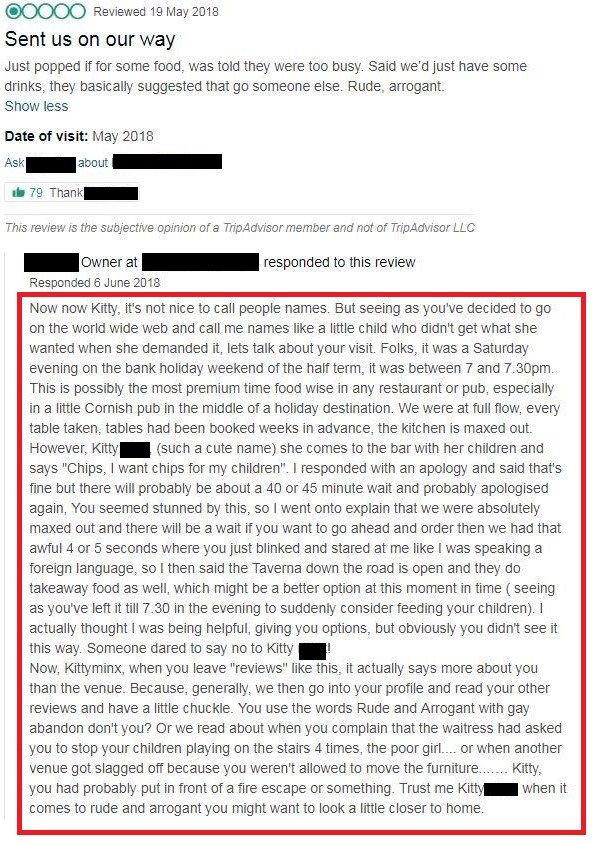 What would have been a better answer: "Unfortunately, at the time you came to visit we were extremely busy given the hour and that it was a holiday weekend. After explaining that there would be a longer than normal wait given the number of customers, we suggested another place nearby which was open if you were not able to wait. As a small operation, we do all that we can to offer the best service possible, but sometimes this means a potential delay during these exceptionally busy times. We'd love to have you back again so you can get the full experience and finally try some of our delicious food."
Bonus Tip: Avoid the additional sarcasm of quoting the reviewer in your answer.
2- Review Rejector
Again, the long response is regularly (although there are exceptions) an indication that a personal monologue involving many unnecessary comments is underway. This owner has openly admitted that they don't like the review process but then calls out the person for not writing a positive review. The owner responds aggressively/rudely/something rather than appreciating this customer's long-standing patronage, and even their admittance that following the less than stellar experience, they'll still come back. Like it or not, that is part of running a business and maintaining a strong online presence. The large gap between when the review was written in comparison to the response makes the intensity of the answer seem that much odder.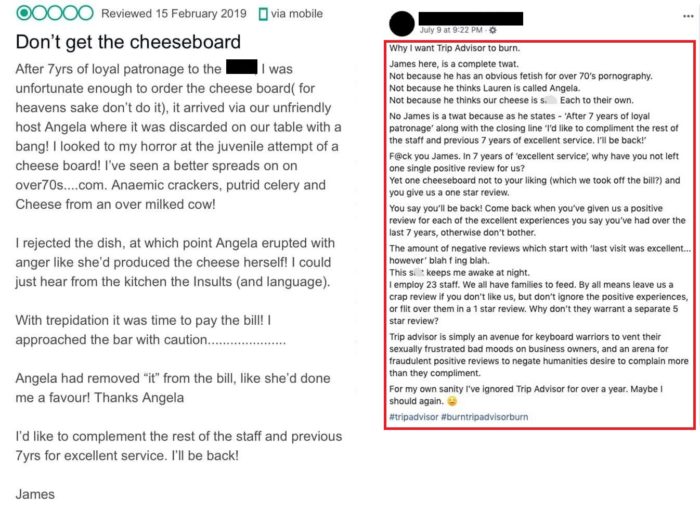 What would have been a better answer: "Thank you for being a loyal customer all these years. We want all of our customers to have a great experience and enjoy their food. We apologize that this particular experience was not like your other ones and so accordingly, we removed the item from your bill to try and make it up to you as best as we could at that moment. We have heard your feedback and are looking into the matter with our kitchen and wait staff in order to understand what went wrong and where we can improve. We're so glad to hear you'll be joining us again in the future, we know you'll have another positive experience."
Bonus Tip: If we can all agree that swearing at customers in person is unprofessional, the same rule applies to the internet.
3- Public Monologue
As you might be able to tell, long responses are a personal trigger. In certain instances, it means that the owner is wanting to acknowledge and address every point directly in order to move forward in the best way possible. However, as yet another example shows, the reality is a long answer is almost always one that is best kept on the inside, or shared with a close confidant, not the whole internet.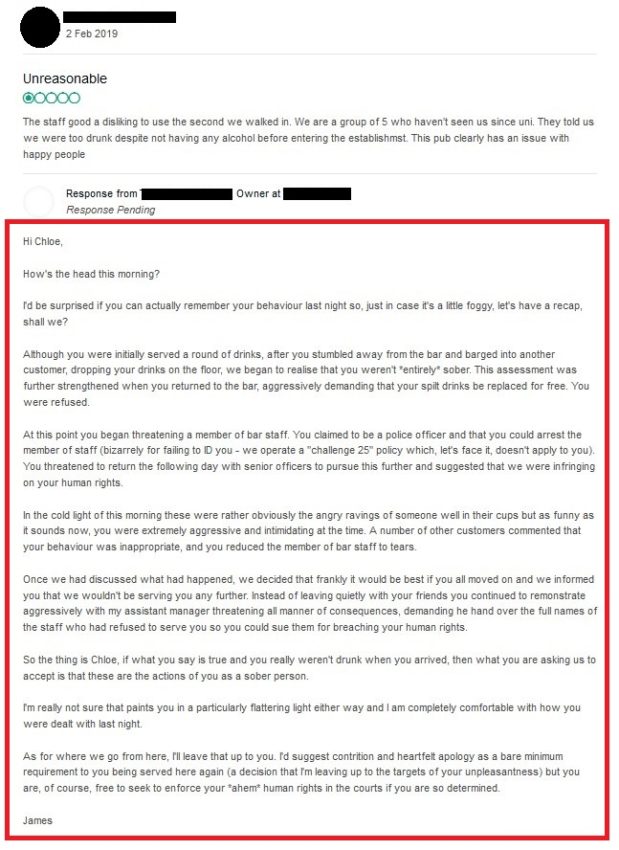 What would have been a better answer: "The wellbeing of our staff but also of our customers is extremely important to us. We do apologize if you feel as though our staff misjudged the situation. At times, we make a judgement call to stop serving as we see it as our personal and legal responsibility to do our part to ensure all of our customers get home safely. We are always open for happy customers and would love to have you back, as I'm sure you'll see we also love a good party."
Bonus Tip: Retelling the entirety of the events does not make your account seem more legitimate, it just starts a case of she-said / he-said and readers should not find themselves in the middle of your bickering.
4- Repeat Offender:
This one is shocking on so many levels, not only are all the answers aggressive, sarcastic, and feature personal attacks, but the remarks are just downright inappropriate. Essentially, everything a response should not be. But worst of all, this isn't just one bad response to negative reviews, it's multiple. Please remember that the internet is forever, and when it comes to the hospitality industry, infamy (as someone who responds to negative reviews with more negative responses) is not as good as being famous for good food and service.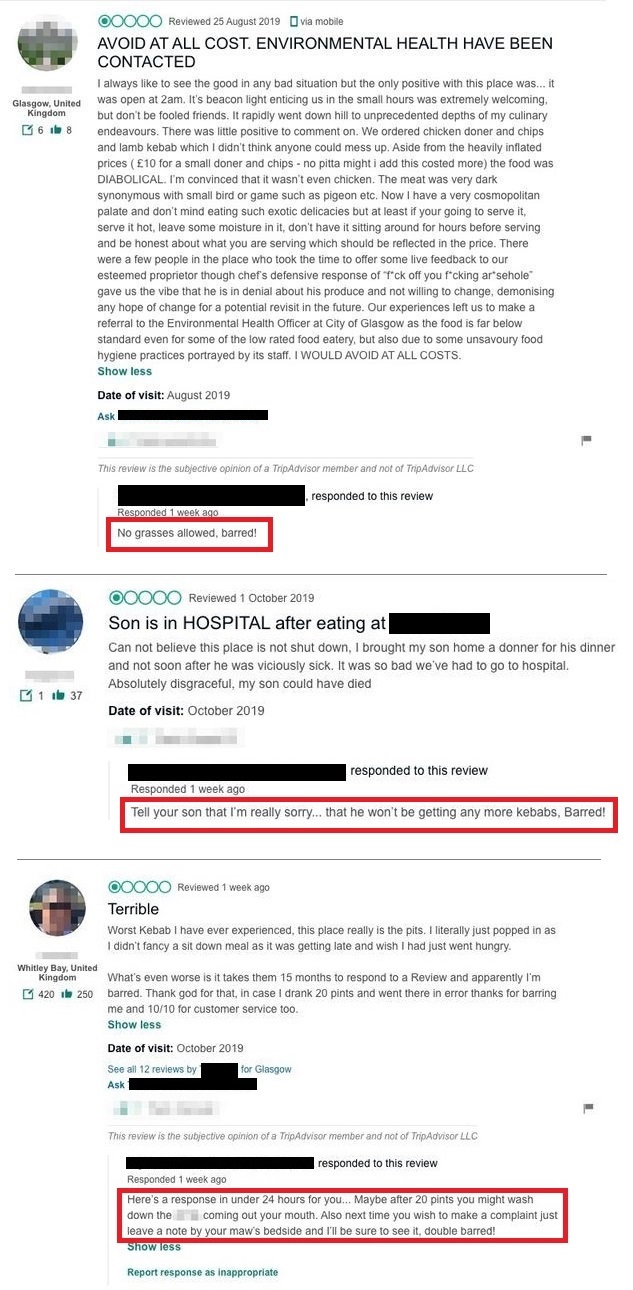 What would have been a better answer: This one is really a case of reputation management. There are multiple serious accusations regarding both the food and staff which clearly need to be addressed. Reviews are not something to dismiss or joke about, and when it goes as far as having an article published(opens in a new tab) about such inappropriate responses, it's hard to come up with solutions to bounce back from that much negative publicity.
Bonus Tip: This is the ultimate example of everything that you should not do.
5- Even Though You're Right…
This one was so close, really. We get it, it does not make sense that someone would take a tour about a show that they either never previously saw, or don't like. While the response is apologetic, in this case, it's just about turning down the sarcasm. The response is not wrong in its message, it's just not the most gracious delivery when it starts with a question that shifts the blame onto the customer.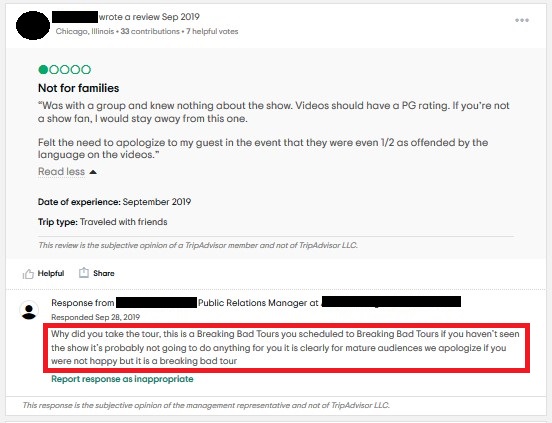 What would have been a better answer: "We're sorry you did not enjoy this tour and if you were offended by the material. As this tour is about Breaking Bad, in general, we expect that people who take our tour are either fans of, or familiar with the show and therefore have a certain level of expectation with its material."
Bonus Tip: Realize that in certain instances, even before reading the response (although you should still respond) it's clear for other readers that the fault is on the customer.
Having a good TripAdvisor presence is important to your company's image, but so is having a professional, appealing, and up-to-date website. That's something that we here at Tourism Tiger(opens in a new tab) can help with! If you're looking to improve your reach we can also help you plan your marketing strategies(opens in a new tab) and work on your visual branding(opens in a new tab). Contact us(opens in a new tab) for a free consultation and personalized quote.
---
Find this article useful? Enter your details below to receive your FREE copy of 95 Epic Places To List Your Tours and receive regular updates from Tourism Tiger and leading industry experts.
By submitting this form, you agree to Tourism Tiger contacting you via email.