You know you need a site. You think to yourself: let's start with a home page, I'm going to need some tour pages, a contact page, and an about us page. While that is a great skeleton for a site, we've got to add some muscle before a full-bodied site comes to fruition. A couple of additional pages you stand to benefit from by having them on your site are landing pages and city pages.
Landing Pages
Landing pages(opens in a new tab) serve one of two main purposes, and sometimes it will be both. A landing page is an entry point to your website, and in some cases it will hold all the information users need in one spot. The first purpose of a landing page is user-focused. You want a user to land on a page and be able to easily find their next step. Commonly a landing page showcases the tours in a specific location or a category of tours. Let's say you offer tours in multiple cities. Your landing page should have something that makes it easy for users to see the available cities and select which one they are looking for tours in. If you offer a few tours, a landing page should show those tours and highlight any relevant information that could get people to click through to their dedicated pages. For example, a tag saying something like, 'Our Most Popular Tour,' 'X% Off,' or other things along those lines.

As you can see here with Insight Cities(opens in a new tab), because they offer multiple tours in multiple cities, they've created landing pages for each city – with a landing page focused on having guests choose a city first. This way rather than being overwhelmed with all of the options, a customer has the option to search the tours available that correspond to the destination that interests them.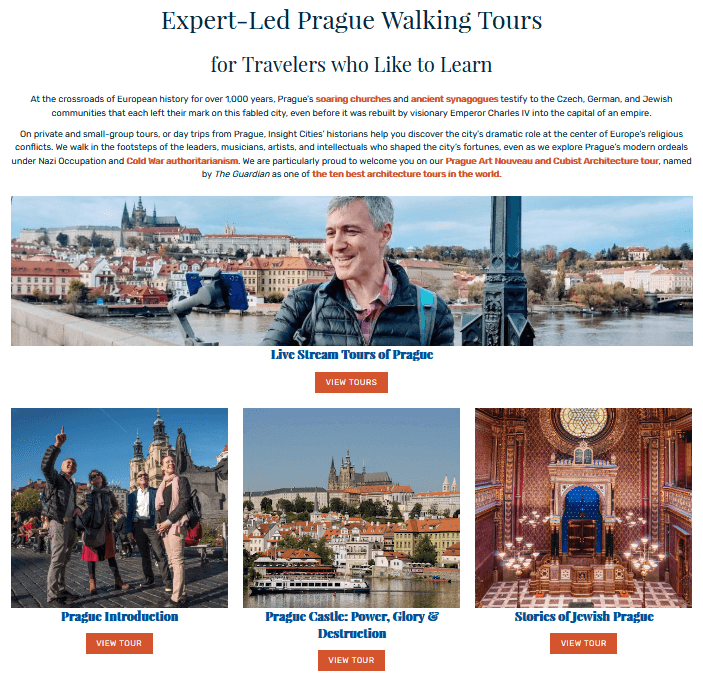 Then once on the landing page, for example their Prague page(opens in a new tab), customers can read additional information specific to that location, and see the available tours.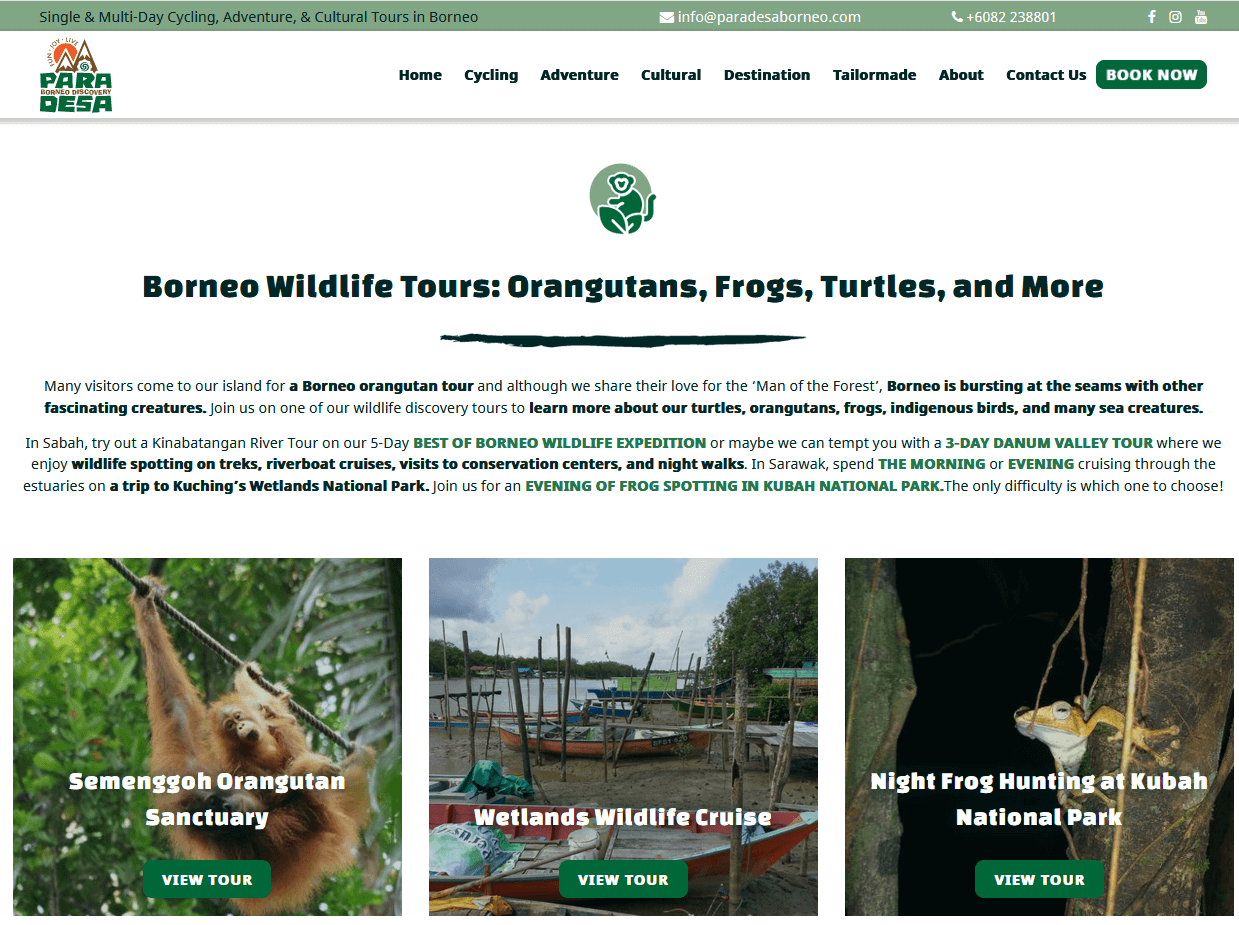 Because Parasea Borneo(opens in a new tab) offers multiple types of tours such as cycling, adventure, and cultural, which are then further broken down into sub-categories, and take place across multiple locations, they use landing pages to help guests go through their tours based on the destination or category that interests them, in this case, wildlife tours(opens in a new tab).

Here with Eat Mexico, their landing page has a section on the page focused on their top tours, with tags explaining unique selling points for each one. Something like this makes it very easy for users to see their options without having to search much on the page. Something like this would usually be right below the fold of the page(opens in a new tab) as well.
The other purpose is for you. Landing pages can also be a great way to generate leads via a form. The most common example of this is a newsletter form. Your page shows your great tours, some great photos, some great testimonials and at the end an option for possible customers to stay in the loop on news, discounts, and more that you offer. Newsletters are a tried and true method to get customers interested and eventually convert. Landing pages can also lead to private tour inquiry forms, contact forms, and more, serving as a way of opening up communication and collecting data on possible customers(opens in a new tab).
Exactly what you put into a landing page really depends on your goal for the page. Is it specifically for people looking for a certain city, or certain type of tours if you offer multiple categories? Are you trying to provide some destination-related information? Does your page need to be specifically tailored to mobile users coming from social media? Are you trying to generate a contact list or a direct booking from this page? Those are all relevant questions to ask yourself as you plan on what goes into your landing page. While there's no exact formula for each landing page you need, following these tips(opens in a new tab) can help guide you.

Having an embedded form on a landing page is a great way to make it easy for customers to give you their contact information, so you can later on attempt to convert them in
City Pages
City pages(opens in a new tab) are especially great for local SEO. A city page targets a specific geographic area. So, that could be a city (as it most commonly is), but don't let the name stop you from thinking that these pages can't be focused on areas bigger than cities, such as regions, states, or even countries depending on the location. From a searcher's perspective, most people won't just look for a tour. They'll likely tag on a location to their search as well. For example, "Boston Food Tours" instead of just "Food Tours." While having your address and local phone number around the site and a Google My Business profile are crucial to ranking for a local area, having a city page can help a lot as well.
Your City pages should focus on providing relevant and valuable information on the specific geographic area that you are targeting. So, what are some great things to put on a city page?:
Testimonials from customers in that area
Blogs focused on the area
Places for customers to eat at or stay at in the area
Directions regarding how to get to your tours from local transportation hubs
Other recommendations or awesome things to check out in the area (museums, etc)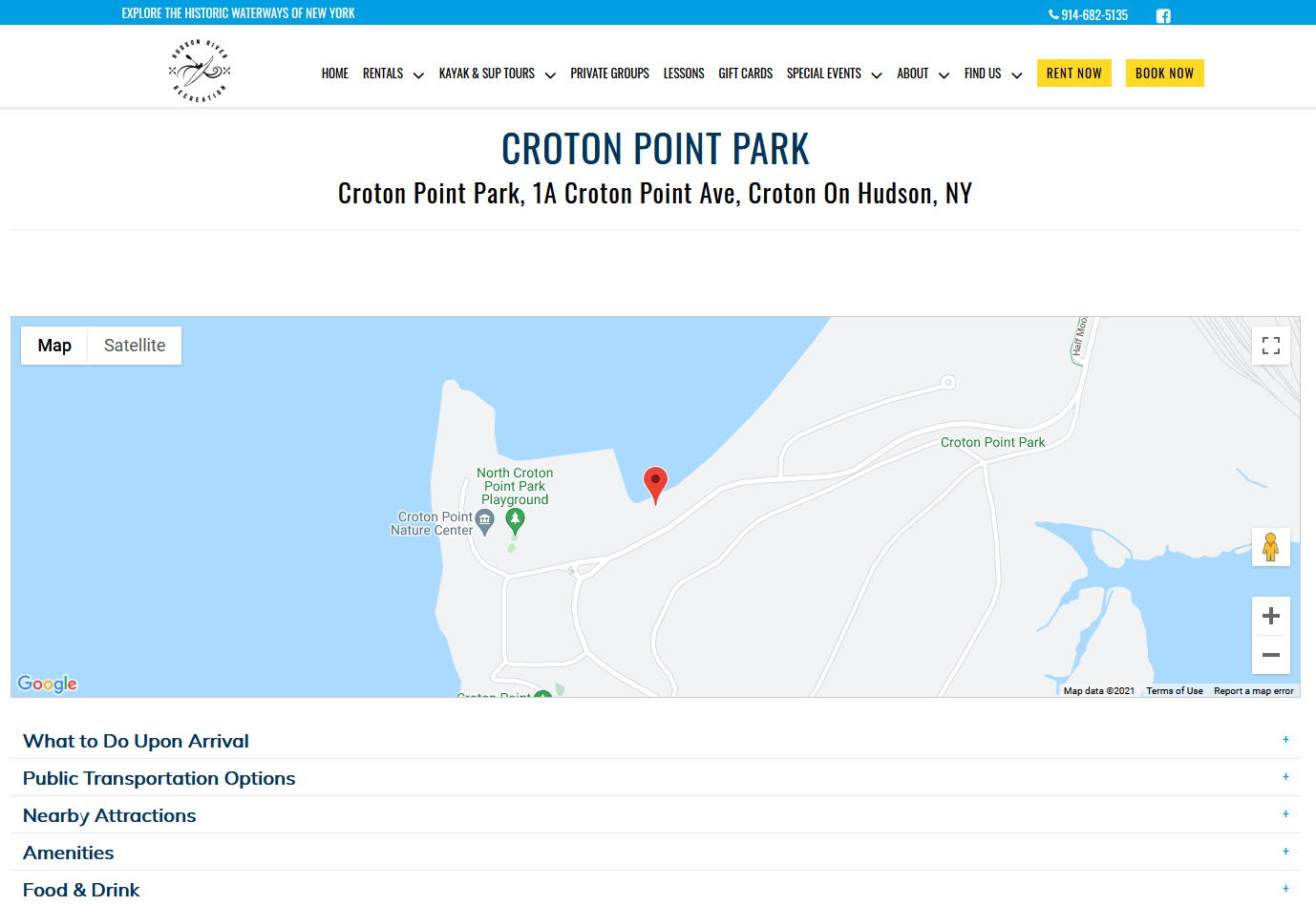 Kayak Hudson(opens in a new tab) receives a lot of visitors from New York City's metropolitan area, so their location pages(opens in a new tab) make it easy for visitors to find them, and recommend other things to do on their day out of the city.
Another benefit to city pages is that they highlight your credibility as local. You are sharing your personal recommendations and knowledge, showing potential clients that you not only know your area but want to ensure your customers have the best experience possible both as it directly relates to your tour but also their overall travel experience.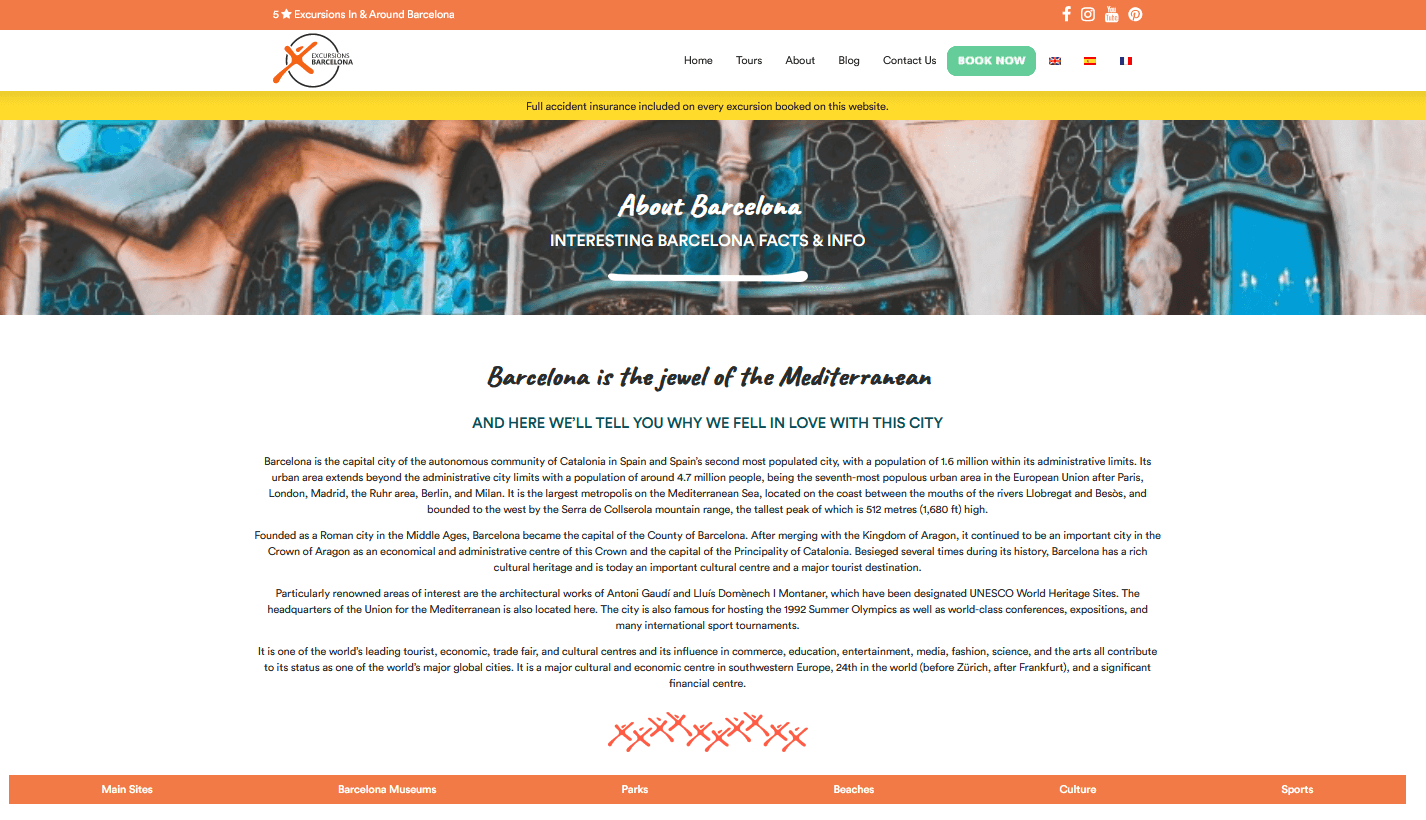 Similarly Excursions Barcelona(opens in a new tab) provides additional recommendations for those visiting the area on their About Barcelona page(opens in a new tab), while their About Costa Brava(opens in a new tab) page provides concise but intriguing introductory information about the region.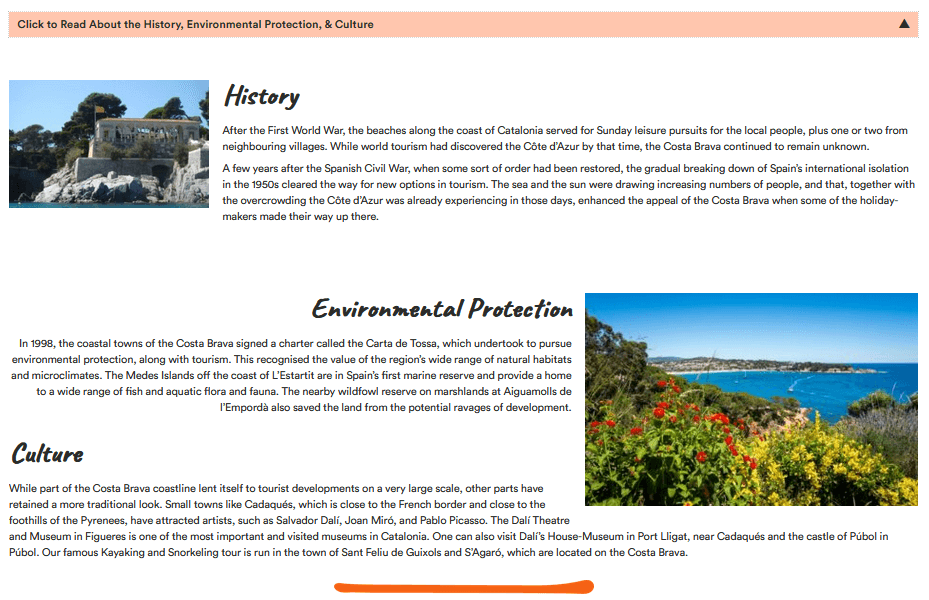 While these pages may not initially be on your mind when creating a site for the first time, they are great assets for both users and yourself. City and landing pages are also great entrance points to your site. Pages focused on specific types of tours or specific areas will prove more relevant with long tail keywords(opens in a new tab) and more specific organic searches. On top of the benefits listed for the specific pages, adding any page to the site is also a great opportunity to add more relevant – as well as location-specific – headlines, metadata, and content to your site! And when it comes to your website needs, including landing and city pages, get in touch with us(opens in a new tab) and we can help you generate traffic to your website both locally and beyond.
---
Find this article useful? Enter your details below to receive your FREE copy of 95 Epic Places To List Your Tours and receive regular updates from Tourism Tiger and leading industry experts.
By submitting this form, you agree to Tourism Tiger contacting you via email.