Google. How do I get more traffic from it?
This is a never-ending hot topic which we've talked about for a while at Tourism Tiger. Do you find yourself continuously frustrated by your lack of organic visitors from the big G?
Let's say:
And you're still not getting traffic. Why would that be the case?
The reason is simple, and you've probably heard of it: off-page SEO.
The reason off-page SEO is the determining factor is simple.
People will always take the easy path – and optimizing your site is a lot easier than doing off-page SEO. It takes a lot of work, a lot of time, and often can yield less than adequate results for such a long time that people give up on it.
The idea of this post is to give you a simple plan that anyone can follow. It will take a LOT of leg-work, for sure, but the game of business is ultimately won by those who are willing to do what their competitors are not willing to do.
To improve your off-page SEO, there is one basic key: get links or citations from other websites. The more credibility, the better.
Link: this is simple — a backlink from any other website, to yours.
Citations: these are mentions of your business — say, your business name and phone number. These can help you show up higher in the local businesses section of Google search.
(Note: the above is a highly simplified explanation, but the simple act of getting links or citations from other websites that are actually worth a darn will help you.)
But, don't take my word for it: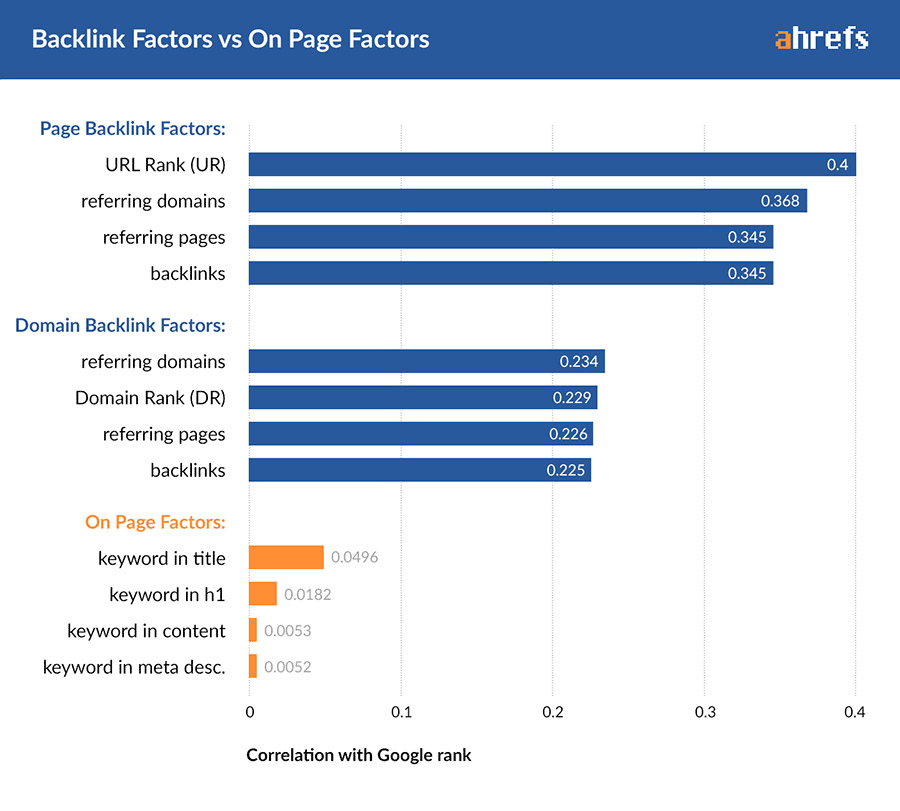 The above image from Ahrefs.com(opens in a new tab) clearly demonstrates just how much off-page SEO matters. It shows that the highest correlation with a healthy ranking comes from the the quantity of links coming into a site. You can review more detailed information from Moz about correlation to high rankings here(opens in a new tab). Note: legitimate links will always be key. Paying someone $20 to get you 500 links will give you verrrry little benefit and has a good chance of harming you.
STEP 1: GET THE BASICS OUT OF THE WAY
a. Get your Google My Business profile set up. (I wrote that post already. Read it here.)
b. Get your major profiles set up properly. For most people, that's going to be Yelp and TripAdvisor. (Here's a video I made a while back about Yelp(opens in a new tab) and here's a post about making a good TripAdvisor profile.)
c. Make sure you have a process for collecting reviews, not just on TripAdvisor but also on Yelp, TrustPilot, Google My Business and whichever else you use.
Google doesn't detail publicly how their algorithm works, but in 2017 it's safe to say that they're using your major social media profiles to assess the credibility of your business.
STEP 2: MAKE A LIST OF THE COMPETITION YOU WANT TO COMPETE AGAINST
There is something known in the SEO world as 'Competitor Backlink Analysis'. If you search for that term in Google, you'll see a wealth of information. However, I'm going to give you the basics you need.
The first thing you need to do is define WHO your competition is. To do this, just Google your preferred search term and see what else comes up.
From now, I'll be using one of our customers as an example. It's hard to choose because we've launched a few nice ones lately, and I want to show them off. Check a few of them out: Walk 91(opens in a new tab), Maika Tours(opens in a new tab), Revelstoke Reservations(opens in a new tab), Select South West Tours(opens in a new tab).
In the end, I settled on Cascade Outdoors, a company in Tennessee that offers white water rafting trips on the Ocoee river near Chattanooga. Check out their website here(opens in a new tab). They're in a highly competitive area with lots of other outfitters, many of who have done a significant amount of SEO work in the past.
In the case of Cascade, I'm Googling 'Ocoee river rafting'. In terms of competition, I'm not going to count major national or international sites – only those that are actually, directly selling rafting on the Ocoee River.
I'm going to take these competitors to start with:
Ocoeerafting.com(opens in a new tab)
Wildwaterrafting.com(opens in a new tab)
Rollingthunderriverco.com(opens in a new tab)
Ocoeeadventurecenter.com(opens in a new tab)
Ocoee.com(opens in a new tab)
These the only businesses listed on the front page (the other results are YouTube videos). All of these companies have websites that are mobile responsive. None of them load fast (in fact, some load quite slowly), and all of them have done some sort of SEO optimization.
Some of them only serve the Ocoee, and others raft down multiple rivers.
STEP 3: SIGN UP FOR A FREE TRIAL WITH AHREFS
Think about it – if a site is in the top 10, it would be a for a reason, right?
And it stands to reason that if you do something similar to those in the top 10, you might benefit.
One way you can do so is to find the websites that are backlinking to your competitors and see if you can get in on that action.
There are many tools that can assist you with this, but my favorite has always been Ahrefs.com(opens in a new tab). And the good news? You can do a free two-week trial with them that allows you full access to all their tools.
Once signed up and with all your details correctly added to the tool, you can start researching your competition.
STEP 4: RUN COMPETITOR BACKLINK SEARCH ON AHREFS.COM
Note: these next steps are not for the technically faint of heart. If you are not comfortable with the basics of working with spreadsheets and online tools, it's best you ask someone to help you with some of these steps.
All the following instructions assume that you have already signed up for an account.
1. Type the URL in and click the magnifying glass.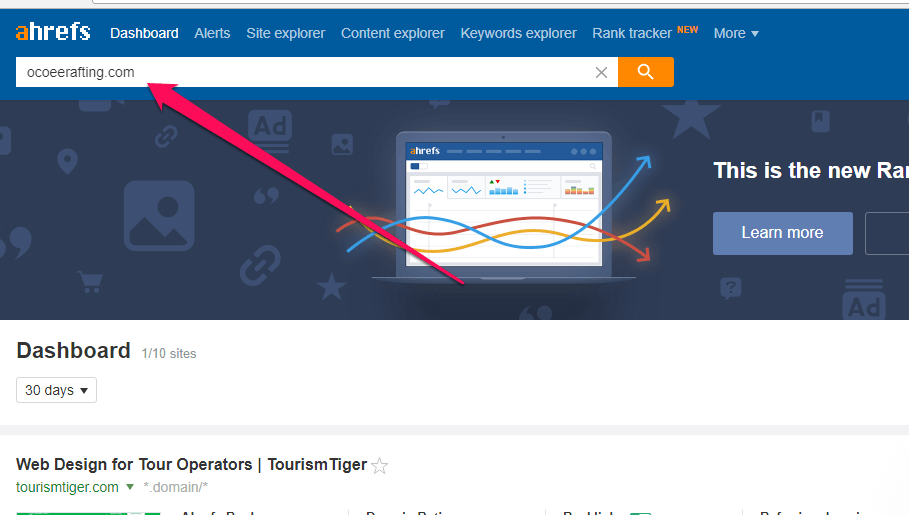 2. You're going to see a lot of stuff.
Ocoee Rafting has done a good job of collecting backlinks (surprise, surprise — this is why they're #1) and has 298 different websites pointing back at them.
298 is a really healthy number for a small business, and all credit goes out to them for doing such a good job. Note that the number of links is much less important than the quality. However, my brief look already shows me that Ocoeerafting.com(opens in a new tab) has done quite a good job at this.
Click the link that says 'Backlinks'.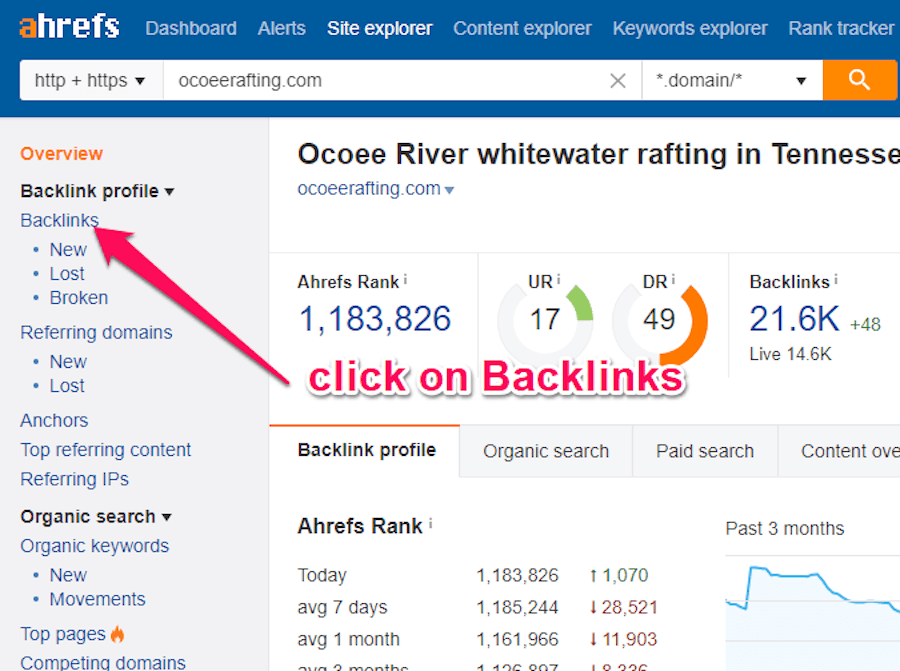 3. You'll see something like this: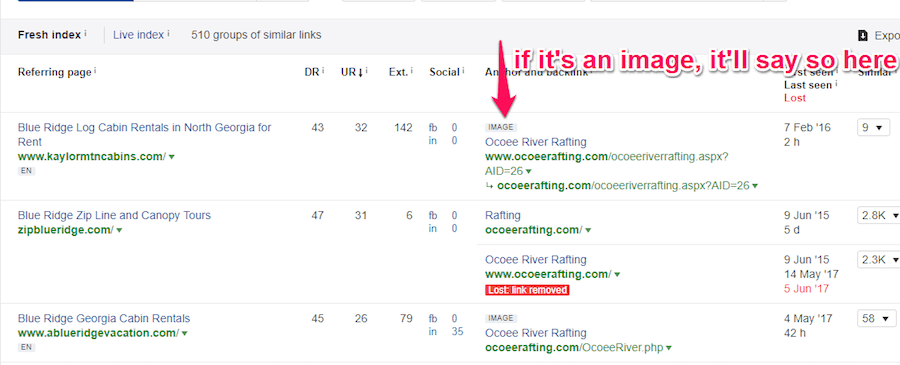 A couple of things worth noting:
Referring Page: Supposedly, this will show you the exact page of the website that is linking to your competitor. In my experience, it's nothing like this, and you have to navigate around a little bit to find the actual page of the website that is linking to your competitor.
Image: Not all links look like text. Sometimes an image (such as a permanent banner ad) can also have a link to a website, too.
STEP 5: MANUALLY ANALYZING OCOEE RAFTING'S LIST OF BACKLINKS
Things are going to start getting tricky here. I'll try to simplify things for you in this section to help you do this effectively. However, you'll need to be quite adept at navigating and using websites. If you're not the kind of person who is known within your circles for being an advanced internet user, you may struggle.
Remember, what we're trying to do is build the most complete picture of your competitors so that you can:
Get your website listed on as many of the same websites as theirs
Understand the strategy of your competitors so that you can then duplicate it
If you just want to use Ahrefs' free trial, you can export all of the reports that you generate and then cancel the trial.
Let's analyze the first few links that point towards Ocoee Rafting. In this case, it's more practical to use a video:
STEP 6: GAINING ADDITIONAL LINKS
Step 5 will take several months – not more – for most businesses.
Once you're done, here's more things you can do:
a.) Submit your website to as many sites as possible in our collection of 95 places to list your tours.
b.) Run Ahrefs' reports on other companies in different areas.
c.) Implement some of the link-building strategies that you discover other companies doing, and make it a permanent feature of your business.
d.) Work to get more sales from your existing online profiles. Get more reviews on TripAdvisor, or add new products to Viator.
e.) Start adding more content to your site. Now that you've done the work of getting more links, now is the time to consider a blogging strategy. Blogging without links to your site will just result in a lot of posts and little traffic. Blogging when your site has a lot of links can be quite helpful, but before you start, you should know that other factors are also relevant. You should only blog if there's a decent market for the information you're talking about and an opportunity to actually reach that market.
f.) Adjust the content on your site to fit the 'strength' of your SEO profile. If you're still not competing at the level of the heaviest hitters, why not try targeting your site towards keywords that they're not?
Signing Off
SEO is a lot of work. Just describing this process took me hours of writing and supplementary research.
If you're selling standard walking tours in markets like New York, Sydney or London, you'll be facing a long, slow, grinding fight that you honestly may never win.
However, if you're in a mid-sized market or smaller, I still see a lot of opportunities on a daily basis.
Regardless, always remember that while SEO can be a valuable pillar for your business, it should never be the only one! Always maintain multiple sources of sales to ensure long-term stability.
---
Find this article useful? Enter your details below to receive your FREE copy of 95 Epic Places To List Your Tours and receive regular updates from Tourism Tiger and leading industry experts.
By submitting this form you agree to Tourism Tiger contacting you via email.