Securing backlinks remains one of the most effective ways of climbing up the search rankings. Off-site SEO(opens in a new tab), especially links from high-quality pages and domains, is one of the primary factors determining search rankings. For travel businesses that rely heavily on web traffic to generate revenue, ranking high in Google searches can spell the difference between success and failure.
Before we discuss backlinking strategies, we need to define what backlinks are and how they can benefit your site. Once you're aware of the importance of building good backlinks, we can start discussing strategies for acquiring those links so you can get your content to jump in the search rankings.
What are backlinks & why are they important?
A backlink is a link to a page on your website from another site. You can get backlinks from guest posts, blog comments, paid sources, author bios, social media, link exchanges, and private blog networks.
However, not all backlinks are beneficial to your site. Links from paid sources and private blog networks, for example, tend to be of low quality and may result in your site being penalized by Google, so you need to avoid those as much as possible. Equally, because anyone can leave a comment on a blog post or a forum, this means that these links have little value.
On the other hand, high-quality backlinks from influential domains can boost your site's search ranking. You can use SEO tools to check the authority of a website. The two most widely used metrics are Domain Authority(opens in a new tab) and Domain Rating(opens in a new tab). Both use a 0-100 score system to rank websites according to their authority. A site like Skyscanner, for example, has a Domain Rating of 83.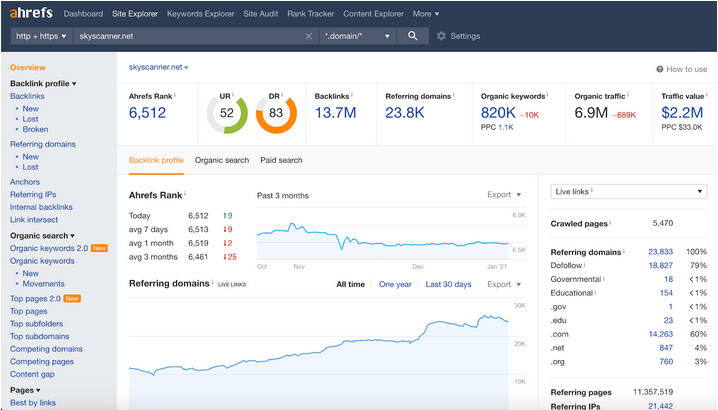 There are two ways you are likely to secure a link from a high authority site:
Luck: The website happens to link to a resource on your site, like a blog post
Outreach: You actively try to secure a link from that site by contacting them
Successfully securing a backlink from a well-known site, is a "vote of confidence" in your content. The link signifies trust in the quality of your content, and that trust can help your content rank higher in the search results.
If you want to improve your website's SEO(opens in a new tab), you need to approach link building strategically. Emailing random people to ask them for backlinks is just as effective as throwing half-cooked spaghetti on to your kitchen wall and hoping it sticks – and is just as messy.
Here are seven effective ways to get backlinks to your travel site. 
1. Get in touch with content managers through email outreach
Before you can build your network of backlinks, you need to find high-authority sites that are willing to link back to your site. Let's say you want to get a backlink from the TripAdvisor blog. Imitating the hapless travel blogger below won't earn you any precious backlinks: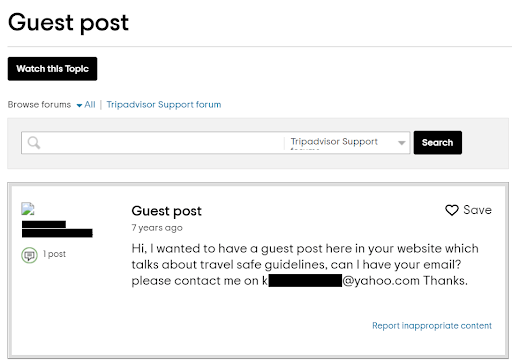 Posting your email address in the TripAdvisor forum isn't an effective link building strategy. A better approach is to contact TripAdvisor's content manager or editor directly.
Thankfully, it's as simple as going to the company's LinkedIn page, clicking on "People," and entering the search strings "content manager" or "editor." The search will bring up a list of people who hold that title and are working at TripAdvisor.
You can either send a connection request and message the editor through LinkedIn or use an email finder(opens in a new tab) to get their details. If you choose to send an email, send a short introductory message that includes:
Your name, company, and position
What you want from them
Explanation about why they should listen
Finding the right people to contact and initiating a conversation is an important part of link building. Relationships are the foundation of all the other backlinking activities you'll do later on.
2. Build links through effective guest blogging
Most outreach emails to site editors will mention "guest post" or some variation on the phrase. Guest posting(opens in a new tab), or writing content to be posted on another website, is one of the most common ways of building backlinks. In addition to the benefits of connecting with your current audience and customers(opens in a new tab), here are a few reasons you should get into guest blogging:
Backlinking opportunities: When you write content for another blog, the site editor will usually allow you to insert one or two backlinks into the article. These links help your content rank higher in the search results.
Additional traffic: A reader browsing through your guest post might click through on a link. Some of these visitors might then turn into customers.
Thought leadership: A well-written article on an authority site will help establish your authority as well as that of your business. As a niche influencer or "expert" in your field, you might get interview requests, asked to appear in roundups, and more.
You can pitch all types of sites. For example, you might try to pitch a site like CNN Travel, Discovery Travel & Adventure, or Agoda. Alternatively, you may target mid-tier authority travel blogs.
Many travel blogs are owner-operated, which means the owner reads guest post pitches and personally responds to inquiries. Others have dedicated editors. Again, knowing the right person to send an email to will determine whether they read your message.
3. Find broken links and replace them with your content
A broken link is a link that doesn't work. The most common reason for a broken link is a change in the URL. For example, a site might no longer operate. Broken links present a massive opportunity for you to step in and replace content from a site that no longer operates with your content.
Broken link building takes just three steps:
Find broken links on a relevant website.
Write a piece of content that's similar to (or better than) the missing article.
Propose to anyone currently linking to that missing resource that they link to your article instead.
There are a few ways to find broken link building opportunities. In addition to free programs online, check out more in-depth tools to find opportunities such as with Ahrefs' Site Explorer tool to check out your competitors' websites(opens in a new tab).
The "Best by links" report will list the competitor pages that have the most backlinks. When you add the "404 not found" filter, you will see pages that have gone missing: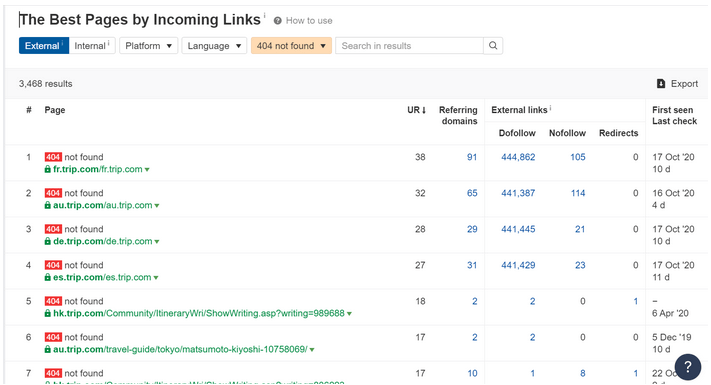 Click on the numbers in the Referring Domains column to see the pages where these links appear. For example, clicking on the referring domains for the 7th-ranked page gives you the following sites: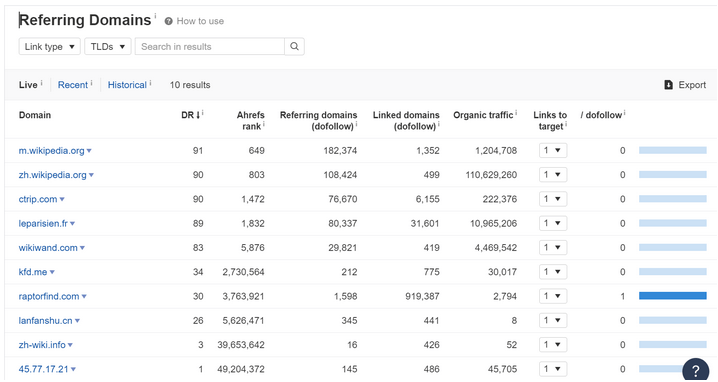 While you are unlikely to get a link from Wikipedia, the other sites (Le Parisien, CTrip) have a high DR score and are thus good targets for broken link building. Write a good article for the relevant topic, post it on your site, and reach out to the sites' site editor with your pitch.
4. Improve on existing content with the skyscraper method
Have you ever come across an article somewhere and told yourself, I can write something better than that? The Skyscraper technique refers to the act of finding content in your niche and improving on the content.
Let's say you find a piece of content with the title "5 Great Ways to Drive Traffic to Your Travel Site." If you want to improve on that article, you might end up with something like "7 Awesome Ways to Attract Traffic to Your Travel Blog."
The skyscraper method is more than just adding a couple of sections to existing content. You need to read the ranking content and determine what you could do to make a better article. Using the skyscraper method, you can take any idea and create something better. Just remember to keep looking for a new perspective on old content.
5. Repurpose your content into a video or infographic
If you have a piece of content that you think deserves more views, repurposing it into a video or infographic might help it get the exposure it deserves. To take advantage of this opportunity, look through your blog, search for evergreen content you want to promote. Create an infographic or video, and add it to the article: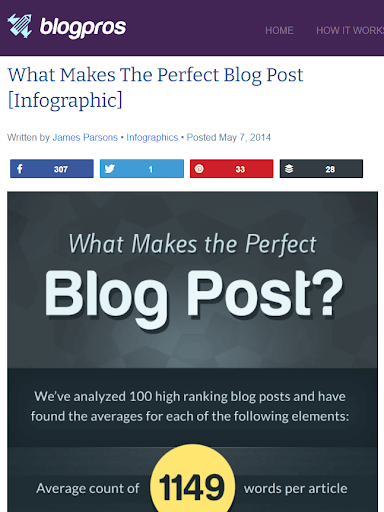 The blog post above first appeared on the BlogPros site in 2014 and was reblogged by dozens of other sites in the following weeks. More than six years later, the infographic above keeps popping up everywhere. It's so popular that it's still the second-ranked Google Images search result for the keyword "what makes the perfect blog post infographic":
Now, imagine how much traffic and authority an infographic like that can generate for your site. While that infographic looks like it was made in 2014, it's still considered one of the most relevant ones on the topic!
You can take the same approach with your content. You can turn a great article into a Slideshare presentation, an infographic, or a short video.
6. Write testimonials for products that you use
This one is pretty much a no-brainer. As a travel website, you probably use dozens of software tools(opens in a new tab) to manage your site. You may use a CRM to keep track of customers, an email marketing platform, an accounting software – the list seems endless. But all of these products have one thing in common: they all benefit from positive customer feedback.
Most brands are eager to receive good reviews from their customers. These fall under the category "social proof." In other words, when you post a review, you're telling people that you like the product. Most businesses appreciate getting good reviews. Many display reviews and case studies.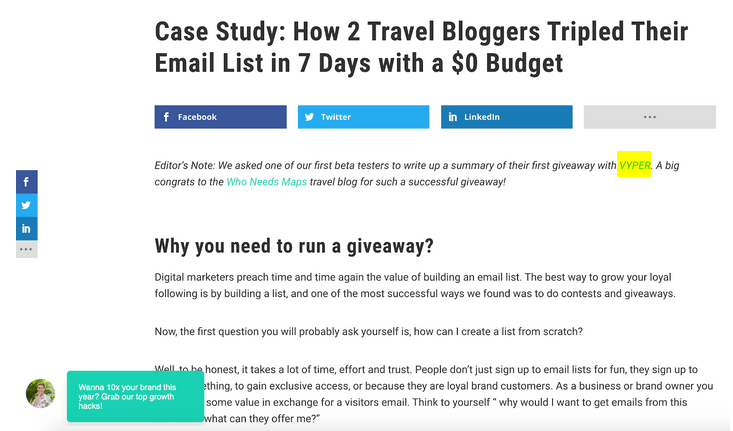 The case study above from Who Needs Maps, a travel blog, appears on this competition tool's website. You can see that Vyper.ai was only too happy to feature the positive review from this travel blog on their website.
Reaching out to companies to share your positive experiences with a platform is an effective way to get backlinks to your website. These strategies are a win-win, as you get a backlink, and the company receives positive exposure.
7. Get interviews on high-quality sites
The final strategy is to try and get an interview on relevant websites. Interview invitations come naturally when your travel site is already an established name, but even if your business is just a two-person startup, you can still score an invitation.
It's relatively easy to find travel websites that run interviews. Just search for the name of a well-known influencer in the travel niche. Note down the sites, and reach out to the publications.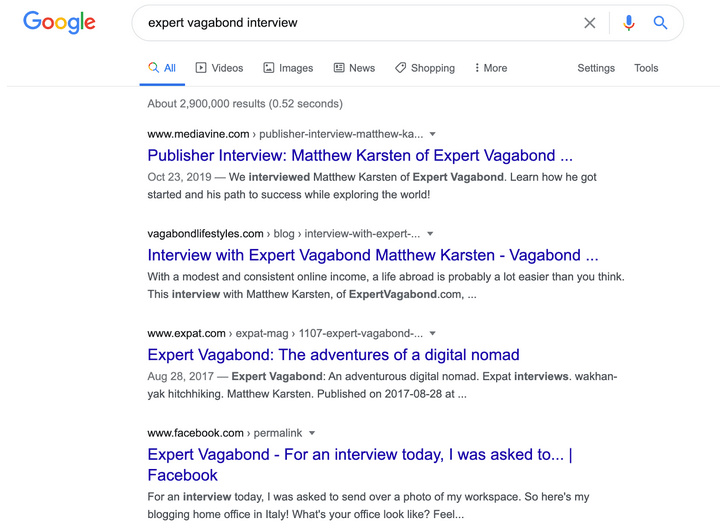 Again, you may reach out to the site editor through email and tell them that you'd like to contribute to their body of knowledge. An interview is not just an opportunity to promote your brand. It's also a chance to build a relationship with people in your niche.
In addition to interviews, you can also sign up for HARO(opens in a new tab) – Help a Reporter Out. HARO is a great way to get easy links to your website from reputable publications.
Bottomline
In this article, we've explored why link building is important if you want to dominate the search results. You also now have seven effective strategies you can use to secure authoritative backlinks to your website!
Link building isn't that difficult. The strategies listed above will work with most websites. All you have to do is start them up. Once you try each strategy at least twice, you need to see which ones work best for your brand. The key here is to keep testing and revising your plans as you go along.
Once you've tried some of these strategies, you need to see which ones work best for your brand. The key is to keep testing and revising your plans as you go along. Still not sure where to go for backlinks? TourismTiger actually offers a Backlink Profiling Service(opens in a new tab) where we will look at your site's current link profile, as well as 5 competitors, to determine a road map of backlinks for you to reach out and pursue with the methods discussed above.
---
Find this article useful? Enter your details below to receive your FREE copy of 95 Epic Places To List Your Tours and receive regular updates from Tourism Tiger and leading industry experts.
By submitting this form, you agree to Tourism Tiger contacting you via email.