On average, 148.3 million travel bookings are made online each year — which means a large majority of your tour sales should be happening online. So, if most of your revenue isn't coming from online sales (and a steady stream of them at that), you are leaving a serious amount of money on the table.
But most tour and activity operators aren't leveraging this staggeringly large statistic as well as they should. Many of them are making fatal errors that result in thousands of lost dollars in revenue every year. And unfortunately, unless you are part of the 5% of tour and activity operators who actually get the online marketing game, you are making some major pitfalls when it comes to successfully targeting all of those tourists eagerly perusing the internet.
So what are those pitfalls? What mistakes are you making that are preventing people from purchasing your tours?
1. Your tours don't strike a chord with your audience.
This might seem like a no brainer — and for most, it is. But before you go around investing your time and hard-earned dollars into ramping up your online presence, make sure you get this one right. So how do you do that?
You want people to first click the BOOK NOW buttons on your page with a beating heart, sweaty palms, and a childish grin. Then you want them to love your tours, review your tours, and recommend your tours.
And you'll know if this is actually happening by listening to your customers and target audience and focusing on the following questions:
Are you providing them with tours they actually want to go on?
Why are they choosing your tours over your competitions'?
Is there anything else that they wanted out of your tours?
Are they loving a couple of trends at the moment, like cycling tours and wine tours? And if they are, could you potentially merge the two ideas together and create a fusion tour, e.g., a wine and bike tour à la La Bicicleta Verde?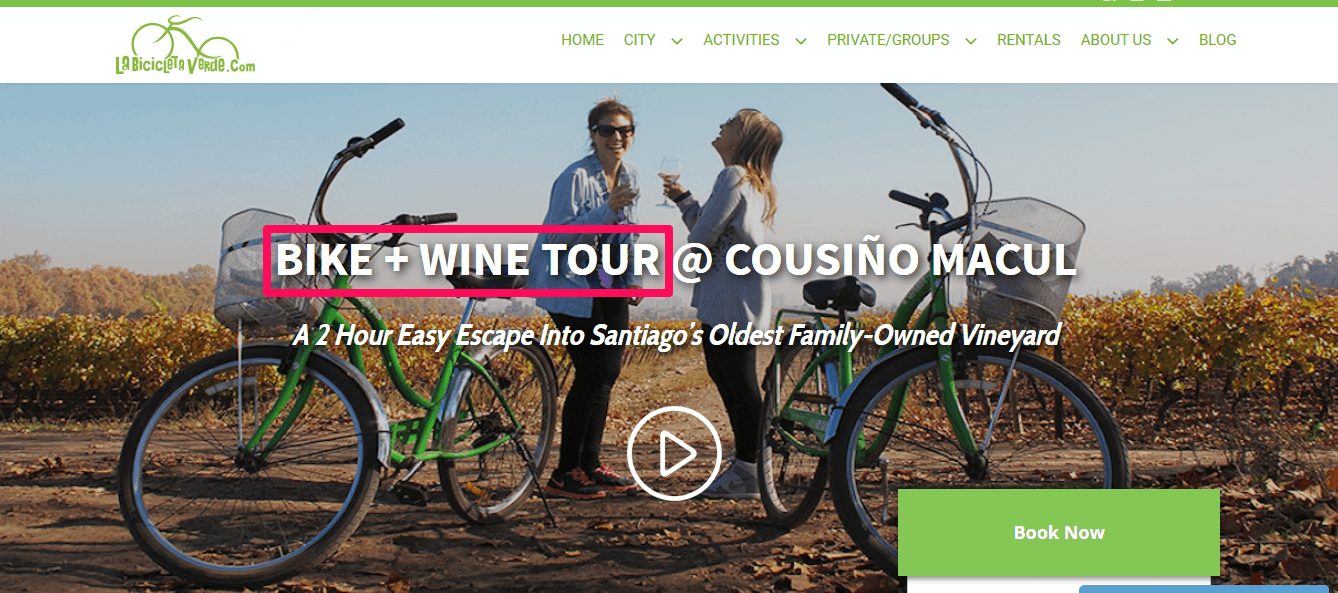 So if you haven't gotten your actual tours right yet, check out this post for more inspiration and nail this point before you move on to anything else.
2. You don't know which channels are working for you.
If your tours are resonating with your current customers, make sure that everyone else can find them. List them far and wide. Make sure that they are listed on the business sections of search engines. Set your tours up on review sites. And don't be afraid of marketplaces — most of them only make money if you do.
Have you done all of this? Great. High five! Getting your tours known all over the internet is key, but it's only just part of the equation because you could seriously hinder your golden ROI if you don't know where your sales are coming from. Track everything regularly, become best friends with Google Analytics, create campaign codes, and write down all of those numbers on a weekly basis.
3. Your website isn't built for selling tours.
So the key here is, don't fret over having the most beautiful website on the block. Instead, take a look at the nuts and bolts of your website and see if it's actually selling your tours. Here are a few tricks of the trade to make sure that your website is pumping out some sales:
Make sure that people know what you are selling (tours) and can find those relevant tours within the first couple seconds of opening up your website.
Navigation is king. How many clicks does it take a viewer to book a tour? If it's more than three, you're doing something wrong.
Use an obnoxiously obvious BOOK NOW button on every single tour page. Make it stand out from the rest of your website and, preferably, make it stick (i.e., the BOOK NOW button should appear regardless of where the user is on the page).
Case in point: Escapegoat's sticky booking button stays with the user regardless of where they are on the page. Here it is on the top of the page: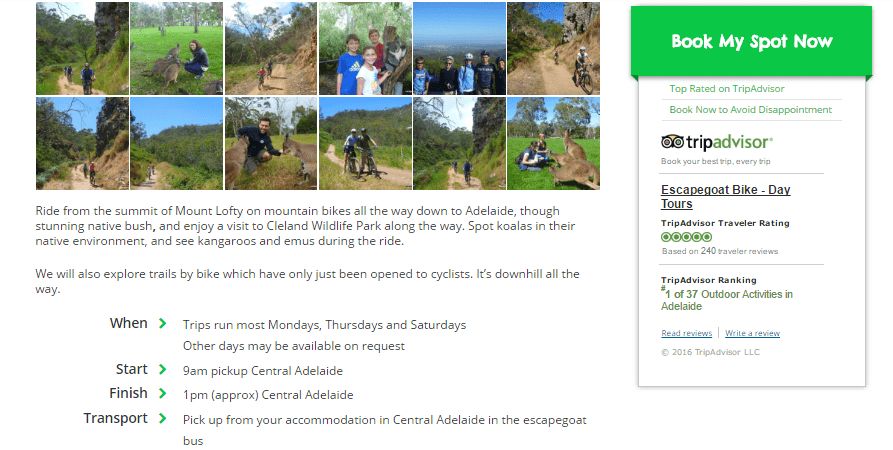 And again, towards the bottom of the page: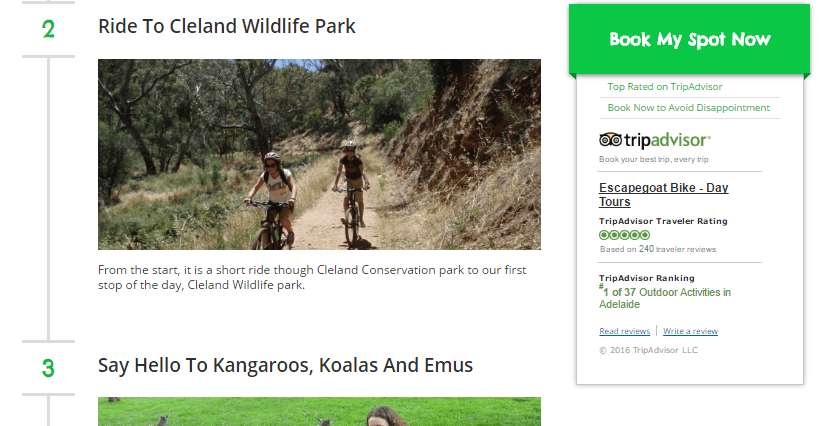 Include an 'About Us' section. People want to know about you. They are considering spending their sacred vacation time with your tour company, so use this page to have them get to know you and maybe just even like you.
Build it for speed. When it comes to websites, the hare always beats out the tortoise because websites need to be fast from the word 'go'. If it takes more than a couple of seconds to load up your page, you're losing out on a huge amount of potential customers.
4. You're creating your content for you.
Maybe you fancy yourself to be the Shakespeare of the 21st century and flood your site with metaphors and soliloquies. Perhaps you've gotten the latest iPhone and think that your creative shots are worthy contenders for featured website photos. Or maybe, you're creating all of the content to save yourself some money.
Whatever the reason, stop it. Because your website visitors don't care about your expressive writing or creative photography. They care about your tours, and they're having a look at your website to see if they should purchase your tours or hand over their cash to your competition.
So win them over — and because you won't have much time to do so, make sure that every single bit of content is relevant. Pictures should represent your target audience. Tour descriptions should answer any question potential customers might have. Headlines, navigational menus, and booking buttons should be completely intuitive.
Think you're still missing the mark with your content? Hire a professional. In the long run, it'll cost you far less than all the tours left on the table thanks to amateur images and badly written descriptions.
5. You're expecting love at first sight.
Sorry to dash the dreams of all those hopeless romantics out there, but love at first sight rarely exists, especially when it comes to your tours. The chance of your website converting (turning viewers into sales) is pretty low. Especially if it's the first time someone has visited your website.
So they need to see your tours a second time and even a third. If that doesn't work, they need to keep seeing your tours until they come back to your website. And to make sure they see your tours, you need to utilize a little something called retargeting.
What is that fancy word, you ask? It's that time you were idly searching for new shoes on the internet but didn't actually commit and purchase them — and then lo and behold, you start seeing advertisements for those very same shoes all over your social media channels and favorite websites. Well, that's retargeting. And guess what? It's not only insanely effective, but it is also one of the cheapest ways to advertise to your target audience.
Check out how Everyday California has used retargeting advertisements to lure some of their former website visitors back to their site! Bonus points to them for using social proof (i.e., the Los Angeles Times is raving about them) to further convince their viewers that they are truly the best tour operator in their area.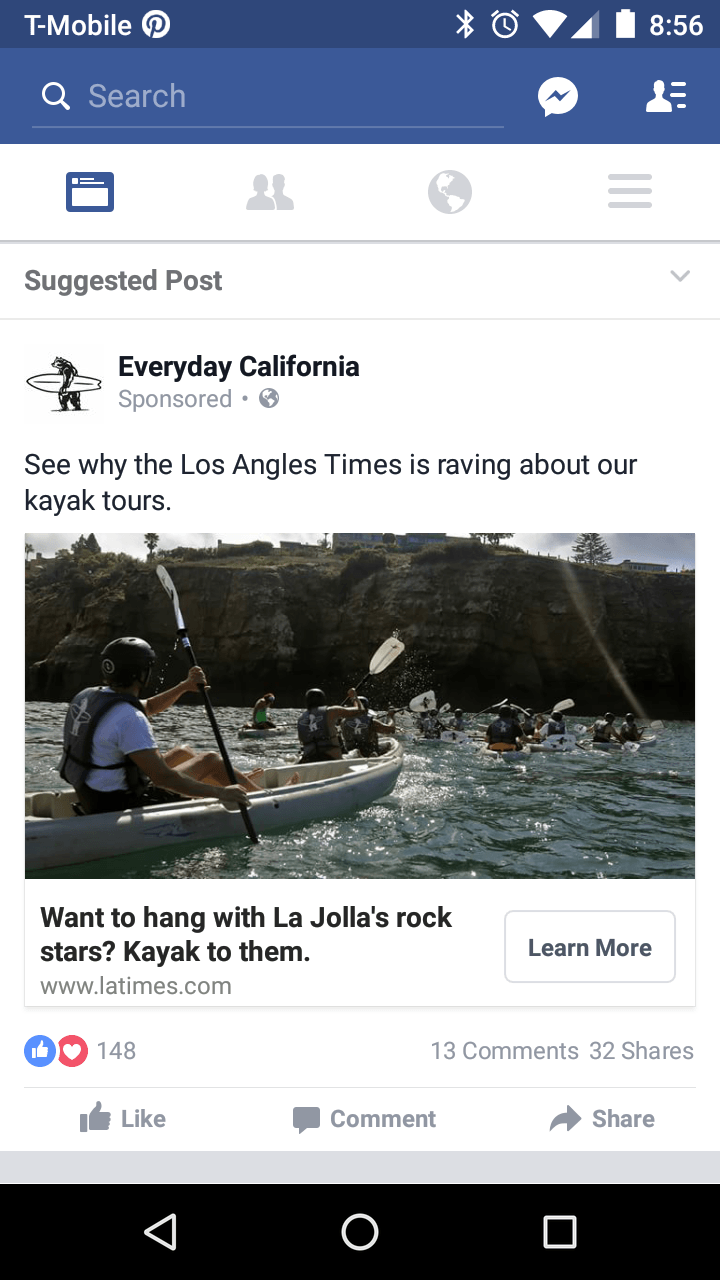 6. You have a bad or non-existent email marketing campaign.
Again, most people won't buy your tours the first time that they visit your website. They want to know that you are the best tour or activity operator in your area to go with. And if you don't constantly remind them about your business and give them a reason to go with your tours, they'll most likely go with someone else's.
So along with retargeting, you can leave a constant stream of reminders about your tours by sending out a series of tailored, behavior-based emails. But how do you actually get a hold of their email address in the first place?
Well, please don't try to hook 'em in by offering them a paltry newsletter because let's face it: no one likes newsletters. Instead, you need to offer an exchange. For example, if they give you their email address, they'll get an irresistible free PDF guide of your area delivered right to their email address. Wild SF Walking Tours does an awesome job with this: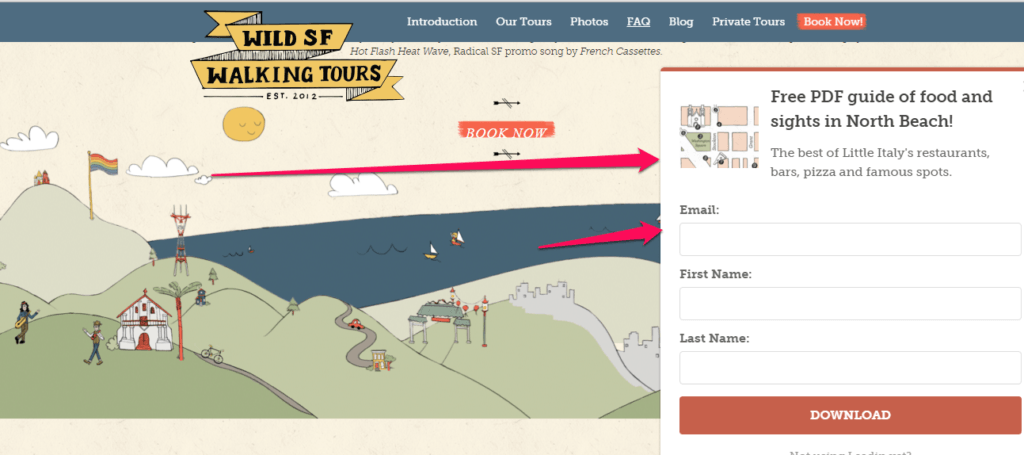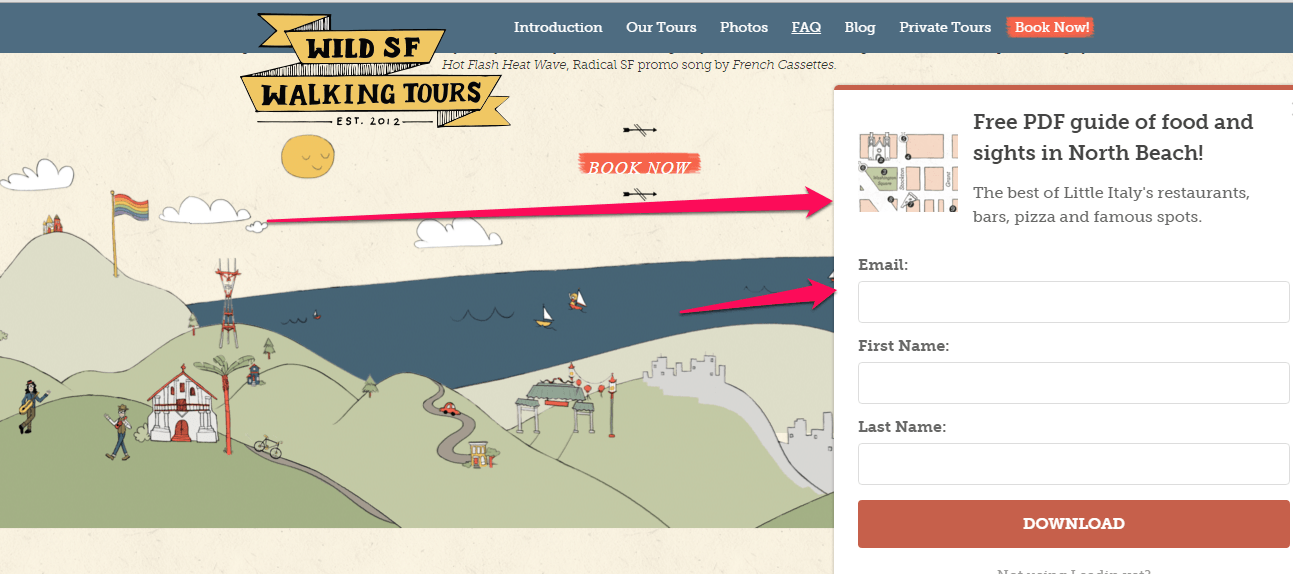 Pro-tip: After they get that PDF guide, send them a stream of other valuable information and reminders about your super awesome tours.
Okay, want the good or bad news first?
We'll go with the good news since you've gotten this far. If you are making any of these mistakes and actually work on fixing them, you'll improve your online sales. It's that simple.
But (deep breath, time for the bad news) in order to get as many sales as possible, you'll want to nail every single element in your online marketing campaign. And unfortunately, there are a few more things you'll want to get right.
Not to worry though. We've created a video series that you can check out on our YouTube channel(opens in a new tab). It lays out every single element in your online campaign that will help you achieve success in a big way.
Check it out, and if you stumble across anything you don't quite understand, we're here to help!
---
Find this article useful? Enter your details below to receive your FREE copy of 95 Epic Places To List Your Tours and receive regular updates from Tourism Tiger and leading industry experts.
By submitting this form, you agree to Tourism Tiger contacting you via email.