In the past videos about Yelp, you've seen why you need to be listed and how to make a great profile. Now you can learn how to make the best use of Yelp so that it actually works in your favor.
1. Sell vouchers and gift certificates.
Did you know that you can actually sell vouchers on Yelp? This means you can sell people a $80 voucher for $40, and someone can use that on a future tour. But it is a bit steep. Yelp takes a cut of 30% for deals and 10% for gift certificates.
Check out this example, from Florida Beach Bums(opens in a new tab). They sell both deals AND gift certificates.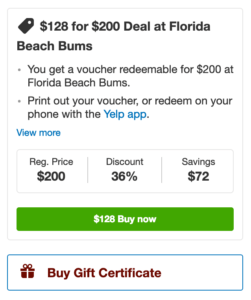 2. Respond to ALL reviews.
Responding to reviews shows that you really care about the people who visit you and allows them to see a human side of your business.
Doing this means more bookings for you! On TripAdvisor, we know that 62% of visitors are more likely to book with businesses with management responses. The basic rules are:
Keep It Informal, Keep It Short, Keep It Personal
Just show that you built a human connection with your visitors.
3. Quote your reviews on your website.
If you're getting great reviews, you want to showcase them, right? Of course you do! One way to do this is just to copy the reviews from Yelp to your own site, pretty them up and put a link back to Yelp so that people can see it's a legit review.
4. Act on your reviews.
It's too easy to be dismissive of the negative feedback that comes from reviews. Let's face it – getting negative reviews sucks. But if you don't take the opportunity to learn, that will become two negative reviews.
5. Test advertising.
Should you advertise on Yelp? You know, I've heard some good stories and some bad stories, so all I can is that you should TEST it! Just be warned though – Yelp will try to lock you into a long-term contract, but don't accept it. They'll give shorter contracts to people who negotiate with them!
---
Find this article useful? Enter your details below to receive your FREE copy of 95 Epic Places To List Your Tours and receive regular updates from TourismTiger and leading industry experts.
By submitting this form you agree to TourismTiger contacting you via email.