If you haven't taken a solo trip yourself, you probably know someone who has. At the very least, you've heard of the book Eat, Pray, Love(opens in a new tab), right? If you haven't read it, spoiler alert: the main character takes a trip alone through Italy, India, and Indonesia and learns a whole lot about herself. Traveling alone — affectionately known in the blogosphere as "solo traveling" — has seen a steady increase in popularity(opens in a new tab) over the past few years, and Google search trends reflect that.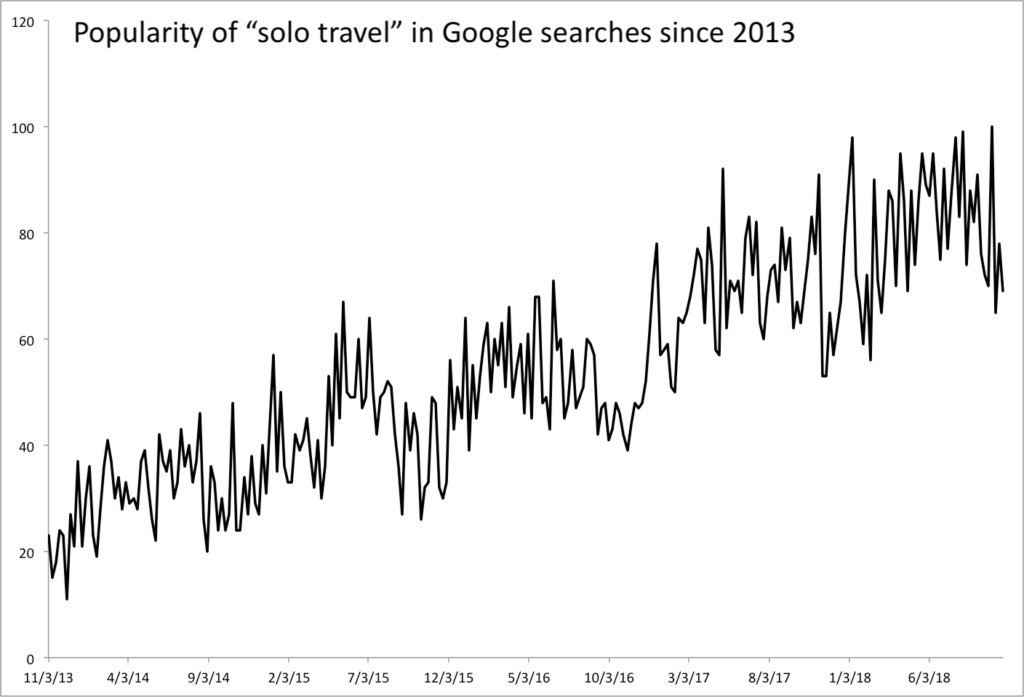 I wasn't lying. I even got a little chart to prove it.
Travel companies are also feeling the effects. Intrepid Travel saw a 40% increase(opens in a new tab) in solo travelers in group trips within the past 5 years, and Hostelworld reports a 42% increase(opens in a new tab) in solo traveler bookings in the past 2 years. Why is there such a desire to travel alone?
The pros of traveling alone are virtually endless, as you'll see in numerous articles all over the internet on the subject. For example,
The solo traveler sets their own itinerary, allowing one to linger in some places and rush through others, or even go completely off-book. This will lead to higher engagement on your tours since you know your solo traveler isn't being forced on the tour by someone else.
What the solo traveler chooses to do is completely up to them, so no feeling guilty about dragging someone along to what interests you. This may lead these solo travelers to finally take that early morning hiking tour or that helicopter ride.
Insider knowledge about the destination is much more accessible to the solo traveler, as they may be more inclined to interact with locals. Get ready for some more questions and conversation heading your way!
What it boils down to is this: there is an incredible sense of freedom when you are the captain of your fate on vacation. To add to this and make it a little sentimental, you can learn a lot about yourself; it opens up a world of new confidence and skillsets that traveling with someone doesn't really allow for. In the past few years(opens in a new tab), people have begun to realize the existence of these perks and jump at the opportunity to hop on a boat, train, or plane by themselves.
Now, you may not be interested in taking a trip on your own, but as a tour operator, you should start considering this kind of traveler as a potential client! Solo travelers may not be as comfortable exploring certain parts of the world alone, so a tour can be an extremely useful tool in their journey. With traveling alone on the rise, this is a clientele pool that needs to be considered.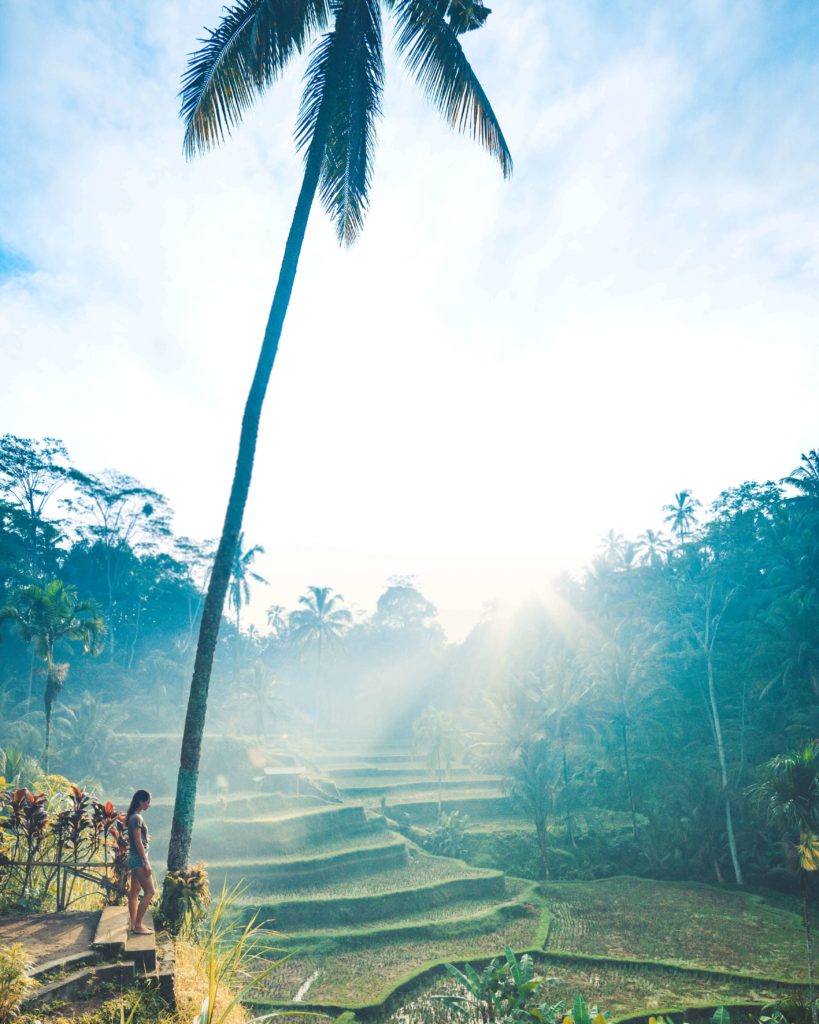 Most tour operators offer a variety of tours and other activities that — even though the minimum tour group size may be 1 person — are written to target primarily those traveling in groups, like families, friends, couples, and so on. This group-focused angle results in marketing that may discourage a lone explorer. This may seem like a difficult market to break into, but rest assured — we have here a few tips that will help you make these solo travelers feel more welcome and therefore boost your bookings.
Make your tour content language solo-friendly
This is one of the easiest ways to extend a friendly hand to those potential lone wolf tourists. It can be as easy as including a simple clause in your booking information like "Singles welcome!" or "On your own in [your touristic destination]? Feel free to join us." As I mentioned before, a majority of tour writing targets groups and can easily discourage a solo traveler. This piece of reassurance is easy to add and gives them peace of mind.
Offer a discount for single travelers
Though many tour operators offer affordable tours, it isn't unusual for tour prices to be on the higher end. As customers, we understand that there is a lot of overhead that needs to be taken care of and, obviously, money to be made.
However, as a tour operator, you have probably had a tour that wasn't full since it can be difficult to book that last single slot. Here is where you can appeal to the solo traveler — offer a discount to fill that last slot on your tour. For example, if you do helicopter tours, you may have 4 seats available but have only been able to fill 3. This is where your solo traveler could come in to save the day! They get a lower price and you fill your spot (so you don't lose as much money).
Develop a tour especially geared towards solo travelers
If you are particularly motivated to appeal to the singles market, there is always the option of developing an entire tour(opens in a new tab) targeting singles exclusively. As previously mentioned, try to keep the prices to a minimum to encourage more booking. One way to do this is by making lower-cost swaps. For example, if you would ordinarily rent a vehicle for the tour, consider walking or using a form of public transport instead.
There are just a few ideas that we at Tourism Tiger have to appeal to the solo travelers of the world. What ideas do you have to encourage solo travelers to book tours? Let us know by contacting us!
---
Find this article useful? Enter your details below to receive your FREE copy of 95 Epic Places To List Your Tours and receive regular updates from Tourism Tiger and leading industry experts.
By submitting this form you agree to Tourism Tiger contacting you via email.