Try to think back to the last time your mobile device had no real relevance in your daily routine. It's hard to believe that once upon a time (approximately two decades ago), for many of us a mobile phone was just a cool new, pocket-sized gadget to show off to our friends, play games on (honorable mention: Snake on the Nokia), send short text messages, and call our parents to pick us from our after school activities, or make prank phone calls (depending on the era that you're from).
Fast forward to 2023, and mobile devices have become an essential part of our daily life. Saying that someone is addicted to their phone is a concept that is strongly fading because, evidently, we all depend on our smartphones in one way or another, not only on a personal level but also professionally. As a society, we have accepted that using our mobile devices is no longer an addiction but rather a necessity to keep up with today's modern world.
So how is this relevant to tour operators and their tourism websites? We've said it before, and we'll say it again: the importance of a functional, user-friendly website for your tourism business is not debatable, and carrying over this user-friendly experience to mobile devices(opens in a new tab) in 2023 is principal and non-negotiable. If you want to see those happy client faces rolling in, as well as a rise in your bookings, but feel like this has been slow coming, perhaps your tourism website is missing something.
The fact that you are here and reading this means you are probably already switched on and aware of this, but the tourism industry relies just as much on mobile bookings as any other industry. People across the world are doing more browsing from their cellphones than ever before, but more importantly, they are also using our mobile devices to make more purchases online, including everything from groceries to booking holidays, which counts for airline tickets, accommodation and, you guessed it, tours and activities! If you're still not convinced, let's start by looking at the facts.
According to Statista, as of August 2021, nearly 57 percent of web page visits across the world were made from mobile devices(opens in a new tab). The same source indicated that while in North America, a large quantity of web traffic still originates from desktop connections, 48.49 percent of total web page views come from mobile devices. This is a very significant number, and is a clear sign of the importance of website optimization for both desktop and mobile devices.
On the subject of statistics, interestingly, 96 percent of the world's mobile internet subscribers are active on social media. Suppose you are a tour operator who's not currently on any social media platforms. You might want to read these blogs(opens in a new tab) to discover how social media presence can help elevate your tour business and reach a larger audience.
Mobile-Friendly Booking Platform
Once a visitor lands on your website from their mobile device, several elements will make or break the user's experience and ultimately lead them to buy a tour or leave the site altogether. One of these very important elements is the booking platform that your tourism website has integrated. It is not only necessary that your website be mobile-friendly but also that the booking software you use continues the user-friendly experience that the rest of the website has given the visitor thus far. This is why choosing the right booking software(opens in a new tab) for your mobile-friendly website is fundamental if you want to see growth in your revenue.
In this example on one of our websites, observe the swift transition from the web page to the booking platform Peek: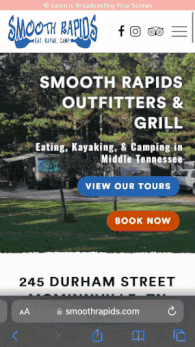 As with the above example, ideally, your booking platform should be configured to show the availability of your tours or activities. Additionally, time slots should be visible to select, and forms should be kept to a minimum, only requesting client information that is genuinely relevant to the booking process. Any other product-related details should be clearly labeled as on the web pages, so the client can quickly identify the product they are looking to purchase when transitioning from the web page to the booking platform. The same goes for maintaining your product availability up to date. When information on the booking platform is not coherent with the product information the visitor has read on the website, they are likely to become frustrated and leave the website altogether.
What Is Responsive Testing?
Responsive testing involves looking at a website or application on different devices (the original layout from desktop), to see how its layout and functionality adapt to different screen sizes and resolutions. Testing responsiveness helps developers acknowledge which key features perform well on websites when accessed through different devices. Travelers are, naturally, on the go, so it's important to acknowledge that a large percentage of your potential clients are likely to purchase a tour or activity from their mobile device and not from the comfort of their homes on a desktop computer.
At TourismTiger, we are dedicated to building functional websites that sell tours. With a strong emphasis on responsive testing, we ensure that your tourism website is apt not only for desktop users but also to meet the demand of millions of mobile and tablet device users across the world, who purchase tours on these smaller screens on a daily basis. So now you know who you can turn to, to build your fabulously functional tourism website that is optimized for mobile devices too! Contact us today for a free consultation!
Find this article useful? Enter your details below to receive your FREE copy of 95 Epic Places To List Your Tours and receive regular updates from Tourism Tiger and leading industry experts.
By submitting this form, you agree to Tourism Tiger contacting you via email.