This guest post is written by Milan Stojković, online travel marketing professional from MS Travel Marketing.
With 328 million active users, Twitter is the ideal place to promote your company. You've set up your account, grown your list of followers organically, and started tweeting, but how do you reach travelers and sell more tours?
Here are some practical tricks that will help you! I have personally tried them all. These are the techniques I use all the time, and I see them working over and over again to sell more tours and experiences, but still, almost no one uses them!
The fundamental elements are #hashtags and following keywords.
It's necessary to regularly follow the relevant hashtags and keywords that are related to your offer using the Twitter search function – the more frequently, the better!
Let's say that we sell Rome sightseeing tours and our target group is English-speaking foreign tourists. First of all, we need to make a list of all the keywords and hashtags that are relevant to our business. By using these keywords and hashtags, the goal is to find our potential clients. In this case, some of the hashtags could be:
#Rome
#VisitRome
#RomeTours
#RomeGuide
#RomeTravel
…and so on.
It's important for us to find the keywords and hashtags that are regularly mentioned. Don't spend your time researching the lower volume ones. It's also very important that these hashtags are relevant to your business. The hashtags above are directly related to Rome, they are in English, and 99% of foreign people who tweet using these hashtags are tourists – our potential guests and our target group.
Most Twitter users are not in the habit of using the search function to find keywords, though this tool can be extremely valuable. The principle is the same as with hashtags – enter the keyword, and you'll get a chronological display of all the tweets that contain that word or phrase. Using our example, these would be some of the essential keywords to follow:
Rome
Rome Tours
Colosseum Rome
Spanish Steps Rome
Di Trevi Fountain Rome
The Roman Forum
Travel Rome
Rome Guide
Rome locations
Rome sightseeing
Rome places
This list should be enlarged with famous monuments, buildings, museums, attractions, and so on. The priority is to follow the keywords which are closely connected to our offer.
When we create these lists, we should start following their usage. Of course, if your location is seasonal, following once a day outside the high season should be sufficient, but in the high season, it should be done at least several times per day.
You may be wondering how you can follow so many keywords, hashtags, and tweets at the same time. We will use the following tools: Tweet Deck(opens in a new tab) or Hootsuite(opens in a new tab). Both enable us to follow a large amount of keywords. You'll get used to it, I promise!
The below example is taken from Tweet Deck(opens in a new tab).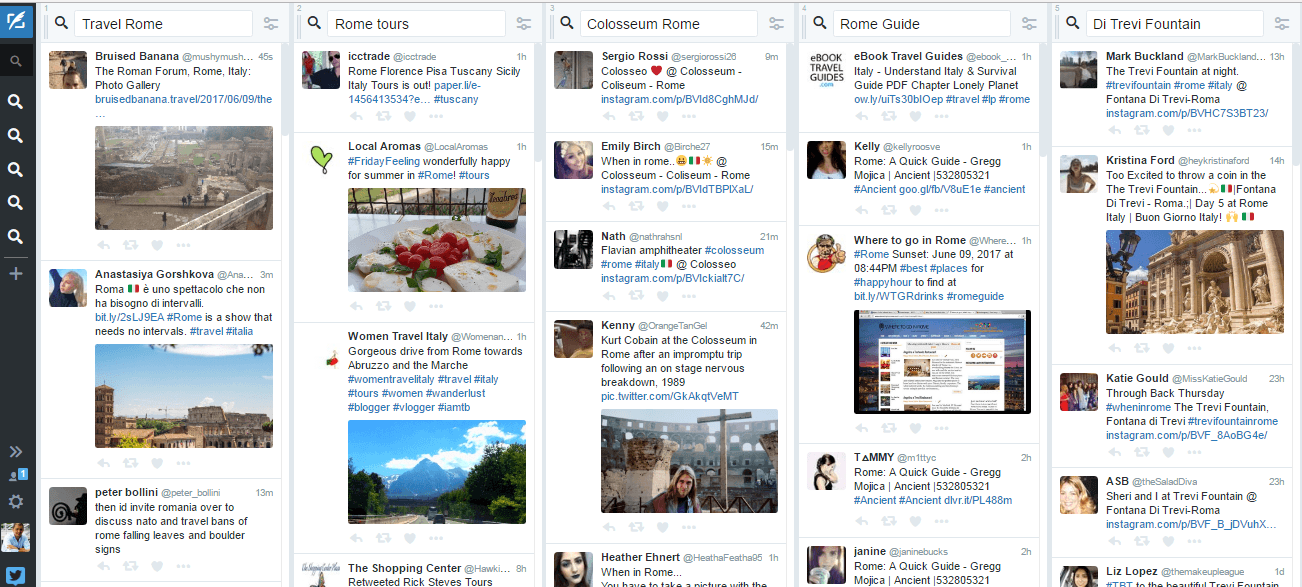 Now we only have to react to the opportunities that may surface. Below I have listed the three main ways to respond to tweets which we follow and when we will use them:
Liking
We will use this option most frequently. We will "like" a large portion of positive tweets about Rome, great photos of Rome and its surroundings, and so on. By doing this, we will notify both the authors of these tweets and their followers that we exist. Maybe that person has finished their vacation in Rome or maybe they have already booked a different tour, but that's not important. We will "favorite" them and through this method, infer that they can count on us if they need any of our services. Some of these users will check our profile, some will visit our website, and some will follow us. These are all useful for us.
Besides the things mentioned, liking positive content about Rome shows that we also love our destination and that we are happy when others showcase the city and when they are having a good time, regardless of whether or not they are our clients. Tourists will appreciate this, as will our local partners. Be professional, hospitable, and polite.
Retweeting
We will use retweeting in the same manner as "liking" tweets, but less often and only if we think that they deserve retweeting. Also, we will use retweeting when we want to spread some news about something, such as to promote news or events (in Rome).
Retweeting should never be used as often as liking. If you retweet all personal tweets and events, then you will lose importance and credibility and your tweets will be appreciated less — and usually, they are very much appreciated! The chances that someone will notice us, follow us, look at our profile, and visit our website are much higher when we retweet as opposed to just liking a tweet. Remember: too much retweeting looks fake and loses value.
Replying
When we reply to tweets, it's important that these replies are useful or interesting. You should minimize direct promotion of your business in this scenario. If someone is, for instance, looking for a clinic or a mechanic in Rome, it is our duty to give them information and the telephone number of the best doctor or mechanic that we know. It's true that we don't directly benefit from this, but we will solve that person's problem, and they will certainly be grateful for our help. And then, which tour company do you think will be their first consideration when they next visit Rome? Or who do you think they will recommend to their friends before their trip?
Other Twitter users will see this, and they will greatly appreciate it. This is how we receive positive publicity. These are the future investments which will be profitable in the long run. We will do the same if someone needs any additional information about Rome and its surroundings.
Compassion is also very important. Besides useful and interesting responses, it's good to show empathy towards some bad experiences that someone might have had in Rome. If someone complains about an expensive restaurant bill, we will sympathize with their bad experience and recommend another restaurant where we also send our guests. We don't benefit directly from this either, but I believe you get the point.
In the situation where someone complains about a bad tour experience, we won't be quick to judge our competitors, we certainly won't like that tweet, we will NOT offer our tours, but we will say that we are sorry about their bad experience and maybe try to offer an explanation on behalf of the tour company in question. By doing this, we show empathy towards both the tourist and our peers. Maybe the competitor won't appreciate that, but a tourist surely will.
Of course, the ideal situation that we've yet to discuss is that in which we "catch" someone who is looking for tours in Rome. In this scenario, we should send our website address, telephone number, and maybe some photos. In the event of them not booking our tours, we will politely ask them, after a few days, how they spent their time in Rome and demonstrate that we care about them even though they didn't book our tours.
These are the fundamental techniques to apply in order to sell more tours through Twitter. All these tips and strategies can be successfully applied to restaurants, hotels and other accommodation services, and tour operators (for each packaged tour separately).
More than 90% of business success in tourism via Twitter comes by applying this method, and our statuses and followers comprise the less significant part. As I have written at the beginning of this post, these are the methods that I use daily and generate new guests and tourists for my clients.
All the mentioned activities are free to apply. You don't have to invest any money, and you will certainly experience some sort of gain (hopefully significantly). If you use these basic principles, you will achieve great goals in the long term.
I know that for most people, it's important to see the rewards immediately. Good news! You will achieve this by using this method. Sometimes you will generate more than 50 bookings per month and sometimes just 2-3, but remember how little money you have invested in this. However, it is true that you need to invest much more of your time.
In case there aren't enough tweets for your hashtags and keywords, you can apply these techniques less frequently. If the number of tweets is extremely small, I would recommend focusing your time and resources on other channels of promotion.
Additional tips
Check people's profiles before retweeting or replying to their tweet. They could be an influencer or a famous person with many followers.
In this scenario, invite that person to join some of your tours for free and give them something extra above the norm. This could lead to a personal recommendation, a photo, or a mention. It may seem insignificant, but many of their followers will see that and will be motivated to follow in their footsteps.
Do you use some of these tactics to market your tours? What experiences do you have? Are there any additional techniques that have worked for you? Get in touch, and let us know.
---
Find this article useful? Enter your details below to receive your FREE copy of 95 Epic Places To List Your Tours and receive regular updates from Tourism Tiger and leading industry experts.
By submitting this form you agree to Tourism Tiger contacting you via email.