Having a map on your tour operator website has a lot of benefits for both you and your potential customers, but if you're going to include one be sure to know what you're looking for and how you will use the feature. At Tourism Tiger, we always recommend that our clients include a map somewhere on their website. Here's an explanation of why you need a map on your tour operator website, what factors you should consider when creating a map, and where you can go to get a customised map.
Why Get a Map and What Are the Benefits?
Transparency leads to trust, we've said it time and time again but this theory also relates to maps. Showing guests on a map where their tour goes, where the operator's office is located, and in what part of the country they will be in to easily schedule further travel enables you to show consideration for their needs. If a tour operator proves with these kinds of details that they understand their customer, it also shows a certain level of professionalism which will encourage customers to pick that company over another. Giving customers as much information as possible helps them make an informed decision and reduces the amount of time you spend on your laptop replying to questions.
One point which we'll delve into later is that it is important to have an idea of whether your guests know the area. If they don't then a map allows them to explore the location without them leaving your page. An important rule of web design is keeping users on your site for as long as possible in order to reduce the bounce rate and increase your domain authority rating. As well as the technical side, familiarising potential customers with the area builds a connection with the place and makes it seem less foreign, all this contributes to making them more likely to book.
What Factors Should You Consider When Creating a Map?
Don't opt for a map on a whim without considering its purpose and how you want it to benefit your customers. Here's our checklist of points to consider before building your map:
1. Who is your audience? 
Knowing your audience and details such as where they come from and how familiar they are with not only the area but also the country helps you to decide what to include in your map. A great example of this is on Chile's official tourism website(opens in a new tab).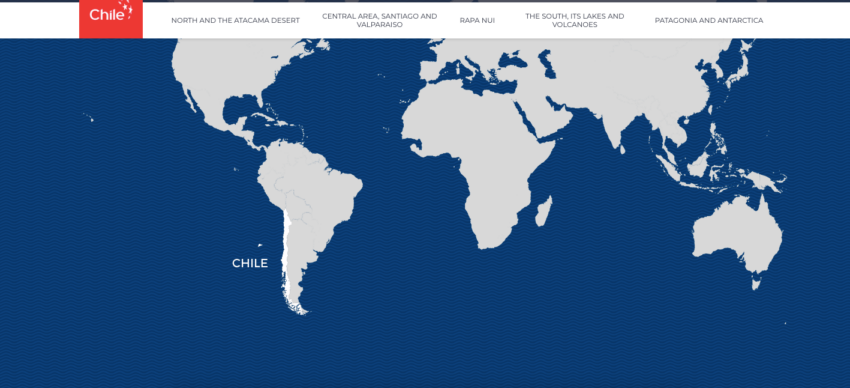 They show where Chile is in the world with an interactive global map and they also highlight the different regions on the country's map. These features help visitors get their bearings; if they have time constraints they can see how far apart different regions are and if they are planning a longer trip around many different countries, they can get a quick idea of entry and exit points and how a visit to Chile will fit in with their overall travel plans.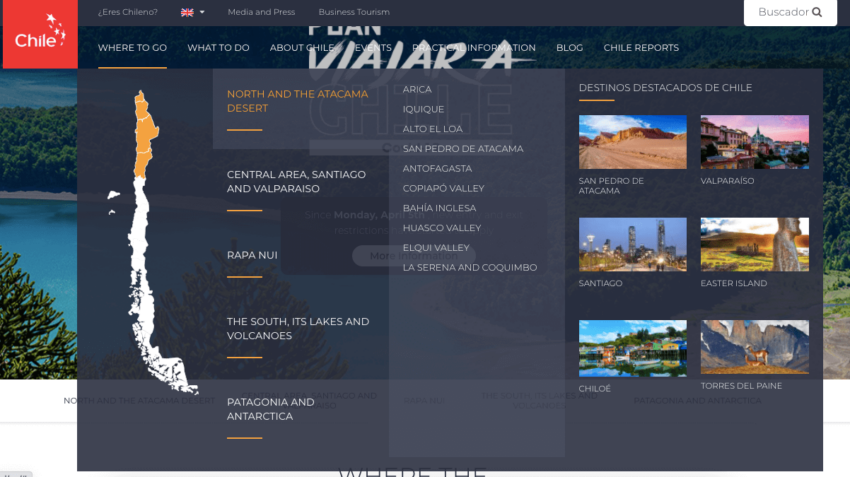 2. What size is your audience?
Some interactive maps charge a fee according to how many people use the map. Being able to predict this figure using tools such as Google Analytics will tell you how many people will engage with the map and allow you to factor in the value on an annual basis.
3. What's your budget?
Know your budget before you approach a third-party mapping platform. They often have a wide selection of map features on different pricing scales and if you give them a figure they can narrow down options according to price and purpose.
4. What's the purpose of the map?
This is something we touched on earlier. By knowing your audience and addressing doubts that potential customers may have you can avoid a flurry of emails asking the same questions and calm anxieties which will make users more likely to book. Analyse previous guest inquiries and figure out if you want to inform them about the area, the country, or the meeting point.
5. Where will you use the map?
Will it appear on your homepage, about us page, contact us page, or product pages? Go through your site and think about what format you would like the map to take and how it will fit into the current structure. Always consider how you want it to work on mobile(opens in a new tab). Also, do you want your map to only appear on your website or do you also want to format it so that you can sell it as a side product(opens in a new tab) to increase revenue? If so, you will need to incorporate your branding.
6. How do you integrate a map feature into your site?
With static maps, integration is usually pretty straightforward, however, interactive maps can be more work. If you are working with a maps platform, be sure to ask in the sales process how easy it will be to integrate the feature into your website. This is a key element in choosing the right kind of map for your business.
7. Do you need to update and change your map?
If in the future, you will need to add more points to the map or change existing ones easily, a static map is probably not the one for you. Interactive maps are easy to update and change.
What Type of Map Will Work For Your Business?
Static vs. Interactive
If you have a specific goal in mind such as showing the approximate areas where your different activities take place or giving geographical information about the area, a static map is a good option. They are easy to customise and include your branding as well as being easy to reproduce and sell on. The downside is that they restrict customer interaction and can be frustrating for users who want to use a map to see the distance between their location and the area.

https://magbayexpeditions.com/(opens in a new tab)
On the flipside, interactive maps can be updated easily and quickly as well as giving users control over the zoom, contents, and location. If you want to be able to include more data (an Airbnb host once sent me an interactive map that marked out all the sights, restaurants, and places of interest near to my lodgings) or for your customers to have an interactive experience(opens in a new tab), an interactive map is an ideal solution. However, be sure to consider that they can be more expensive, often carry the branding of their own platform, and require users to be more tech-savvy (something to bear in mind if you have an older audience).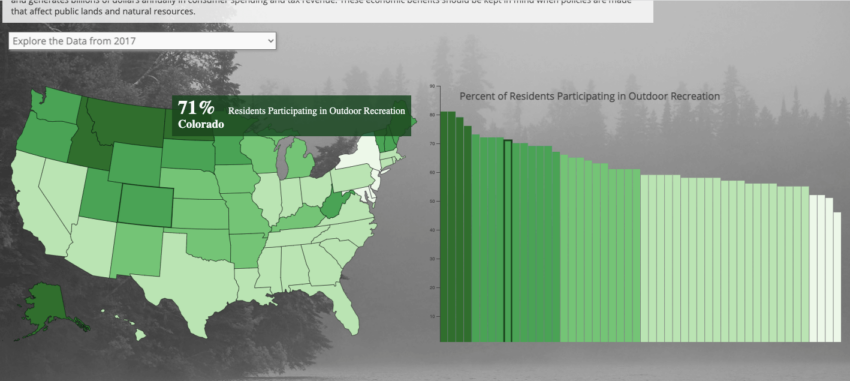 https://www.line-45.com/labs/outdoor-rec-economy/
Illustrated Maps
Falling under the umbrella of static maps, illustrated maps are a great marketing resource. You can include your branding and reinforce your company image. Find a freelance designer on platforms such as Fiverr(opens in a new tab) who can interpret your message and create a unique product that you can sell to your guests. A personalised map helps you stand out from competitors and makes your company and product more memorable.
https://www.uniquemauitours.com/road-to-hana-private-tours/(opens in a new tab)
Map Platforms
If you're looking for an interactive map that you can easily integrate into your website and customise to include specific data, working with a map specialist is worth the money. Choose from platforms such as Data Wrapper(opens in a new tab), Mapbox(opens in a new tab), or My Maps(opens in a new tab) to choose the right features and price point for your business.
Tourism Tiger's Maps
Here at Tourism Tiger, we offer a few map options to our clients. We have the single point which we can integrate as a dropdown accordion in the trip details section of a tour product page.
We also have a multiple point option to either show guests the stops on the tours or inform them of where the pick-up points are. Both these options are interactive and can be used on all pages of the site.
And finally, we have, courtesy of our talented design team, illustrated static maps. The design team incorporates your branding and relevant information to produce a map that addresses your potential customers' concerns and encourages bookings.
We hope you will come away from reading this article in awe of the power of a simple map. Remember to go through the checklist before starting the process of acquiring a map so that you can make the most of the feature. The main elements to consider are purpose, audience benefit, and how to integrate it into your website. Once you've decided upon those points, you can move your attention to what type of map best suits your needs and which platform or designer can provide you with this product.
If you like the look of our Tourism Tiger map features and want to find out more about more features on our websites, then get in touch today(opens in a new tab).
---
Find this article useful? Enter your details below to receive your FREE copy of 95 Epic Places To List Your Tours and receive regular updates from Tourism Tiger and leading industry experts.
By submitting this form, you agree to Tourism Tiger contacting you via email.