Did you know that 1.66 billion people(opens in a new tab) worldwide use Facebook every day?
If you're looking for a good way to increase conversions and find new customers online, using Facebook ads is the perfect place to start.
This is especially true in the travel and tourism sector. If you need proof, check out how Airbnb(opens in a new tab) reached 238 million people and had 3X return on their Facebook ad spend.
Ready to get started?
First things first, make sure you create your Facebook business page(opens in a new tab) if you haven't yet.
All Set? Let's dive in!
Why Use Facebook Ads for Your Tourism Business
There are a few different reasons(opens in a new tab) why Facebook ads work especially well for companies in the tourism industry. Here are some for your consideration:
Targeting
Facebook offers a variety of specific targeting options to help you position your ads right in front of people that are most likely to book.
Find people in areas where your company offers services or where many of your guests travel from. Then, target people based on behavior that indicates they're planning a trip, or if they are in your target demographic based on age, income, etc.
The extensive targeting available on the platform makes it an ideal way to reach the exact audience that would be interested in your company and its services(opens in a new tab) rather than just for anyone on the internet to scroll by uninterested.
Facebook has even created a special feature(opens in a new tab) for travel advertisers to target people who are planning to travel.
Retargeting
Another great reason to use Facebook ads is that you can easily retarget ads to people who have previously checked out your website and specific products.
This is the perfect way to give customers a gentle nudge to come back, take a second look, and finish booking their vacation, accommodations, or tour.
Placing a pixel (opens in a new tab)(and analytics tool for tracking how your ad is doing) on your website isn't hard at all. However, if technology is not your thing, you can get the help of your developer or a site plugin to alleviate the stress.
Cost-Effective
Facebook ads are also relatively affordable, giving your tourism company the perfect outlet for promoting new packages and offerings to potential customers with minimal cost.
Just make sure to keep an eye on your ad performance and analytics(opens in a new tab) so that you ensure you're not paying more than you're comfortable with for clicks or conversions to your website.
You also want to keep an eye out that your relevancy score doesn't get too low so that you know you're targeting the right audience.
Best Practices for Creating Effective Facebook Ads
Ready to start creating ads and bringing even more customers and conversions your way? We've put together the top five best practices – complete with examples – you can learn from.
1. Choose a Single Objective
When you're creating a Facebook ad, you don't want to try to aim for multiple goals at once. Because you'll likely be spreading your efforts thin, or the cost will be significantly greater for it to be worthwhile. Instead, your ad should focus on one single goal or objective.
Luckily, Facebook helps to make this easy for you. When you start creating a new ad, the platform immediately asks what your objective is with an extensive list of options.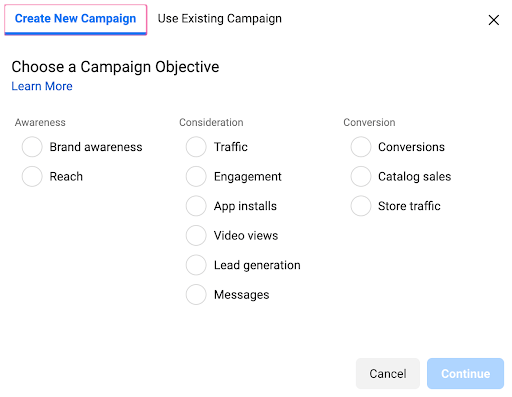 There are three main facets, whether you're focusing on awareness (top of the funnel), consideration/interest (middle of the funnel), or conversions (bottom of the funnel), you can choose a specific ad type from there.
Focusing on one main goal helps to align your messaging with the specific audience you're targeting and what they're looking for at each part of the sales funnel.
Not only that, but you want to focus on a single message as well so that your ad is as effective and as straightforward as possible. Throwing several different messages and actions into an ad will confuse your audience and you want to avoid that.
Here's a great example of a Facebook ad from Expedia that focuses on one single thing – free hotel cancellations. Given the circumstances of the current pandemic, this is an important feature to promote.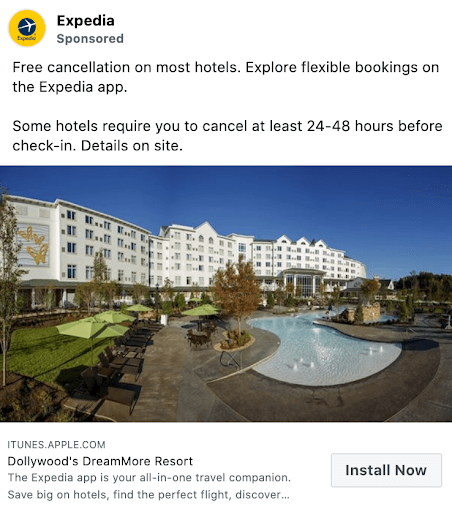 This ad has one objective: to let potential customers know that even in the event that something happens – like travel restrictions due to COVID – they can book their trip worry-free.
2. Target the Right Audience(s)
The next step in creating an effective Facebook ad is to target the appropriate audience(opens in a new tab). People who have never heard of your brand before are not going to be on the same wavelength when it comes to pulling out their credit card as people who are familiar with you.
Keep this in mind when you're putting your targeting options together. When you want to create brand awareness ads or promote blog/video content your team has produced, you can place it in front of your overall audience or demographic.
But when it comes to ads that you want to convert, (remember that pixel I mentioned?) create audiences based on the people who have already been on your website, or create a lookalike audience that has those same traits.
Take a look at this Facebook ad example from hotel chain Hyatt.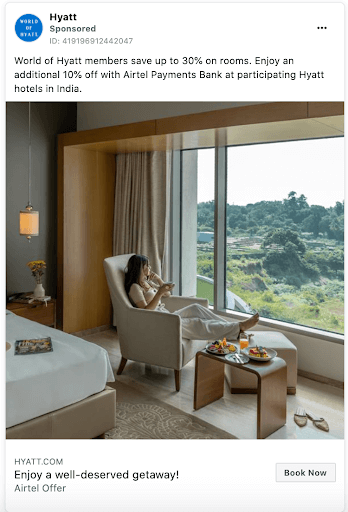 (opens in a new tab)
They're sharing a promotion that has to do with their rewards program, so they're likely targeting people who are members or who have stayed with them before based on a pixel on their website or an email list audience.
This is a smart move here because not everyone is going to be interested in member rewards at the Hyatt – but members or frequent customers certainly will be!
Sometimes it's not all about generating new customers but rather retaining the relationship you have with current customers.
3. Design Eye-Catching Ad Creative
What really draws someone's eye to an ad? It's the ad creative or the visuals, more than the brand it's coming from, the copy, the promotion, etc.
Your ad design(opens in a new tab) is extremely important to ensure you grab viewers' attention long enough to sell your promotion and get them interested in what you have to say.
For your tourism Facebook ads, you'll need to rely heavily on photography in order to sell your services, attractions, location, and more.
Studies found that 50% of people (opens in a new tab)recall visual ads when booking a trip.
While smartphone photography can go a long way when it comes to organic social media marketing, for your ads you'll want to hire a professional photographer. You could also use high-quality User Generated Content for powerful visuals(opens in a new tab) –  with permissions of course.
Also, you can add some graphical elements to draw more attention to your selling point.
This ad from Contiki is the perfect example. Look at how incredible the location looks, how the person pictured is having the time of her life. Also, the ad reels in viewers even more with the "it's time to make 'oneday' today" call out.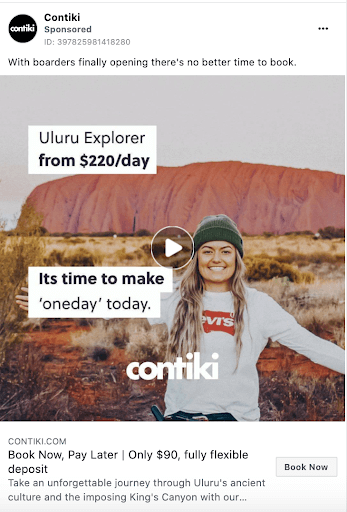 Consider how your brand can utilize tempting photography like this one that can help your audience imagine themselves there.
4. Write Powerful Copy
While your imagery is what will initially grab your audience's attention, the copy is what will sell your services to them. This is why it's important to master the art of writing ad copy(opens in a new tab).
First things first, be sure to write directly to the audience you're targeting. You've already put a lot of thought into your targeting, so keep them in mind when you write your copy so that it's directed specifically at the people who will be reading it.
Next, make sure your copy and your visual go hand in hand so the entire ad feels cohesive and makes sense to your viewer.
You also want your copy to be as short and sweet as possible. While longer ad copy works for some industries, in tourism, it's best to use as few words as possible to get your point across.
And finally, it's a good idea to A/B test your ad copy to find what messaging works best. Even if you follow all the rules and speak to the people you're targeting, some options will always work better than others.
Here's a great example from Belmond. Their ad copy is reduced to a single sentence that explains what the viewer is looking at and what is being promoted.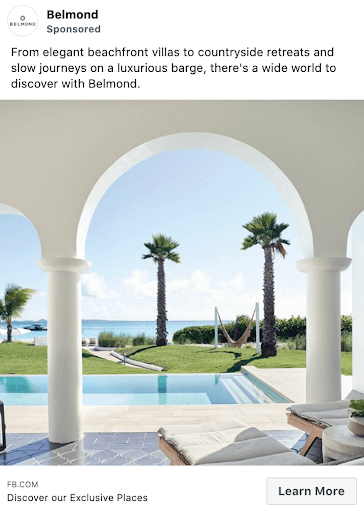 It's also extremely enticing – make your viewers excited to book their trip and experience this for themselves.
5. Include a Concise CTA
Our last tip for creating effective Facebook ads that convert is to finish your ad off with a hyper-specific call-to-action (CTA).
Facebook allows you to select from a list of CTA buttons(opens in a new tab), and you want to select the one that describes the exact action that you want your audience to take. Choose from options like "Learn More," "Sign Up," "Book Now," "View Event," etc.
Here's a great Facebook ad example from Hilton that takes advantage of the "Book Now" CTA button.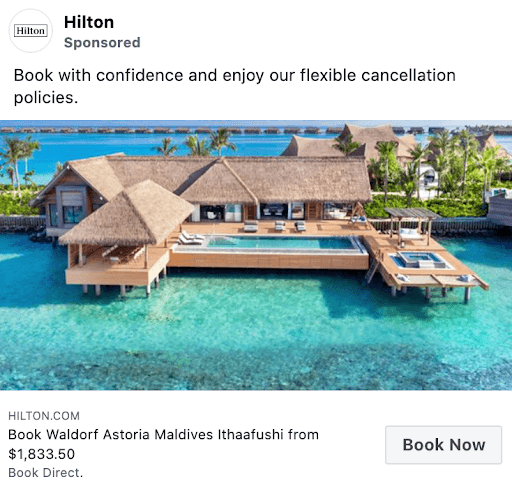 There are nearly 30 different CTA button options for a variety of different ad objectives and goals. So be sure to take advantage of the one that most closely matches the action you want your audience to take.
Start Creating Effective Facebook Ads Today
Utilize these five best practices to start creating effective Facebook ads that boost conversions and increase brand awareness.
In a nutshell, make sure you target the exact audience that your ad is speaking to, leverage beautiful and powerful imagery, and make your copy exciting with a relevant call-to-action.
---
Find this article useful? Enter your details below to receive your FREE copy of 95 Epic Places To List Your Tours and receive regular updates from Tourism Tiger and leading industry experts.
By submitting this form, you agree to Tourism Tiger contacting you via email.