Colour is crucial to our everyday lives. It can warn us of danger, sway our emotions and help us to make key decisions. So when it comes to putting a website together, it makes sense that the colours you choose for your design can be critical to the success of it. To find out a successful strategy for choosing the right colour palette for a tour operator website, who better to speak to than our TourismTiger design team, Neidys Arroyo and Cristóbal Puga.
The Importance of Colour Psychology in Website Design
If you're not already aware of the importance of colour, then just think about how it is incorporated into our daily routines. Many of the decisions we make daily – what to wear, what to buy, and what to eat and drink, will all be influenced by colour in some way. Whether it is via the colour of the substance or by the branding of the product, the hues and shades chosen impact our thinking. Colours are also used for communication. They tell us when to stop and when to go when we're out and about town and they can help alert us to opportunities and threats. All this is colour psychology and when it comes to branding, there are established colour associations with specific characteristics to consider.
So what are the important factors to consider in relation to web design?
"When we get assigned a client, we see and hear (during the onboarding and design calls) what they would like in terms of how they want their brand to stand out and how they want to be perceived. This ties in with colour psychology and how do you make something look fun without writing the word 'fun' all over the place? You need something to convey that. That's why choosing colours is so interesting and important. With every brand you can see a different aspect of it, there are different flavours with every said characteristic and the combinations of colour with how saturated they are and how they play with each other ends up creating the feel that the client wants."
Colour can help communicate messages quicker than words can, Arroyo points out, "Colour is very important because it is an element that says a lot and it can say a lot just by itself." She also had an interesting analogy for this piece of colour psychology, remarking "When making a design you have many elements and you are putting them together in a sentence because you want to convey a message and in this context the colour could be like a verb, it can express the actions you want to communicate and all of that is related to colour psychology."
Colour choice is also very important for helping to lay the foundations of the website design, "Colour sets the stage for everything so it is important to think about it from the very start as it will help set the mood too" Puga added.
Be Accessible
Making a website accessible is essential for usability, and this involves incorporating enough color contrast between elements. Keeping this in mind while also ensuring the colours on your website are not garish or harsh to look at is crucial as Arroyo explains, "A website is a place where you will be spending a significant amount of time, it's not like a poster that you will just see for a few seconds, so it is important to make it calming and easy on the eye." With this in mind, Arroyo also touched on how designers consider colour selection, "I will think of harmonies and take into consideration the brand…it is also important to show constraint with bright colours."
Use Bright Colours Wisely
So we've already discovered that choosing a harmonious and calming colour palette can set the correct tone and make your website look professional and be accessible. However, as Arroyo alludes to, it is important not to ignore bright colours completely. Most websites benefit from the use of a bright colour or two, but for tour operator websites you should be looking at more subtle, calmer and professional colours for the general feel, leaving the brighter colours to do the work of drawing the customer's eye to the important CTA elements such as the "Book Now" or "Contact Us" buttons.
Again, this is colour psychology. Did you find yourself being more drawn to the brighter macarons in the pack in the photo at the top of this blog? We did too! The more energy in light, the more the sensors in the eye are stimulated and in turn we perceive the object to be lighter. For that reason we are attracted to brighter areas in our field of vision. But, as mentioned previously, contrast on the website is key. On this point Puga says, "Colours have to work together so they blend but at the same time, if you want to highlight something, it is best to do this subtly."
Stand Out From Your Competitors
The obvious colours that you might associate with a geographical area or specific tour/activity are not always the best option if you are looking to stand out from the crowd. Take Muddy Water Adventures for example, they offer sightseeing tours and water taxis in Southeast Alaska, a competitive market for tour operators. Most of their competitors have websites that use colours typically associated with the climate and topography associated with the region, but they wanted to use their brand colours of black and red – two colours we wouldn't normally recommend. Commenting on this process with the client, Arroyo said "We thought, okay, their brand is red, let's find a way to make the red pleasing, so we came up with a couple of different shades of red that were amazing and nice to the eye and different to everything else in the market." Crucially, Muddy Water Adventures manages to still have the feel of an Alaska tour operator while maintaining a unique brand identity in the region by using shades of red. Most importantly, this is exactly what the client asked for and the end result is a simplistic yet stunning website.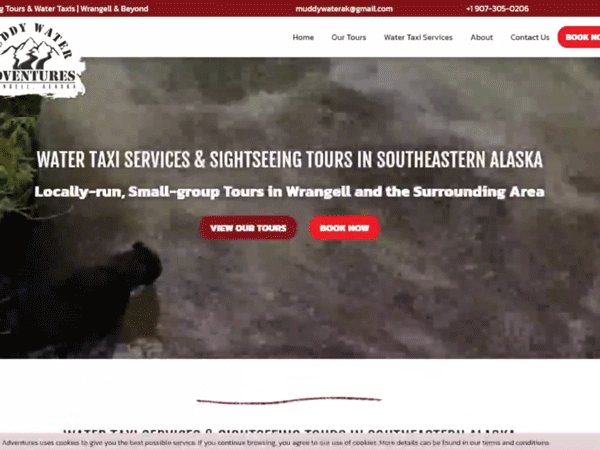 Integrating Colour with Photos & Hero Video
Every good tour operator website will have a good selection of authentic and high quality photos to showcase their tours. The colours in these photos can also play a key role in deciding which tones, shades and hues to select when it comes to your website's colour palette. As you can see above, one of the ways Muddy Water Adventures maintained the feel of a tour operator in Alaska while using a non-typical color palette, was by their photo choice along with an eye-catching hero video on the homepage. If the photos and videos are easily conveying your location then you don't necessarily need your brand colour palette on your website to do this too.
Hire the Experts
At TourismTiger we make sure we have an onboarding call and design call during the website build process to ensure that what the client wants to say about their tours and brand is communicated successfully. So if you want a sales-focused website that incorporates your branding, prioritises accessibility and stands out from your competitors by using a thoughtful and complementary colour palette, contact us today for a free consultation.
---
Find this article useful? Enter your details below to receive your FREE copy of 95 Epic Places To List Your Tours and receive regular updates from Tourism Tiger and leading industry experts.
By submitting this form, you agree to Tourism Tiger contacting you via email.