For many tour operators, the summer months are a busy time when most tour and activity operators feel additional pressure to keep their customers happy. The best way to do this is by entertaining them with new events each day, but it can be difficult for some companies to keep up with demand. In this blog post, we will discuss five ways to overcome these pressures and provide your customers with a fantastic experience! So no matter if your high season is during the summer, or winter, or during holiday breaks, keep reading for simple and easy-to-implement tips.
1. Plan Ahead
Tour and activity operators should plan things out to keep their customers happy. This includes having enough guides or instructors ready for lessons or tours, planning the events calendar whether you're a multi-day tour company or even a day tour with different tours or time slots, and budgeting running costs appropriately(opens in a new tab) so that you can consider offer discounts during the off-season in order maintain interest year-round.
Of course, this is easier said than done. To make everything happen like clockwork, you need to ensure that team efficiency is in tip-top shape.
On the logistics side, it's crucial to have open communication with your vendors, tour stops, partners, in addition to any local regulations that require adjusting your tours.
At the same time, be sure to stay on top of organizing your guides and any other employees' schedules properly. The last thing you want is overbooking your activity center or booking multiple clients at the same time and place without enough guides or drivers available. Aim for open communication and have a backup plan in place, properly managing your team's schedules(opens in a new tab) by streamlining all of the processes in advance.
Planning will help ensure that your business can provide a fantastic experience all year round but is particularly handy during your busy season!
2. Implement Yield Management
Having the same prices during the holidays or peak season is a missed opportunity. Since most people have their days off during that time, they'll be searching for places where they can book to unwind and relax.
At the same time, this is a chance to attract new prospects who are still on the fence about trying your services during the season.
This is where yield management comes in handy. This term is a pricing strategy that allows you to maximize the ROI of your business due to increased demand.
There are different approaches you can take here. Your decision should be based on a variety of factors while focusing on the goal of generating more revenue during this period in order to account for lower incoming revenue outside of this time:
Mark up prices—Assuming there is increased demand for your tour activities based on your research, take advantage of this fact by adjusting your prices. The difference doesn't have to be dramatic, but again consider your incoming revenue during the rest of the year as well as your typical operations cost.
Markdown prices—Lowering your prices is not advisable during the busy season. However, this could prove to be your only choice if sales haven't picked up for a long time and there's little interest in your activities during this period. Be sure to emphasize and promote the savings that your potential customers can take advantage of.
Last-minute offers—If you want to squeeze out more sales before the season ends, you can make a price reduction to your tour and activity entrance for a limited time.
Packages–Come up with bundles for the different services available in your tours and activities. For instance, you can bundle travel, accommodations, amenities, rentals, and services for a single price that's lower compared to purchasing them separately. This is a also great way to capitalize on business partnerships

(opens in a new tab)

through cross-promotion.
While the pandemic is still in full swing, some businesses have to adapt to offer customers special prices. Be transparent about your cancellation policy whether that includes the option of a refund or rescheduling and any other relevant information for potential customers. Not all locations have the same regulations or are open to the same extent. This way, customers can book in confidence despite the economic circumstances.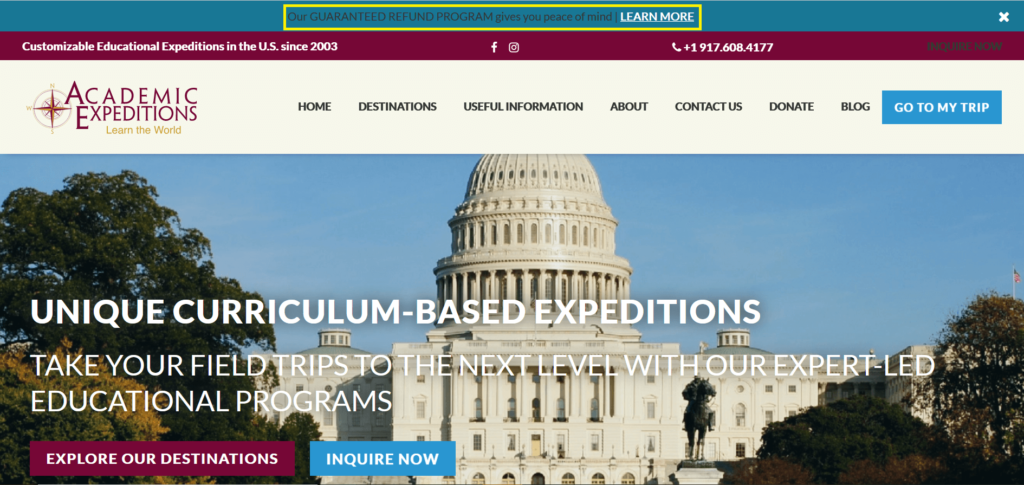 Academic Expeditions offers a Guaranteed Refund Program(opens in a new tab) to assure guests in the event that they are unable to take the tour.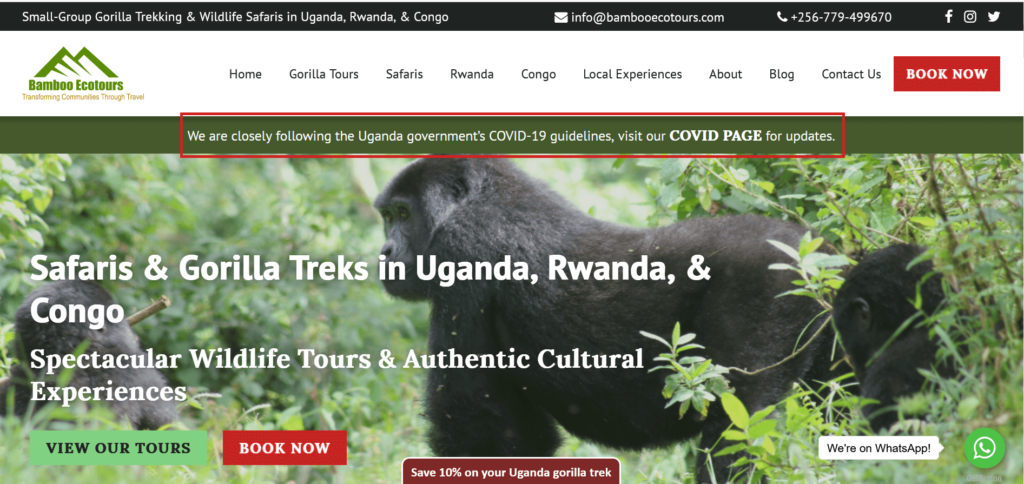 Bamboo Ecotours also has a dedicated page(opens in a new tab), where they provide regular updates in order to let customers know that the information is up to date
If you wish to maximize your ROI, then consider which of the strategies above is best suited for your business needs and get to work.
3. Offer New Services and Products to your Customers
To help increase sales, you can add new services and products during the busy season.
It's during the busy season that companies have to get creative with their business model. If not, they risk losing their prospective customers who will start looking elsewhere if they don't see anything new or exciting.
In this case, brainstorm new offerings as a customer service strategy(opens in a new tab). You want to provide them with the best service during their trip. One of the ways to do that is by including new amenities, providing food and beverages or souvenirs to help increase your revenue.
If you want to know what products, activities, and services your audience wants to see from you, ask them! Send surveys(opens in a new tab) to your past customers to gain more insights into their preferences and how you can get the most out of the busy season based on their answers. When it comes to getting responses consider offering a discount, or run a contest(opens in a new tab) for those who fill out your survey.
4. Use Technology in your Business
For starters, setting up a website for your tourism business provides you a platform where you can communicate with your audience in a matter of seconds. Unlike other online platforms, your website gives you full control over how you present your business and what they need to know about your company. The fine folks at TourismTiger(opens in a new tab) can help you maximize your conversions by designing the best site for your tour business and writing the most compelling copy to help you sell more tours.
Next, make it easy for your website visitors to be able to reach you. Use forms that people can fill out if they have any additional questions. Make sure to reply to them immediately to stay relevant and keep the conversation going.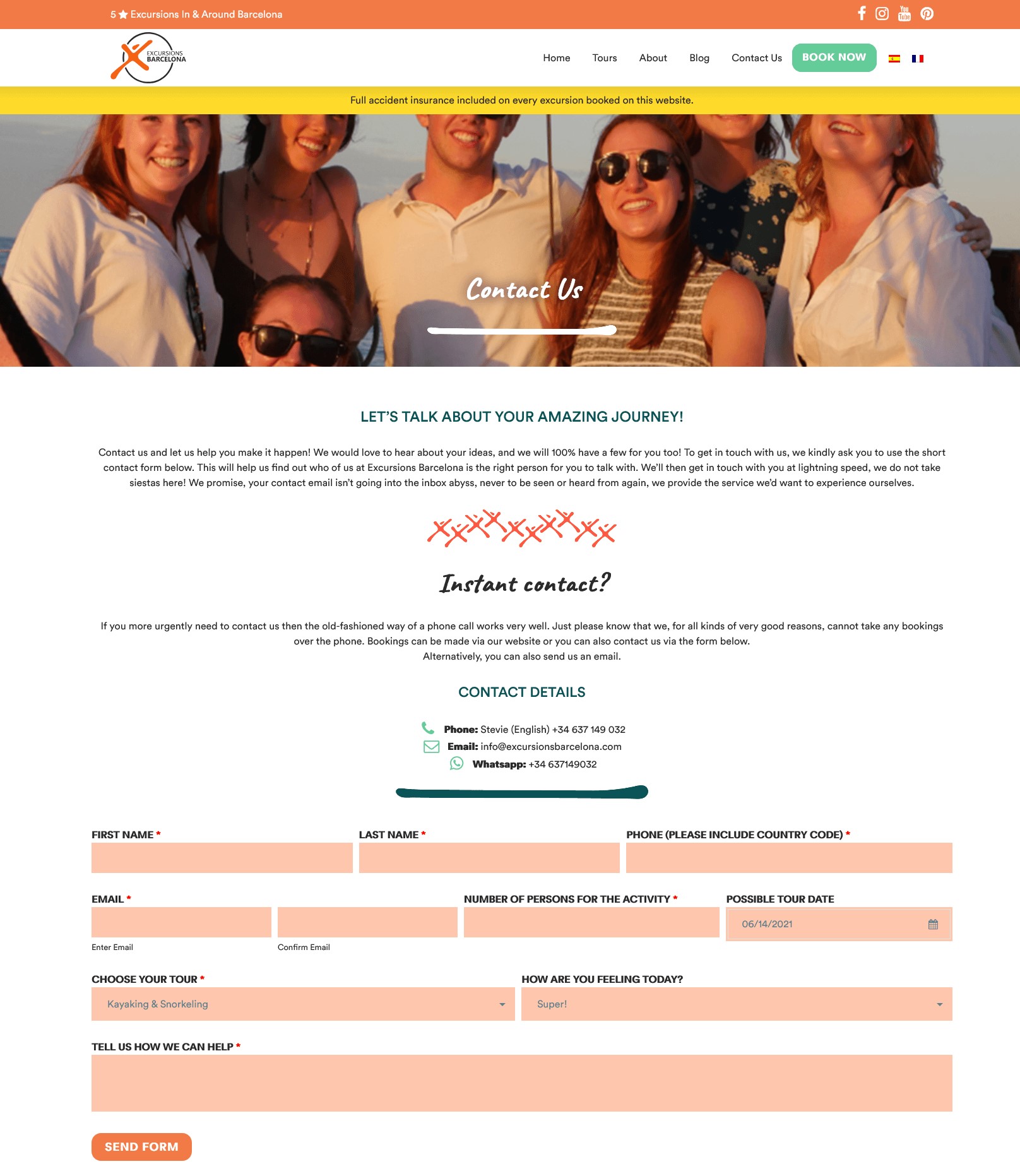 Excursions Barcelona gives their customers the option to either fill out a form or contact them directly.(opens in a new tab)
On top of online forms, take your customer engagement campaign to another level using chatbots. These are widgets that pop up on your site and initiate a quick conversation with pre-written responses.
Using chatbots correctly helps you reduce the costs of hiring an in-person customer representative. The chatbot will automatically respond to queries from your visitors using multiple-choice answers. If the chatbot can't answer their question, it will escalate the question to your customer reps so they can respond to it personally. It's a useful tool for your off-hours or if no one is able to respond during certain periods of the day. It's also helpful when dealing with customers in different time zones.
Finally, you can promote your tours and activities during live or on-demand webinars. These are video conferences that you host with your prospects as guests.
Unlike most webinars where the hosts demonstrate a product, tour, and activity operators can take advantage of this platform to educate people on how to get the most out our the activities you offer.
For example, if you operate a skydiving center, you can record webinars on the best skydiving practices and equipment they need to use. You can even invite instructors to share tips and safety advice for skydiving sessions. Build up a video library of resources that customers can check out. This is a great way to show your knowledge and experience in your area or of your specific activity.
Afterward, in order to better engage with your audience, you can have an open-ended Q&A session where people can ask you more about your services and why they should choose your company.
5. Invest in Marketing
Employing multiple marketing channels during a busy holiday season is a go-to strategy for many businesses. In fact, it increases the chances of getting more customers to your tour activities. Again, while a marketing strategy is beneficial year-round, during your peek or high season it's about capitalizing on the inherent interest that much more.
Before you begin, it's important to develop a marketing process(opens in a new tab) that outlines your tactics to target the right audience for further conversion. The strategy should also cover what happens next after they become your clients — what else can you offer so that they keep coming back?(opens in a new tab)
One of the best channels that will help you achieve this goal is email marketing.(opens in a new tab)
The first step is to build an email list of your target audience segmented into different stages of your sales funnel. For instance, you want to separate people who are ready to pay from those who are just shopping around.
Next, create drip campaigns for each of your segments optimized to move them to the next stage of your funnel or to convert them into clients.
Besides, using an email marketing platform allows you to automate the lead acquisition and email campaign management so you don't have to manually work on each step of your strategy.
While you can set your system up by yourself, getting help from full-service email marketing specialists(opens in a new tab) lets you focus on more pressing business tasks at hand.
Additionally, a marketing channel that works best with email marketing is paid ads.
In particular, running Facebook Ads(opens in a new tab) allows you to get in touch with people that match your target demographics. This way, only they can see your ads, which helps increase your conversion rates as opposed to just blindly advertising to uninterested parties.
You can promote your upcoming offers and packages for your ads. At the same time, you can request them to sign up for your webinars or email newsletters so your email platform can automatically send them messages straight to their inbox.
These tactics should help build the foundation of your marketing strategy that will spread the message about your new offers and activities this season.
Conclusion
The success of your tours and activities during the busy season depends on how prepared you are for it. The steps above should help you and your staff withstand the influx of customers so you can generate more revenue in the process.
Take this period as an opportunity to breathe in new sales to your business, especially with potential marketing campaigns you can launch to promote your tours and activities.
Whether you want to promote new services, change up the prices, or come up with new packages, there's no shortage of things you can do and achieve during the busy season.
Finally, stay in the game — if not ahead — of the competition through technology and marketing.
Sometimes, your success lies in how you advertise your business and on which channels you promote it. Innovating your marketing strategy with the latest tech trends allows you to tap into a brand new audience that will attend your tours and bring in more sales.
---
Find this article useful? Enter your details below to receive your FREE copy of 95 Epic Places To List Your Tours and receive regular updates from Tourism Tiger and leading industry experts.
By submitting this form, you agree to Tourism Tiger contacting you via email.