You're a tour operator, and you're a business person, so it's only logical that you want to maximize profit while offering the best experience possible. You come up with new tour ideas, new tour stops, a special promotion, but what about using the resources you already have to your full advantage and begin offering equipment rentals. Maybe you've seen your competitors doing it, and maybe you've been hesitant to go for it. So we've put together a list of the benefits as well as additional factors to consider in order to once and for all decide if offering equipment rentals is right for you and your tour business.
Why Should Operators Consider Offering Rentals?
Additional Hours Means Additional Revenue
Another benefit to consider with rentals is a way to maximize the revenue per day. While you may only offer a tour once or twice a day, those additional vacant hours, or even on days where perhaps you are not offering a tour (or a particular tour) means that you can capitalize on the resources you already have so that they generate more income than simply with tours. Hudson River Recreation knows a thing or two about maximizing the hours in a day. In addition to their tours, they offer lessons as well as rentals for all types of water related activities!
Repeat Customers
The somewhat elusive repeat customer. It can be a challenge to get customers to take another tour with you, even if you offer multiple tours. There are certainly strategies to build up customer loyalty, but another great option to build up return business is by offering rentals. If there is enough demand, and return customers you can even set up a loyalty program where for example after five rental periods they get the sixth at half off (or even free!).
As an add-on to your existing offering, this allows customers the option to continue exploring on their own after the tour has ended. Biking or boating their way along at their own pace. Depending on your booking software, it's becoming increasingly popular to have this feature available during the booking process to bundle tours plus additional rentals. If you don't use a booking software you can look to set up a form where customers can also select both tours and rentals. Similarly, consider the option of offering a discount for customers who come back another day to rent a bike, boat, SUP, or any other type of equipment rental.
Appeal to the Local Market
Staycations are here to stay. So that means that appealing to your local market should also be a part of your business strategy. While locals may have already taken your tours, or may not be interested in a tour, that doesn't mean they can't be your customer. Here again, offering rentals is a great way to expand your customer base for those looking to head out on their own adventures. Far Flung Outdoor Center offers equipment rentals of all types(opens in a new tab) in order to help their guests maximize their camping experience. This appeals to both travellers who don't have to worry about packing everything for their trip, as well as locals who may not have their own equipment, or are camping newcomers.

Bikes are a perfect product to then also offer rentals as you can see with Big Sur Adventures(opens in a new tab) who have both traditional and electric bicycles.
Vehicles
Even if your company does not specialize in transportation, that doesn't mean you can't take advantage of a key resource that you have—vehicles. When it comes to special events such as weddings, the ability to rent your vehicle (and driving services) outside of your standard tour context again means that you can capitalize on additional hours, or slumps in your bookings. Wine and Beer Tours(opens in a new tab) already has a variety of vehicles to choose from for their day tours, but they also offer their vehicles and transportation services for special events. Tour vehicles of all types have the ability to transport groups of people, and that service should not be undervalued!
Other Factors to Consider
Cost
Think of the type of equipment you are renting and the potential demand. If you work with expensive, high-end equipment as part of your tours, will people feel comfortable taking it out on their own? You need to find the sweet spot that makes it both appealing for customers to rent your equipment and lucrative enough that it's a good business decision. Moreover, another cost factor is the cost to your business to offer rentals. Equipment, maintenance and repairs, and more. Although you have to spend money to make money, the latter still needs to be greater for it to be a viable option in the long term.
How Much Equipment
You also don't want rentals to mean an overwhelming surplus of equipment which is hard to keep track of, which means higher maintenance and storage cost, if the demand is not actually there. But at the same time, you don't want so little equipment that you're necessarily waiting on a return to then be able to head out with your next group on their tour. It's best to start off small and gradually scale as and when necessary.
Maintenance and Repairs
Next, maintenance is key to any business that offers tours with equipment, but there is nothing to hide behind when the offering itself is the equipment. So first impressions matter. Be sure you have a maintenance and revision system in place to ensure that the rental equipment that you offer is always in top shape whether just for standard regular repairs, or in the event of a major repair. Additionally, ensure you have a proper sanitization process, and that you account for the time and labor that goes into that, in particular if you run a small operation with limited employees. You wouldn't want to find yourself behind schedule on a tour that's about to begin because you're receiving and reviewing a rental return, and then cleaning it, all at the same time.
Rental Agreement
Because there will not be an accompanying guide, make sure to have a rental agreement (paper or electronic) which clearly states the terms of the rental. This should include any damages, late returns (or no returns), and the risk and responsibility for accidents. Make sure the wording is clear and understandable so that customers know what they are signing, and to minimize the risk of later disputes
Advice/Self-Guided Tours
Just because you aren't offering a tour, don't underestimate the value of customer service. Whether this means providing a local map, or your own, a list of nearby trails or noteworthy attractions to visit, this insider information shows that you care about the experience that your customers have. Another opportunity for customers looking for an experience that exists somewhere between a formal tour and going at it entirely on their own is to create your own self-guided tour(opens in a new tab) which can act as an additional source of revenue. There are multiple formats for creating one that makes sense for your business and your area. The Bike Center(opens in a new tab) is truly about all things bike, going above and beyond to introduce people to and get them excited for cycling both recreationally and as a means of transportation. They not only offer tours and rentals, but also courses, repairs, bikes for sale, and much more.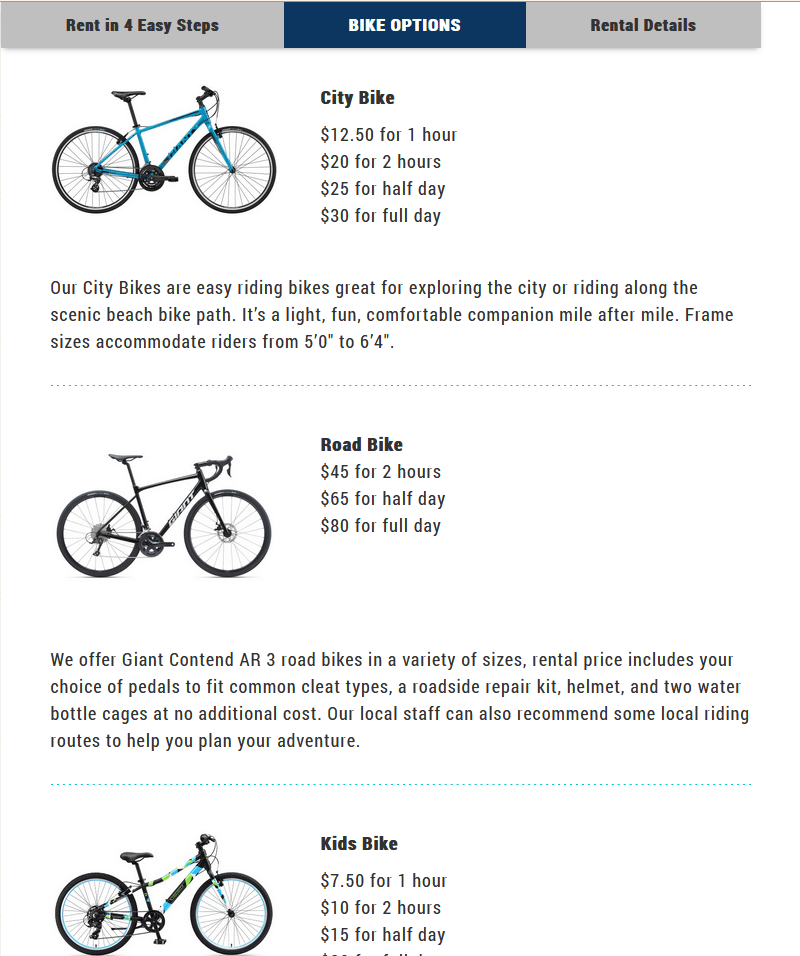 The Bike Center(opens in a new tab) have an excellent rental setup which includes photos of the different types of bikes with descriptions and the price for various rental times.
Getting Started
Once you've made the decision to start offering rentals, it's time to let people know. In addition to announcing it on your social media, make sure it's clearly visible as an option with your website. If that means it's time for a website redesign, let us know(opens in a new tab) and we'll help you get your site up and running, so you can continue to focus on your tours and customer service.
---
Find this article useful? Enter your details below to receive your FREE copy of 95 Epic Places To List Your Tours and receive regular updates from Tourism Tiger and leading industry experts.
By submitting this form, you agree to Tourism Tiger contacting you via email.