$215 billion. That's how much the Chinese spent on out outbound tours last year. What's even more remarkable is that that figure has gone up by 53% since 2014, and in 2016, the number of Chinese travellers continues to rise(opens in a new tab).
So what does this mean for tour and activity operators? If you don't have a specialized marketing plan specifically for the Chinese sector(opens in a new tab), you're missing out on the single largest group of outbound tourists. In fact, in 2014 alone, Chinese tourists spent $50 billion dollars more than their U.S. counterparts.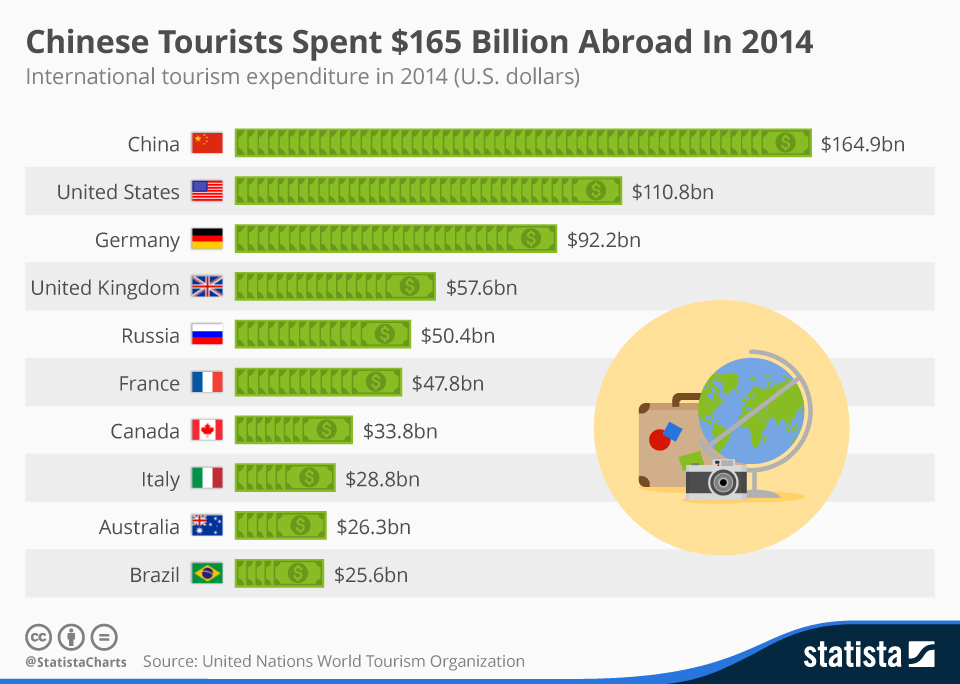 OK, so how do you successfully target this exceedingly large group of jet-setters itching to spend? Well…
#1: Cater your tour packages to their tastes.
In the not too distant past, China was (and, to an extent, still is) closed off. Their media has been censored. Direct flights to distant countries have been limited. Getting to know and explore the outside world was a daunting process for all but the Chinese elite.
But now, direct flights are becoming increasingly common. Disposable incomes aren't solely reserved for the elite. Instead, the middle-class Chinese are packing their bags, strapping on their cameras, and jetting off at a rapid pace.
Here's the thing, though: this is a recent phenomenon. They still are seeing the world with eyes wide open, and they want to spend their hard-earned money by seeing as much as they can.
This means they are looking for tour packages that are filled to the brim with famous historical sites that they can visit, take a picture of, and then move on to the next destination.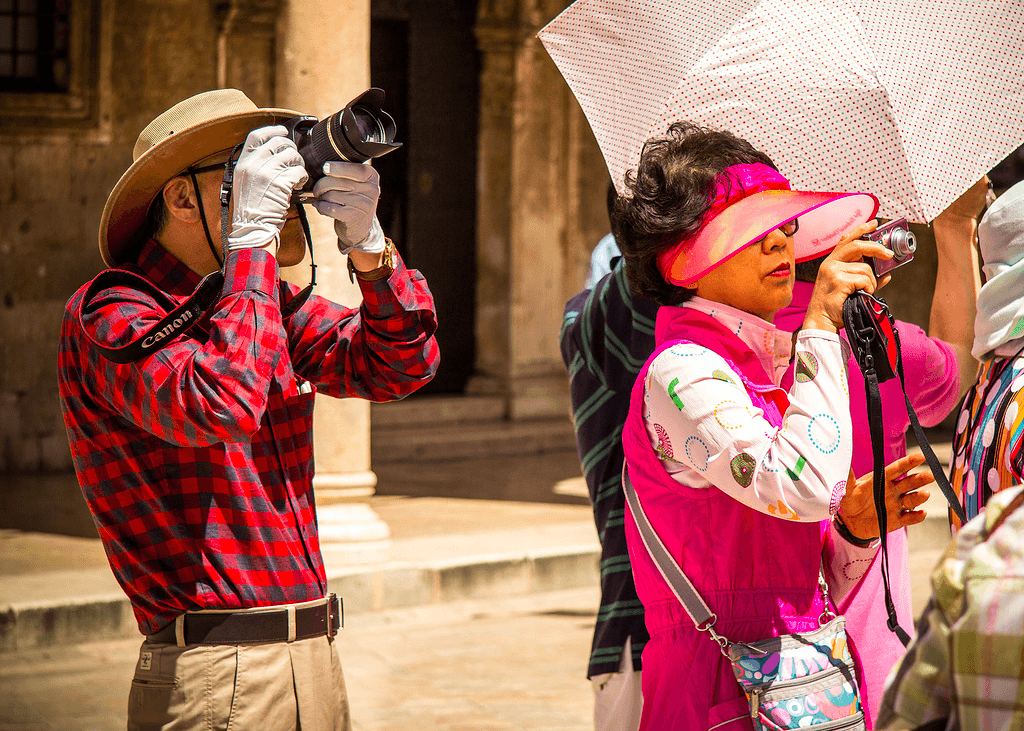 So if you're based in France, think of the Eiffel Tower and the Louvre. Thailand? The Grand Palace. Livin' large in New York? Take them to the Empire State Building, then the Statue of Liberty.
Create a multi-day package that's full of the 'not to miss' places.
#2: Create a campaign specifically designed for the Chinese market.
Here's another mind-blowing number: China has 648 million internet users. So when they decide that they are going to splash out on some overseas travel, where are they going to turn? That's right: the internet.
That means you need to:
Translate your website into Mandarin.
Even if they can read English (or whichever language your website(opens in a new tab) is in), the vast majority of Chinese travellers are going to prefer reading in their own native language. It's just easier.
So get your website translated into Mandarin. The best part? The translation doesn't have to cost an arm and a leg. Just hop onto UpWork(opens in a new tab), and find someone who's willing to do the work at a price point that works for you (just make sure you're working with someone who is reputable and has good reviews).
Use Chinese OTAs.
If you want to target the Chinese market, getting your tours listed on Ctrip(opens in a new tab) should be a no brainer. Tipping the scales at nearly 400,000 visitors a day, Ctrip is the grandfather when it comes to Chinese OTAs.
But with more and more Chinese people wanting to splash out on outbound travel(opens in a new tab), many other OTAs and marketplaces are vying for some action in this booming industry.
So don't pass out on an opportunity to list on the likes of eLong, Tuniu and any OTAs on this list(opens in a new tab).
Forget Twitter and Facebook. Think Weibo and QZone.
Be honest. How often do you use social media, whether it's Facebook, Twitter, or Instagram? Whether you're using it to build up marketing campaigns or mindlessly perusing through post after post, you use it. You use it everyday, and whether you realize it or not, it's a pretty large guiding force in your daily life.
Guess what? The Chinese are no exception. Actually, let me rephrase that: not only are they no exception with an estimated 650 million social media users in China(opens in a new tab), they are pretty much leading the way when it comes to social media.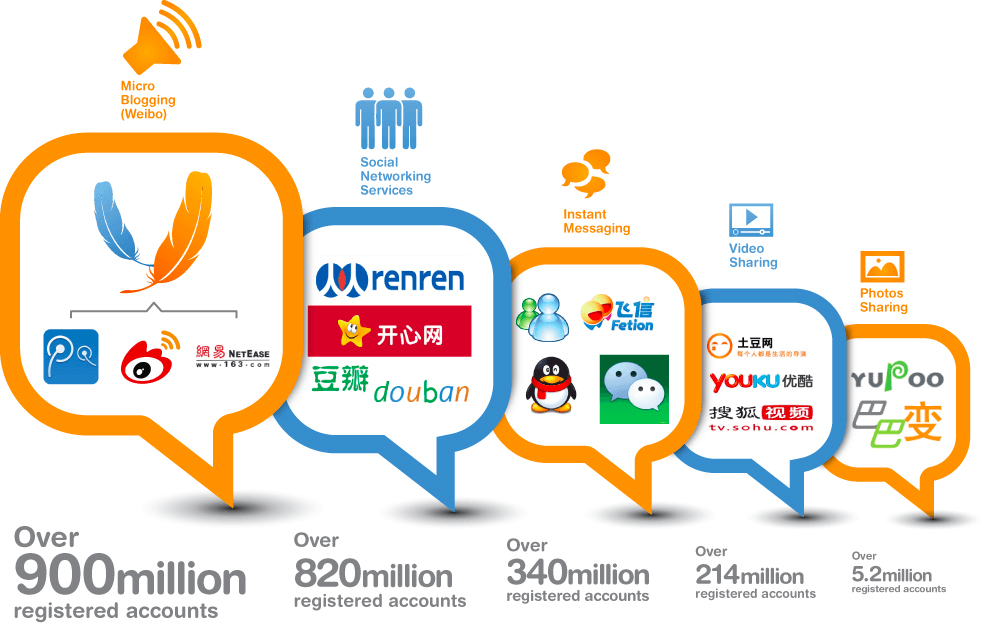 So what does this mean for you? Create accounts, network, and start advertising on these platforms. The thing is, most of them aren't in English, so if you try to do it yourself, you're going to struggle. Instead, give UpWork another go, or invest in experts like Travel World China(opens in a new tab) who truly get the game.
#3: Partner with Chinese tour operators.
If you are looking for a sustainable way of reaching the Chinese market, start networking with outbound tour operators based in China who are looking for reliable partners.
The reality is that they have a first-hand understanding of this customer base that you do not. When looking for a partner, make sure you've done your part to best present yourself and your business(opens in a new tab).
#4: Invest in Chinese-speaking guides.
What's a great way to lure the Chinese market into taking your tours? Find Chinese-speaking guides.
This will not only provide you with more marketing collateral; it will also make your Chinese customers feel more at ease coming to an unknown country and taking part in your tours.
Make sure it's right for you.
I'm not going to sugarcoat it: if you aren't committed to putting in the time and money, targeting the Chinese market will be a difficult task. So if you are new in the business, this market might not be the best move for you just yet.
But if you are willing to hustle and invest, this is a market that could take your tourism business to the next level.
---
Find this article useful? Enter your details below to receive your FREE copy of 95 Epic Places To List Your Tours and receive regular updates from Tourism Tiger and leading industry experts.
By submitting this form you agree to Tourism Tiger contacting you via email.