The travel industry can be a bit old-fashioned. The big players don't always keep up with the latest online marketing trends. Did you know there's a new way for small tour operators to find customers who are looking for personalized travel experiences?
You've heard about buying ads on Facebook and Instagram and using Google Adwords. You may even be using those online marketing channels to outsmart your old-school competitors. But Pinterest offers another way to pull in leads.
In this article, I'll show you why "traditional" online channels cost you more time and money.
You'll come to see why Pinterest is a better and easier online marketing channel that you can make use of to sell more trips. I'll explain why Pinterest works especially well for the travel industry.
Pinterest is THE trip-planning site.
Crafters, DIYers, and brides-to-be aren't the only ones who use Pinterest. Thousands of users go to Pinterest everyday to plan for their vacation and get holiday travel inspiration. Travel is more popular on Pinterest than on other platforms, such as Facebook and Twitter (which may be more popular channels overall, but they are less visual).
Travel and tourism are visual experiences. People want to visit beautiful places and capture them in memorable photos and then share them with friends and family online. Photos also help them decide where they want to go on their next vacation.
For this reason, Pinterest holds a huge advantage over other social marketing platforms when it comes to the travel industry. It is designed especially for visual discovery.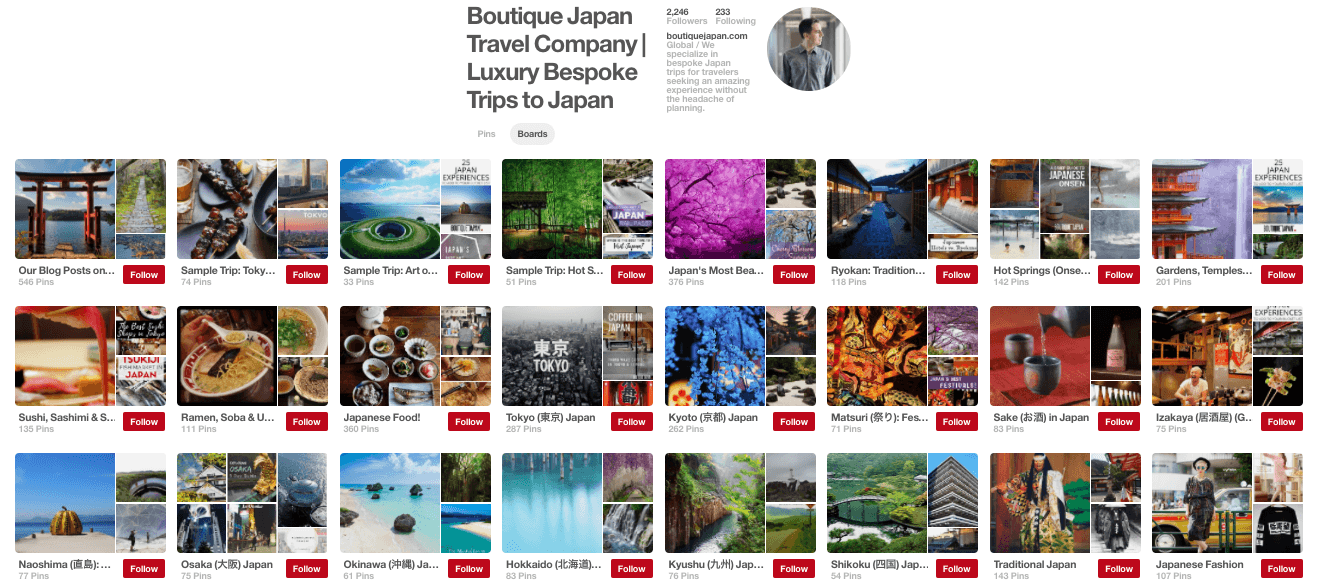 Pins about travel and tourism make up nearly 25% of all activity on Pinterest.
According to Skift, "Out of the top five airline, booking sites, destinations, hotels and media brands we found that 75 percent(opens in a new tab) are on Pinterest." They also point out that "Pinterest is likely the most popular(opens in a new tab) trip planning site" with "way more travel pins than TripAdvisor has reviews and opinions."
Let's take an example: travel company Boutique Japan started promoting their service on Pinterest, and in only six months, Pinterest became their number one social traffic driver, generating over 8,000 monthly page views from more than 5,000 new visitors.
Are you aware that there are over 175 million active users on Pinterest? The majority are women, which is a good thing — in the travel space, it's women who most often do the planning!
Instagram can be a great place to promote a destination or a tour company through photos, but remember:
It's a mobile-only platform.
It doesn't allow backlinks (except one in your profile description).
Pinterest is not really a social network
Users don't interact with each other on Pinterest in the same way as in other social networks. Pinterest is more like a visual search engine or social bookmarking platform for saving links in the form of images.
What this means for your travel company is that you invest less time. You don't have to spend time on social interaction, such as following other accounts or responding to comments (as you do on Facebook or Instagram).
You may be wondering:
"What kind of ROI can Pinterest bring to my travel business?"
The traffic to Kristin Addis's website Be My Travel Muse(opens in a new tab) increased by an average of 12-15,000 hits per month once she started focusing on her Pinterest presence. It's now her number two traffic source after Google search and her number one social media referral source. She continues to grow her affiliate commissions thanks to the purchase-ready visitors discovering her site through Pinterest.
Why is Pinterest so successful for the travel niche?
People come to Pinterest looking for inspiration and trip planning. Traffic coming from the site leads to more opt-ins, conversions and sales than from other social media platforms.
87% of survey participants(opens in a new tab) revealed that using Pinterest affected their purchasing decisions(opens in a new tab). And this is not just limited to products.
In other words, people use Pinterest as inspiration for their buying decisions.
How do I generate leads?
As a business, you can do two things with Pinterest: 1) bring traffic to your website, and 2) build awareness of your brand. Let's focus on the traffic because it's measurable.
On the user side, people use the site for dreaming about, planning and researching their vacations.
Follow these steps to generate tourism leads:
Create valuable, educational content for your audience. (Examples: "Traveling Around Japan with Dietary Restrictions

(opens in a new tab)

", "Guide to Tokyo Nightlife

(opens in a new tab)

", etc.). Promote blog articles, podcasts, etc.
Include beautiful, clickable pictures.
Put the pictures on Pinterest and link back to the article or podcast page on your website.
The picture will appear in the user's feed via their social connections (through following), their stated interests, or through search results (ranking for specific keywords).
You'll receive traffic to your website. There you can use opt-ins to grow your email list or use other methods to ask them to sign up.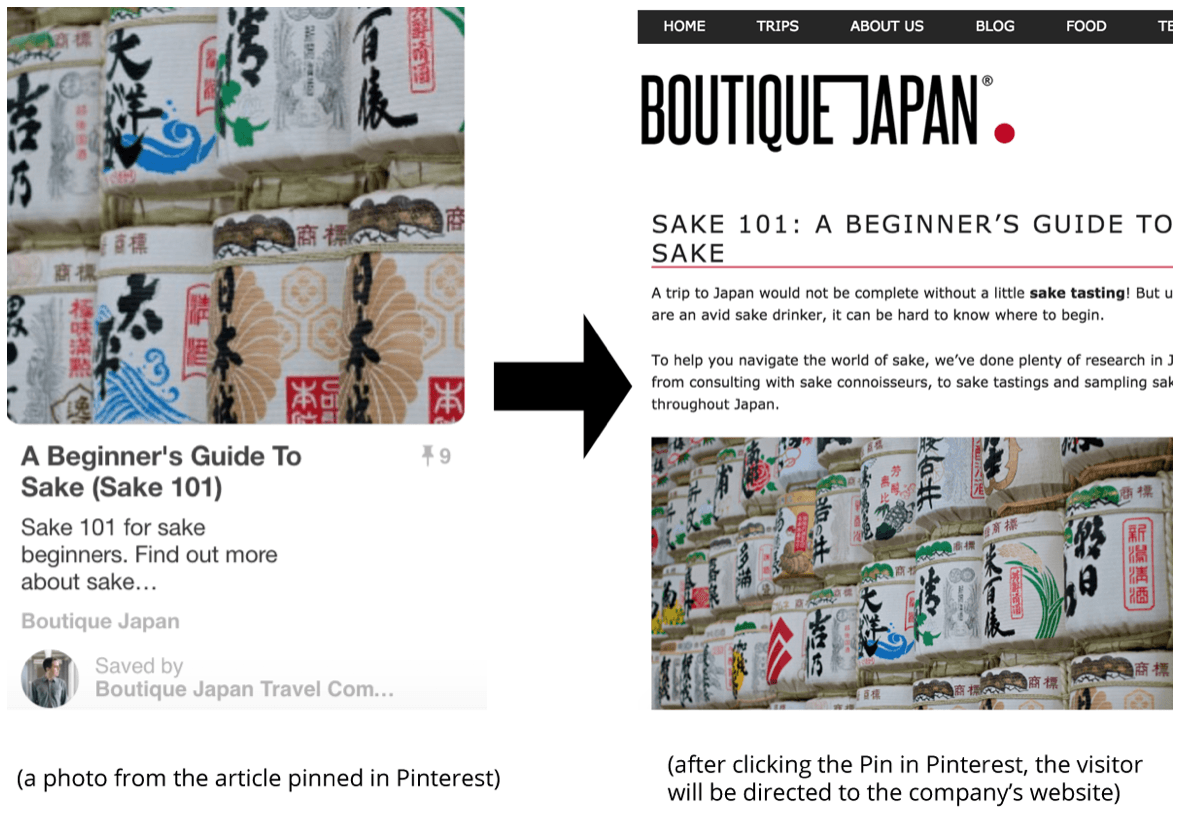 Boutique Japan(opens in a new tab) organizes bespoke tours. They also provide educational articles for people interested in going to Japan. They include beautiful pictures in their articles, which attract attention on Pinterest.
Imagine you're a tourist who's interested in taking a trip to Japan or in learning about Japanese culture. You see a picture, or "pin", about Japan on Pinterest. You click it, and it takes you to the Boutique Japan website to find more information (to the article, "Sake 101: A Beginner's Guide to Sake", for example).
This strategy resulted in a huge increase in site traffic for Boutique Japan (as mentioned: Pinterest is their number one social traffic driver with 8,000 monthly clicks on average).
Pinterest vs. Google and Facebook
"Everyone talks about Facebook and Google ads. Why should I invest time and resources in Pinterest?"
Use of Pinterest for brand building is still relatively new as far as social media channels go. It makes perfect sense for some industries and works less well for others.
Pinterest brings continuous traffic
Buying ads on Facebook, Instagram or Google Adwords is tempting for two reasons:
Ads produce instant results. For example, you can run an ad campaign overnight and wake up with new leads.
You can easily calculate ROI and see your customer acquisition cost.
With ads however, you have to keep adding fuel to the fire. Once you stop paying for ads, you don't get any more leads. So the only way to keep getting results is to keep paying.
Investing in Pinterest creates a long-term asset that will pay continuous dividends.
Remember how much time and effort you dedicated to building your business in the beginning in order to achieve the results you have now?
Pinterest requires less effort, but it still takes some time to achieve long-term benefits — 3 to 6 months to build steady traffic.
Pinterest costs less while being more effective
Ads may not work, and you need to know how to use them. If you're not an expert in PPC (pay-per-click Google Adwords campaigns) or Facebook ads, you can easily overpay for poorly optimized campaigns.
You spend time analyzing campaign results, and then Facebook and Google change their algorithms.
Pinterest does require attention to get started. But you don't have to risk going over budget. (Have you ever accidentally left your Facebook ads campaign running?) After the initial time investment, you can spend as little as 30 minutes per week running your Pinterest channel.
Pinterest is still a relatively new opportunity
Pinterest is still a relatively new channel for marketing. Financial investment in the platform goes further than that of more established marketing channels.
Prices for advertising on Google and Facebook have been rising for several years. Costs rose 40%(opens in a new tab) on Google Adwords between 2012 and 2014. Over 2012-2013, "in one year, Facebook ad prices increased by over 330%".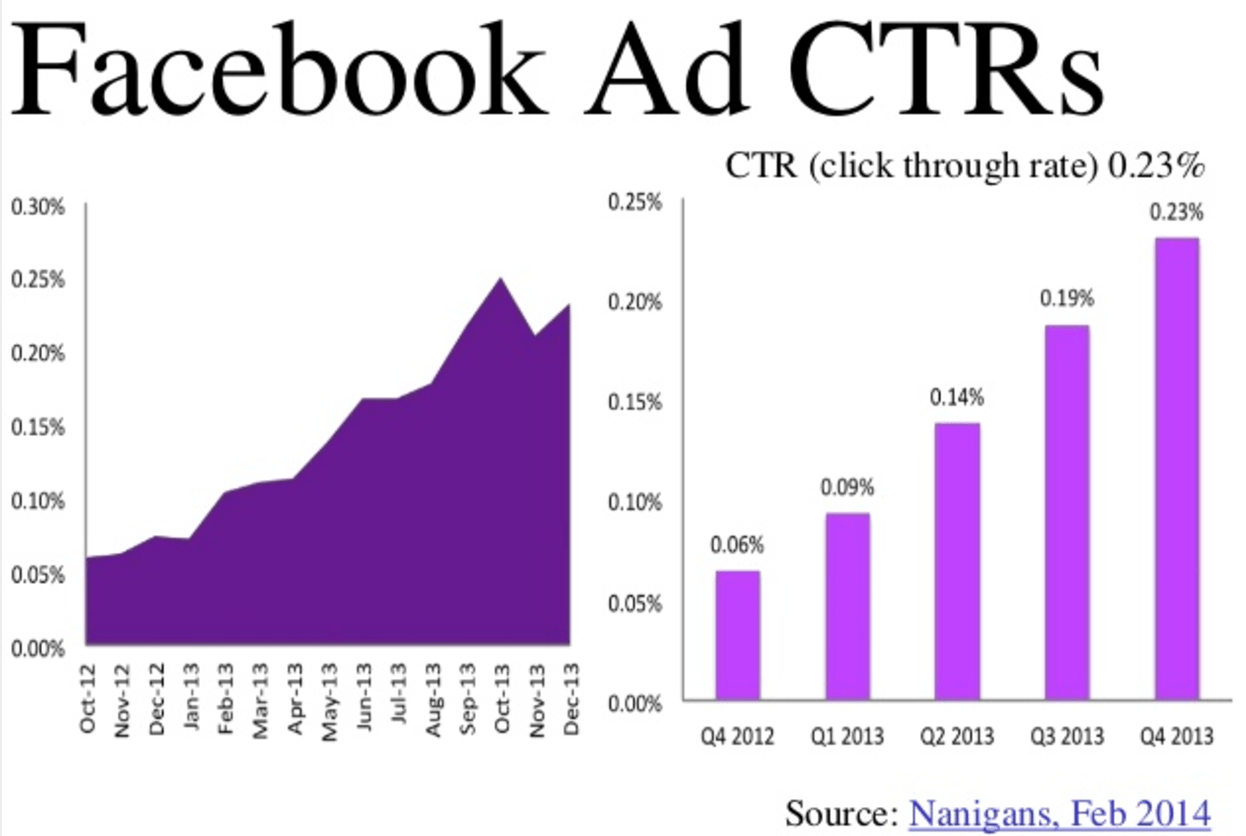 (Source: http://www.slideshare.net/augustinefou/facebook-ad-benchmarks-2014-update-by-augustine-fou(opens in a new tab))
The time when you could build your entire brand solely with cheap Facebook ads is long gone.
The time for marketing on Pinterest is now!
Other benefits
One downside to marketing on Pinterest is that links coming from the site won't increase your domain authority (which helps to rank in search engines) and don't affect your Google SEO. But consider another factor.
The Amazon effect
Have you ever noticed that product pages on Amazon often rank higher than the same product page on the original shop site?
Since Amazon is HUGE, Google gives it higher authority and includes results in Google searches. The same is true for Pinterest.
You're more likely to rank in Google with your Pinterest page than on your own website.
Example:

What it means for you is that Google brings search traffic to your brand's Pinterest page. And then, it flows to your website.
Better reach and increased time spent on Pinterest
From a user perspective, Pinterest works like a Google image search. The difference is that everything is user-generated. People upload images and pin content.
Users therefore spend more time(opens in a new tab) on Pinterest than on than on any other social media channel, and they discover more content in less time.
The pin you create today remains active on the platform forever, and most pins reach their peak engagement and clickthroughs around the 3 to 6 month mark.
One study discovered that content lasts on average 1,600 times longer than posts on other social media channels and that an average image is repinned 11 times(opens in a new tab)!
These results are much better than reach that immediately fades when content is shared on Facebook or Twitter.
Who benefits from Pinterest?
Pinterest works best for brands that people rely on as useful sources of information. When people trust you and see you as an authority, it becomes easier to sell to them.
Remember, you need two things:
Content – articles, blog posts and podcasts that provide value and interest to your audience
Beautiful pictures – included with your content
When you use these and make Pinterest your main source of traffic, you can build a significant following in just a few months.
Getting started
"I want to try Pinterest, but I don't want to spend a lot of time 'cracking the system' and keeping up with changes to the platform."
Setting up your account is the most laborious part, as well as learning a few best practices and hacks. But with the right strategy, optimization and tools, you can get account management down to about 30 minutes per week — much less time than needed for Adwords or Facebook and with more impact.
If you just want to focus on running your business, however, you have another option. You can hire a Pinterest marketing strategist.
They will do the hard work required at the beginning, teach you how to optimize and use the platform to its fullest potential, and show you how to manage your Pinterest account in a minimal amount of time.
Louise is a Pinterest strategist who works exclusively with travel brands. Read more(opens in a new tab) about how she helps travel brands grow their businesses on Pinterest or contact her here(opens in a new tab).
And if anything on this blog inspired you to work on your site, check out our tourism website portfolio and get in touch if you have any questions for the wider Tourism Tiger team.
---
Find this article useful? Enter your details below to receive your FREE copy of 95 Epic Places To List Your Tours and receive regular updates from Tourism Tiger and leading industry experts.
By submitting this form you agree to Tourism Tiger contacting you via email.