Voice recognition has been popular since the dawn of smartphones. Who remembers the excitement of their first conversation with Apple's virtual assistant, Siri? And who remembers trying to stump her with ridiculous questions?
Smart speakers are now the newest fad in voice recognition technology. In fact, they're so popular that you yourself may be one of the 25 million(opens in a new tab) who became acquainted with them in 2017.
With the rise of voice recognition technology, it is now easier than ever to have a conversation with your device. We have yet to reach artificial intelligence(opens in a new tab) levels like that of the movie Her(opens in a new tab), where the main character (played by Joaquin Phoenix) falls in love with the artificially intelligent operating system Samantha (voiced by Scarlett Johansson). However, AI's ability to adapt and grow means that it is equipped to handle our search queries with a new level of sophistication.
Gone are the days where using a search engine was an exact science. Though it is still helpful to know the shortcuts to improve search engine results, it is not necessary for many of the searches we do on a daily basis. You can find most of what you're looking for just by typing a string of keywords into the search bar.
Voice searching makes online navigation feel even more natural. Your virtual assistant relies on semantic searching, which Clark Boyd at Search Engine Watch(opens in a new tab) offers a great explanation on. Essentially, instead of having to constantly specify the basics (i.e., the who, what, and where) of your search each time you try a new one, the virtual assistant can pick up on the information specified in an earlier question and populate results based on that. Say goodbye to the days of "Who's on First(opens in a new tab)": AI now knows who (and what) you're referring to.
What Does This Mean for Me?
There are a few ways to make your website more responsive to voice searching technology without having to do a complete overhaul.
1. Ask the Right Questions
One of the biggest changes is type of search: according to SEO expert Neil Patel(opens in a new tab), a significant number of voice searches are phrased as questions. Therefore, to show up in the top results, it is important to predict what questions your potential customers will ask and incorporate them into your website.
One way to do this is by using Answer the Public(opens in a new tab), a free online tool that generates questions based on keywords of your choosing. To demonstrate how it works, let's say that I am a tour operator in Rome. If I want to know what type of questions could direct potential clients to my business, I would use Answer the Public to search for "walking tours in Rome". I'd then be met with an image like this: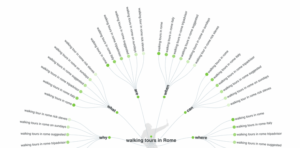 From here, I can see what people are searching for and formulate questions on my website in response, such as "Who offers walking tours in Rome?" or "Where can I go on walking tours in Rome?"
The key here is to integrate these questions in such a way that doesn't seem at odds with the rest of your website. One possible way to do this is by creating a FAQ page, where you can answer questions such as "Are there walking tours in Rome on Sundays?" All of these questions may not be suitable for your website – that is, you probably don't want to be answering questions about Rick Steves – but they can be a good starting point for updating your site.
2. Focus on Local
Another way to update your site to fit the voice search era is to optimize it for local searches. In 2016, 22% of people use voice search technology to find information about businesses and opportunities local to them. This means that your website should answer questions that people near to you are asking. It is unlikely that customers will use voice searching to do research in advance of their vacation; instead, potential customers using this technology are typically already at their desired destination. How do you capitalize on this to improve your last minute bookings?
Most of the experts suggest the most important step is keeping your information up to date. This includes updating your contact information across your site as well as ensuring that your business information is accurate in Google Maps. Patel(opens in a new tab) suggests going further, including information about your surroundings and what important markers you are close to on your website in order to capitalize on these searches. The key is to keep in mind that voice searchers are likely on the go and looking for quick answers, so make your business as easy for them to find as possible.
Last Thoughts & Recap
Preparing your website(opens in a new tab) for a surge in voice search technology doesn't have to be as scary as it sounds. Although there are numerous suggestions out there on how to do just that (and, if you're serious about the whole endeavor, I suggest you check them out), two easy steps you can take now are: 1) include questions that people are asking somewhere on your website, and 2) keep your information up to date to capitalize on local searches. And, most importantly: try not to fall in love with your virtual assistant.
---
Find this article useful? Enter your details below to receive your FREE copy of 95 Epic Places To List Your Tours and receive regular updates from Tourism Tiger and leading industry experts.
By submitting the form below, you agree to Tourism Tiger contacting you via email.