Unless you were living under a rock for the majority of 2019, you have probably heard people talking about the social media phenomenon that is TikTok. You may have wondered whether it's worth your time getting your tour company on there, too. Sound familiar?
A couple months ago we wrote about the various social media platforms(opens in a new tab) and if they're worth your time. In that post, Stephanie said that she doesn't think TikTok is worth your time. I disagree. I say you should give it a shot.
What is TikTok?
Tiktok is yet another social media platform, available as a mobile app for both Android and iOS. Users create short videos, commonly featuring music in the background. Developed in Beijing by ByteDance, TikTok was meant to replace Douyin (a similar app from the same Chinese developers) in the outside world. Douyin was launched in September 2016 to the Chinese market, but due to the Great Firewall of China, it wasn't available to any other country, therefore giving rise to TikTok just one year later in September 2017. Two months after that, ByteDance bought the Shanghai/Californian platform musical.ly for $1 billion, leveraging the US digital platform's young user base.
How popular is TikTok?
As of June 2018, there were 500 million TikTok active monthly users all over the world, which then grew to 800 million installs of TikTok as of October 2018 (not including Android users in China). In the US alone, there had been 80 million downloads of TikTok by this time, with 40 million active users. TikTok was accounting for 42% of the App Store's downloads(opens in a new tab) of top-ranking apps (including Facebook, Instagram, YouTube, and Snapchat).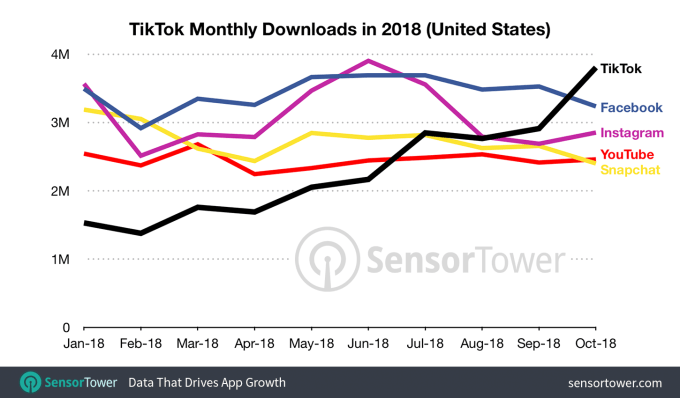 Who uses TikTok?
TikTok is often dismissed as an app "just for kids" or a "teenage phenomenon", but 60.1% of all TikTok users are reportedly 20 or older. That means that, of the 800 million users, roughly 480,800,000 would be adults. The graph also shows that there is a slightly higher male user base compared to female user base, with the difference becoming more apparent with the older generations.
In September 2019, the NFL recently announced a multi-year deal with TikTok in an effort to bring their content to a wider global audience. Aside from companies and sports organisations, some other high profile active users include Tony Hawk, Dwayne 'The Rock' Johnson and Jimmy Fallon. So, in short, everyone is using TikTok, not just middle schoolers in the US.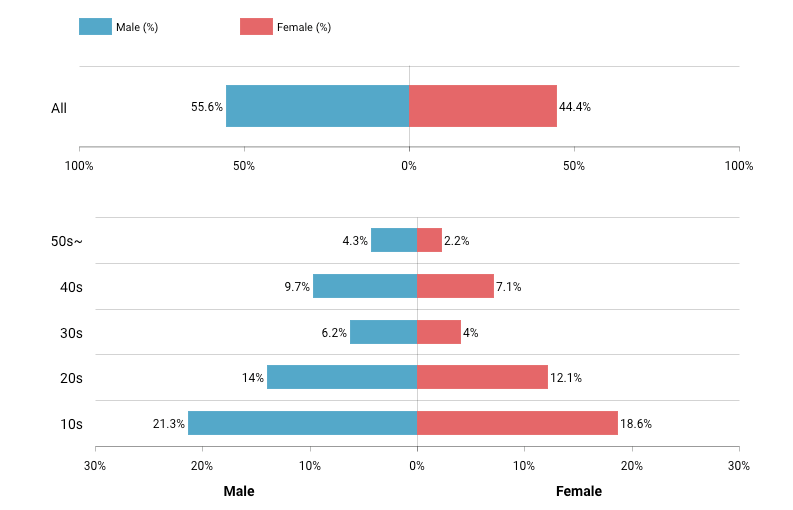 Source: App Ape Lab(opens in a new tab)
What can I do on TikTok?
To create a video on the app, you can choose background music from a wide variety of music genres, edit with a filter and record a 60-second video with speed adjustments before uploading it to share with others on TikTok or other social platforms(opens in a new tab). With a straightforward purpose and user-friendly interface, it couldn't be simpler to use.
TikTok has a huge range of available functions. You can create videos (that one you knew), can send and receive direct messages (granted, this feature isn't as intuitive or encouraged as it is on other platforms), and you can even download videos as GIFs.
TikTok has also very recently launched ads. It's too early to tell how successful they'll be, but if you accept the risk then getting in early might gain you some big reward. Right now, they're offering in-feed ads, as well as landing page ads, but if they follow other social media trends they'll surely be launching more options soon. Tour operators should consider using the brand takeover feature or landing page ad, which presents users with a whole screen image for 3-5 seconds when they open the application. This will allow a broad audience within a specific location to be targeted raising your brand's awareness if you're willing to give it a go.
How is TikTok different from other social media platforms?
While Instagram and Facebook are more profile-focused, TikTok's feed algorithm focuses primarily on content. Users are encouraged to swipe through related content, easily moving from video to video with the option to share to contacts via other platforms always available. The minimalist profile view displays a thumbnail profile photo, the option of a non-clickable website link and a shortcut button to the user's Instagram profile.
There are two main features that set TikTok apart from other social networks: the react and duet features. "React" allows users to film their reaction to a specific video they are watching on their screen, filming their reaction in a small window on top, while "duet" allows users to film a video alongside another video.
Should I sell my tours on TikTok?
It'd be ridiculous to outright dismiss the platform due to the sheer number of users on TikTok, but keep in mind that content is consumed extremely quickly on this platform, meaning it has to be rather light and breezy. Quick, fun videos that capture the user's attention right away are essential. Keep in mind though that TikTok isn't a platform you're going to sell directly through, at least not yet, so don't try. The main goal is to build brand recognition and showcase your fun-loving culture and your company's personality.
If you do decide to use TikTok, here are a few tips that we have to help you get the most out of it:
Hashtag your videos to the max.
Set the scene by using music with the right vibe.
Use your location on each post.
Stay away from promotion in the content you produce (hint: just show them who you are!).
Include your website

(opens in a new tab)

and link to Instagram on your profile (otherwise there's no point in doing it, right?).
The takeaway
TikTok could be a great platform to start marketing on, but it really boils down to whether you or someone on your team is creative enough and has the time to generate this content on a regular basis. If you're time-poor and your energy is focused elsewhere, then Facebook is still king of social media. For now, at least…
---
Find this article useful? Enter your details below to receive your FREE copy of 95 Epic Places To List Your Tours and receive regular updates from Tourism Tiger and leading industry experts.
By submitting this form you agree to Tourism Tiger contacting you via email.