My name is Drew Johnson, and I own a tour company in Florida. I started running Facebook ads for $2 a day, and they started to generate me a 10x return on my ad spend! Here is how I did it.
Facebook is a fantastic tool to generate new customers for your tourism business. Though is not as simple or as straightforward as other marketing platforms, it has been my experience that Facebook is smarter than the other platforms – which can make it easier for you to get excellent results!
Here are the results for a campaign that I ran for my tour boat company Lagerhead Cycleboats(opens in a new tab) for just $2 a day for a month:

I had been running Facebook ads for quite some time to get my brand out there to tourists in the area. It wasn't until I made some adjustments to the campaign that it started getting 8 cent clicks to my website.
Best Practices / Tips & Tricks
Over the years here are some things to keep in mind when running Facebook campaigns:
The Facebook algorithm is smart.
It wants you to get as many cheap clicks and conversions as possible. So let it do its things as much as possible! This means that you should use as little audience segmentation as possible. You need a decent sized audience to target for it to work. On the campaign above I just focused all the people in my area! I wouldn't always recommend that, but I hope it gets the idea across.
Rethink what a conversion is!
To most people, you think a conversation as a new booking or request for more information. Well, that is not always the case. Facebook wants to see you have at least 40 conversions a week – just from Facebook. For most tour companies that is a lot – especially if you are on a tight budget. So instead, set up your campaign to track a conversion when some views a specific page. For example, in the campaign above I have a conversion fire when people hit my calendar of tours page. What this does is allow the Facebook algorithm to learn what type of person is interested in your tours. This drives cost down and gets you more results.
Video ads.
If you provide tours, you are providing an experience to your customers. You are going to need to show them the full experience, and video ads are perfect for this. Also, video ads plan to work better on Facebook as they draw more eyeballs than just an ordinary photo.
Here is a screenshot of the video ad: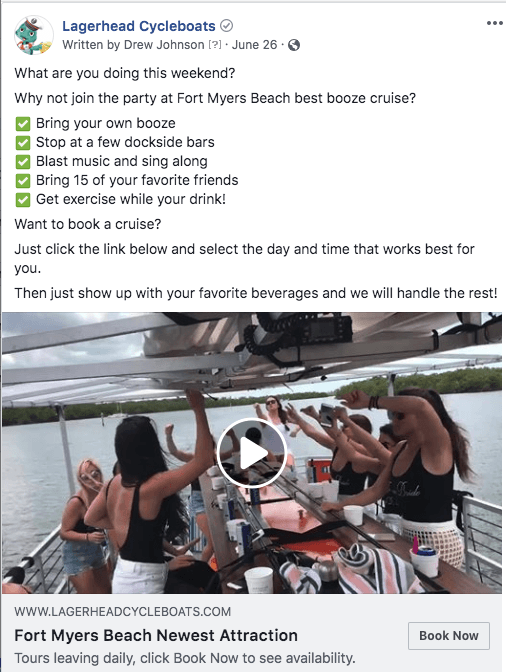 If you have questions or need help with your campaigns, let me know I would be happy to help however I can!
---
Find this article useful? Enter your details below to receive your FREE copy of 95 Epic Places To List Your Tours and receive regular updates from Tourism Tiger and leading industry experts.
By submitting the form below, you agree to Tourism Tiger contacting you via email.