Why are some operators better at selling tours than others?
As a tour operator, you're probably not alone in your market. The chances are that you have competition, be it someone offering a similar experience or even just in the same location. How do you dominate the market and cement your position as number one? The secret is to apply ethical, scientifically proven techniques to persuade your customers that they are best served booking their tours with you.
The theory of persuasive communication was developed by Robert Cialdini, professor of social psychology at Arizona State University. Cialdini conducted a series of investigations on the operation of persuasion in real life. The theory makes the most of certain behavioral patterns collectively internalized in the human psyche in order to influence behavior. In other words, it recognizes why, as humans, we act a certain way and takes advantage of that. We can use this research to understand how to use effective communication with the goal of influencing the decisions of tourists.
Below are the six main elements as developed by Cialdini, as well as how you can apply them to your website(opens in a new tab).
1. Reciprocity
This is the most obvious point if you want your website visitor to 'BOOK NOW' — show them what they'll be getting as part of the deal. Ensure that your pictures don't just focus on the environment or location: demonstrate what you can do for them. This could be a great photo of you or your tour guides interacting with the guests or pointing out a hidden gem. Maybe you can give them a free gift in exchange for booking online? Or take them to a 'secret' location? The more that they 'get back' from your company, the more they'll want to give. Evans Guide(opens in a new tab) in Berlin doesn't wait for people to book a tour; instead, they give people a free guide to the city for signing up to their newsletter. Who will these people book their tours with?

2. Likability
How can you make people like you through your website? I see tour operators trying too hard with this factor, telling visitors about their 'amazing sense of humor' on their 'About Us' page(opens in a new tab) — remember, this isn't a lonely hearts column! People like people like themselves. They like people who understand what they want; they also like people who are upfront and honest with them. Demonstrate why your customers can trust you alongside your enthusiasm for what you do. Show you're having a good time doing what you're doing. Kip from Cascade Outdoors(opens in a new tab) lives and breathes his business.

Read our post on creating an awesome 'About Us' page(opens in a new tab).
3. Consistency
When it comes to big commitments, people don't usually like to jump in with both feet. Sometimes it can be easier to gain commitment on a small level before going in for the 'big close'. As a tour and experience operator, this could mean offering a mailing list or a newsletter to allow guests to build a relationship with your company before booking a tour (as per Evans Guide above). If you currently only operate a full-day option, could you offer a half-day tour alongside it? If your customer originally committed to the half-day option, they're more likely to upgrade to the full day once they've made the first step. So if you've got an upsell opportunity, always address it (applying these persuasion methods).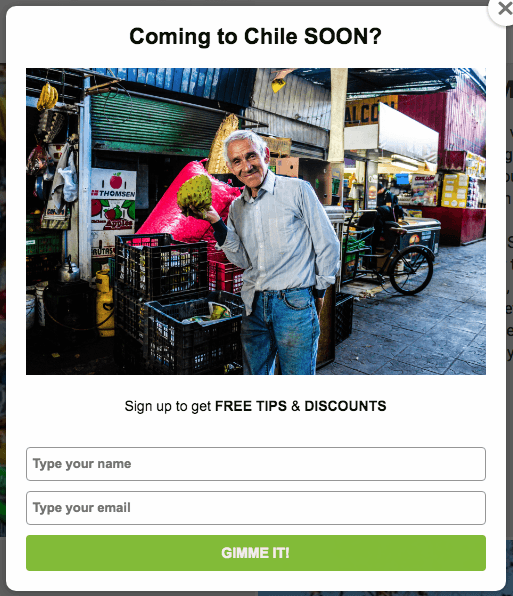 4. Consensus
As much as you can, demonstrate that people who are like your target customer book these tours and experiences with you. Use testimonials throughout your site, and keep them relevant to your target market and to the tour page your visitor is viewing. If they know other people are booking your tours, they will feel less anxiety about booking the tour themselves. Aside from testimonials, think about the pictures that you use on your website. If you offer city bike tours, for example, don't just feature young, fit cyclists who spend everyday in the gym. Show the customer who may be worrying that the tour is suitable for them, too. La Bicicleta Verde(opens in a new tab) in Chile gets the balance spot on. In addition to boasting Paul McCartney and Steven Tyler amongst their guests, they have pictures of families, middle-aged couples and younger travelers to demonstrate that they can accommodate all ages.

5. Authority
Do you have any tourism industry awards? Are you a member of associations? Have you been offering tours for multiple years? How many visitors have you welcomed? Use your points of difference to show your site visitors that you are the right person, above your competitors, to give your customers the service and experience they're looking for. Eat Mexico(opens in a new tab) proudly displays their recommendations from reputable sources alongside their guides' expertise. Who better to educate people on the gastronomical delights that Mexico City has to offer?


6. Scarcity
This is one of the secrets to Booking.com(opens in a new tab)'s success. That 3rd hotel is always booked. Hotel 1 has two rooms available, and three people have already booked today…hurry! Book NOW! Scarcity creates urgency in your customer's mind and can be the trickiest thing to 'get right'. Tourism Tiger is currently working on advanced integrations with selected booking software companies to help create the 'Booking .com' effect. Check out Northwood Zipline(opens in a new tab)'s date search integration below. When website visitors see how popular their experiences are before even clicking 'Book Now', they'll want to reserve their spot as quickly as possible.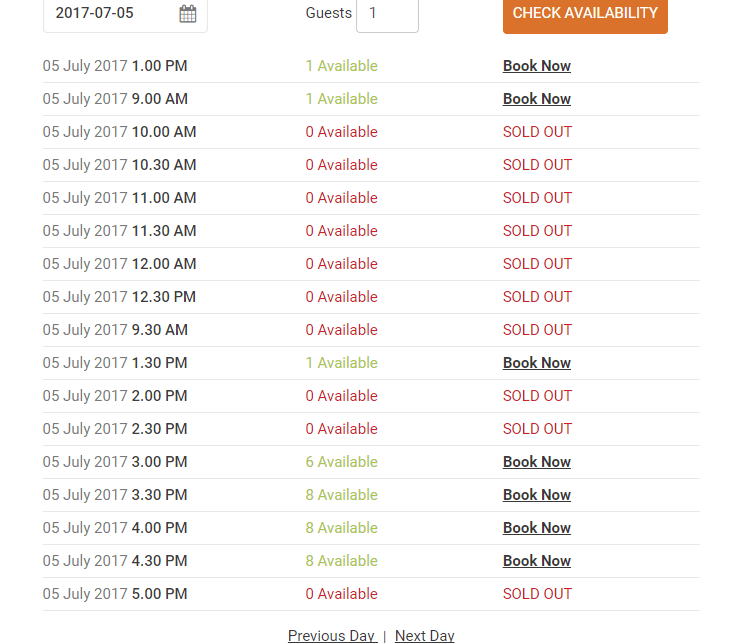 So there you have it — Robert Cialdini's science of persuasion applied to your tourism site to sell more tours. Don't just limit their application to your website; use them as often as you can.
---
Find this article useful? Enter your details below to receive your FREE copy of 95 Epic Places To List Your Tours and receive regular updates from Tourism Tiger and leading industry experts.
By submitting this form you agree to Tourism Tiger contacting you via email.