How many of you think that if you just had better ranking or more traffic to your travel website, you would book more trips? I bet a lot of you.
This is only partially true…but mostly a false perception that can get real expensive and fast with poor search engine optimization (SEO) and Pay Per Click (PPC) marketing. Even after investing a lot of money and time to increase your website traffic, you may not have many leads and sales to show for your big investment.
Can you relate?
Nobody knows what Google is going to do next with their search engine algorithms…That's why I recommend you learn about the "Profitable Powers of Conversion" so that all your tourism marketing efforts yield a return on investment that you control.
Here are three core tourism marketing principles and free tools that can help you more than double your leads and sales – and without needing ANY increase in ranking or traffic.
1. The Profitable Powers of Sales Conversion
Find out how to have a 357% increase in your revenue with 2 simple website improvements.
Here's a sad travel website marketing fact. You are probably missing 97% or more of your potential tour leads and sales that visit your tourism website. Unfortunately, a huge percentage of travel business websites worldwide suffer from this problem.
Not sure if this is true for you?
Check out your website visitor stats with Google Analytics(opens in a new tab). Look at your "bounce rate". This is the percentage of people who visited your site and left in less than 10 seconds. If over 40%, 50%, 60% or higher of your web visitors leave in less than 10 seconds, how can you possibly convince a prospect you are a good choice so they book your trip?
So how many more bookings and profits can I make just by increasing my booking conversion?
Here's a graphic that shows a 233% increase in revenues increase just by lowering your bounce rate from 70% to 50% and increasing your sales conversions from 1% to 2%. These super small improvements, that you can do, are worth an extra US$42,000 a year in this realistic example.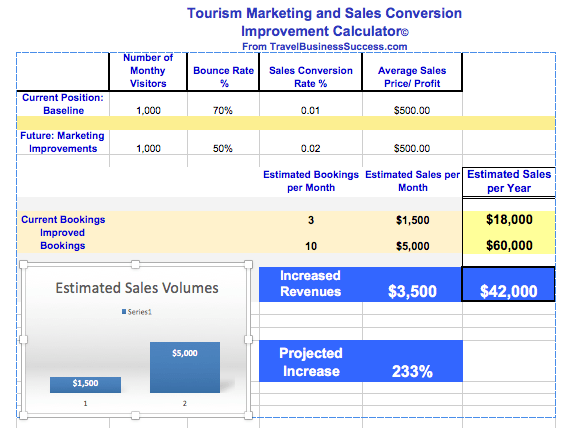 Wouldn't you like to lower your bounce rate and increase your sales conversions too?
2. Successful Tourism Marketing Establishes Trust & Credibility Fast
Based on a Nielsen study(opens in a new tab) on effective advertising with over 28,000 Internet respondents in 56 countries, the #1 reason why a stranger might stay engaged in your travel website or any marketing message, and decide you MAY be a good choice and want to book is – trust. Establishing this trust is called social proof. Establishing trust and credibility in less than 7 seconds – especially on your travel website – is one of the most important lessons I have learned in 25+ years of helping tourism, travel & hospitality companies worldwide increase bookings, profits, and business value. When you can communicate trust effectively and fast, you will generate more leads and sales guaranteed. Here's a free and easy tool to help you do that.
I have created a free 25 point tourism website marketing checklist(opens in a new tab) to help you build more social proof. This quick and easy self-assessment will show you how your tourism website scores, if you have a "Travel website That Sells"© and what you can do to improve it.
3. Tap Into the Psychological Triggers
Create a "Travel Website That Sells" ©
To achieve a "Travel Website That Sells" you must tap into travel shoppers' psychological triggers around trust. Remember a large percentage of your website visitors may be leaving your site fast, so you have to establish trust and clarity in what you do – FAST. They want to know "The Big Three" in about 7 seconds that you are:
Experienced.
Provide quality service.
Their safety is your #1 concern.
There are many more proven elements that go into a profitable travel website marketing and a travel website that sells. Tourism Tiger knows this and uses these proven principles in their successful tour websites. That's one of the reasons their websites increase bookings so well.
The good news is that these tourism marketing principles and tactics work like magic in all your tourism marketing, way beyond your website. These proven tourism marketing principles are super powerful. They will help you communicate trust fast and convert more strangers into prospects and bookings. The cool thing is this can be simple and easy to implement, in all your marketing as you understand the power of social proof in your tourism marketing.
When you integrate these profitable best practices of social proof in all your marketing and increase your sales conversions, you could increase your revenues year over year way beyond the 233% increase example above.
I would love to hear from you and find out how you are or will integrate social proof into your tourism marketing and how you scored on the 25-point tourism website marketing assessment.
---
Find this article useful? Enter your details below to receive your FREE copy of 95 Epic Places To List Your Tours and receive regular updates from Tourism Tiger and leading industry experts.
By submitting the form below, you agree to Tourism Tiger contacting you via email.